Adapted from House and Garden UK
Serves: 4
Prep time: 15 minutes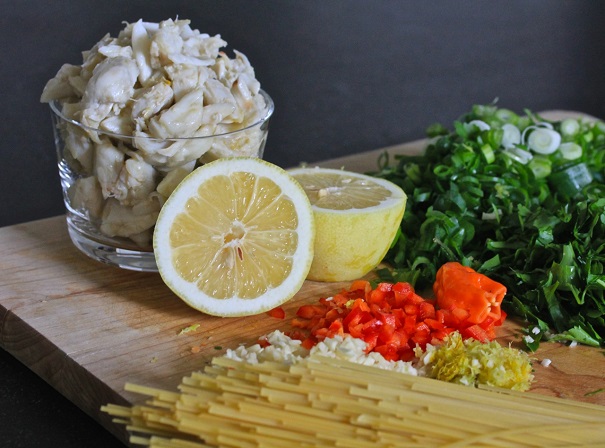 Ingredients
1 pound dried linguine
12 ounces fresh crabmeat
2 lemons, zest and juice only
3 tablespoons flat-leaf parsley leaves, finely chopped
4 tablespoons olive oil, for extra
12 spring onions, finely sliced
6 garlic cloves, minced
1 habanero chile, seeds removed, finely chopped
1 ½ teaspoons sea salt
1 teaspoon pepper
Directions
In a large pot, bring 8 cups salted water to a boil.
Add linguine and cook until al dente, 8-10 minutes.
Drain well and return to pan; stir 2 tablespoons of olive oil into the linguine.
Heat remaining olive oil in a large frying pan to medium heat and add onions, garlic and chili.
Saute until softened.
Stir in crabmeat and cook for 2 minutes, then stir in lemon zest, juice and parsley.

Add sea salt and pepper.
Add crab mixture to linguine and toss to combine thoroughly.
Drizzle with a few drops of olive oil and serve.