Serves: 6
Prep time: one hour to prepare the soup, 40 minutes for the matzoh balls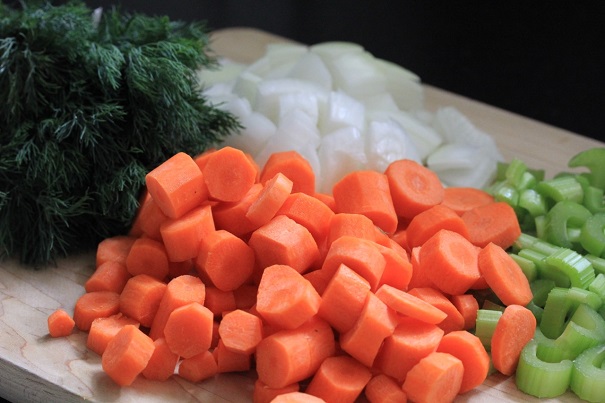 For the soup:
Ingredients
12 cups of chicken stock (I happen to like Knorr chicken bouillon cubes, but that is just my personal preference. People have strong opinions about what constitutes the best chicken stock.)
6 chicken breasts, with the bone left in
2 cups carrots, chopped
2 cups celery, chopped
1 large onion, roughly chopped
Directions
Place chicken stock, chicken breasts, carrots, celery and onions into a large stockpot and allow it to simmer for an hour.
When the meat is cooked through, remove from the stock, allow to cool, and chop into chunks.
Return chicken to the soup and set soup aside.

For the matzoh balls:
Ingredients
6 eggs, separated
¾ cup matzoh meal
1 teaspoon kosher salt
½ teaspoon pepper
3 teaspoons fresh dill, chopped
8 cups water 2 chicken bouillon cubes
Directions
Beat egg whites in a mixer until they are very stiff.
Add egg yolks and gently fold together. 
Sprinkle a quarter of the matzoh meal over the egg mixture at a time, until you have incorporated all of the matzoh meal. Do not overbeat.
Add salt, pepper and dill, mix and refrigerate for ten minutes.

Bring the water to a boil in a wide-mouthed pan and add bouillon cubes.
Lower temperature to a simmer. Moisten your hands with water and form a 2-inch diameter ball of the matzoh mixture, and drop it into the simmering water.  (This takes a little practice, and I usually switch the matzoh ball from hand to hand, turning it to create a more circular shape before plopping it gently into the water.)
Continue to add other matzoh balls to the water, keeping the pot simmering.
Cover and cook for about 20 minutes.
The matzoh balls should be floating on top of the water and firm enough to be easily removed from the pot.

Remove matzoh balls with a slotted spoon and, if serving immediately, place in the soup and allow to rest for at least 15 minutes.
If serving later, matzoh balls can be placed in a roasting dish, covered and stored in the refrigerator until ready for use.
If you have leftover matzoh balls, they are delicious when roasted with a chicken, where they soak up the pan drippings and form a kind of matzoh stuffing.