Makes two cups
Prep time: 30 minutes, including time to cool pecans These are addictive – I recommend you make a double batch!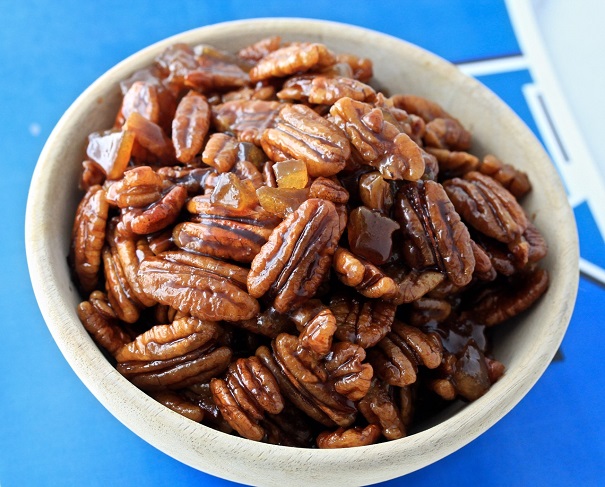 Ingredients
1/2 cup bourbon 2 cups pecan halves- raw
4 tablespoons brown sugar
3 tablespoons butter
1 teaspoon sea salt
¼ teaspoon cayenne pepper
2 tablespoons crystallized ginger, chopped
Directions
Pour bourbon into an 8×8 inch pan and add pecans. Allow pecans to soak for 30 minutes, stirring occasionally to make sure they are all flavored with the bourbon.
Combine sugar, salt, and cayenne, and set aside. After pecans have soaked, place in a non-stick pan and cook at medium-low heat until they start to be fragrant, about 4 minutes.
Add butter and stir until pecans are coated with melted butter. Remove from heat, add sugar mixture and stir. Add ginger and return pan to medium heat until the liquid becomes thick and a glaze forms on the pecans, which will take about two minutes.
Transfer pecans to silpat-covered baking sheet and allow to cool. When cool, transfer to a bowl and serve. Note: the ginger makes the pecans HOT in the best possible way, so think twice before adding more cayenne.