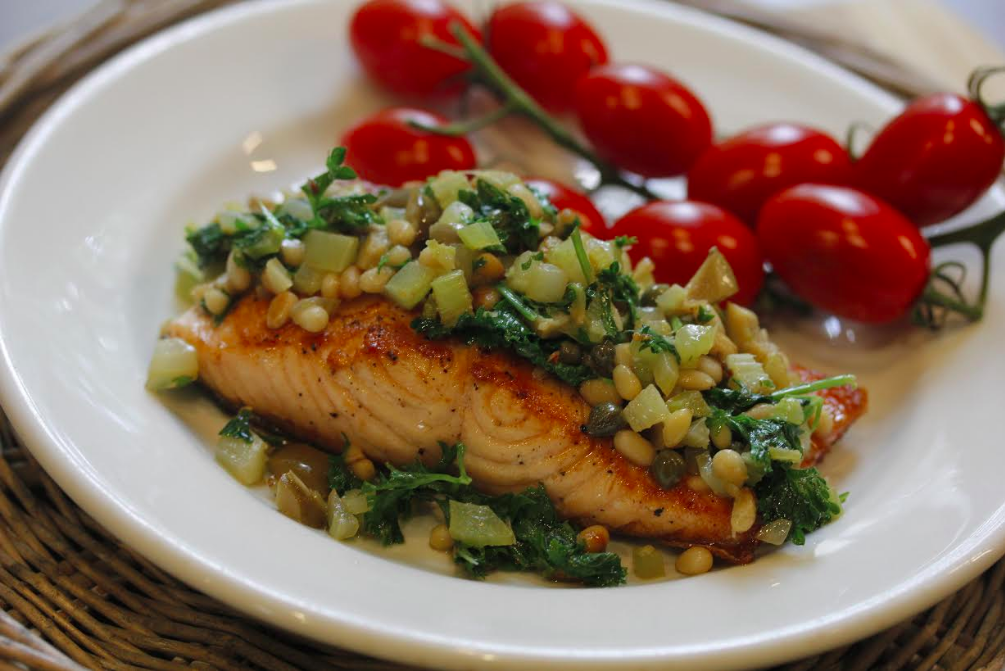 Salmon is a heart-healthy fish and so we eat it a lot, but it's easy to get in a rut of the same couple of recipes over and over again. So let's start fresh: pan-fried instead of baked or broiled, pine nuts, capers and olives instead of mustard or dill sauce. Voila! A delectable main course that's healthy and kinda elegant, considering that you just did it in about 15 minutes. Enjoy!
Pan-Fried Salmon with Pine Nuts
Serves: 4
Prep time: 20 minutes
Ingredients
4 salmon fillets, skin on
Salt and pepper
7 tablespoons olive oil
4 celery stalks, diced
¼ pine nuts, chopped
¼ cup capers and 2 teaspoons of the brine
1/3 cup green olives, pitted and diced
1 cup parsley
1 teaspoon lemon juice, 1 teaspoon lemon zest
Directions
Mix salmon with 1 tablespoons oil, ¼ teaspoon salt, and a grind of pepper and set aside.
In a large frying pan place 5 tablespoons of olive oil and heat on high. Add celery and pine nuts and fry for 5 minutes (don't let pine nuts burn, just brown.) Remove from heat and stir in capers and brine, olives, and a pinch of salt. Add parsley, lemon zest and lemon juice and mix well. Set aside.
Put remaining oil in frying pan on medium heat and fry the salmon, skin side down first, for 3 minutes. Flip fillets and turn heat down. Cook 2-4 minutes, or until the salmon is the way you like it cooked. Arrange salmon on plates and top with salsa. Scatter celery leaves on top.

Note: I had to make this recipe again, even though the salsa was perfect, because the fish was old and way too strong. Avoid buying fish on a Monday from large markets – chances are it's been sitting around all weekend waiting to be sold.