Serves: 2
Prep time: 20 minutes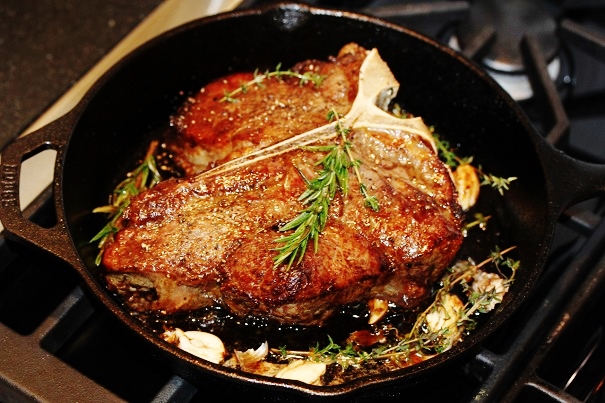 Ingredients
2-pound bone-in Porterhouse steak, about two inches thick
1 tablespoon vegetable oil
2 garlic cloves, crushed
2 tablespoons butter
fresh rosemary and thyme sprigs
Coarse salt and pepper
Directions
Preheat oven to 400 degrees. Heat a heavy skillet to high heat, and cover the skillet with a lid (you want to make it as hot as a hot grill.)
While pan is heating, rub pepper and salt into steak. When pan is hot, pour oil into pan (oil should smoke) and then put steak into skillet.
Cook on each side for 7 minutes until outside of steak turns a deep, crispy brown.
Put the lid on the skillet and place in oven for twenty minutes for medium rare.
Remove from oven and let meat stand for 15 minutes. (The meat is still cooking, even though it's out of the oven.)
Add thyme and rosemary, garlic and butter, and serve directly from the skillet for a dramatic presentation.