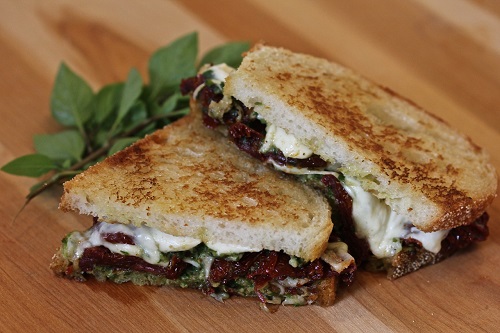 Serves: 1

Ingredients
Prep time: 15 minutes
2 slices Italian white bread
1 teaspoon pesto sauce, chilled
2 ounces mozzarella
1 ounce sun-dried tomatoes packed in oil and well-drained
Olive oil to spray on frying pan
Directions
Spray olive oil on small frying pan and set on medium heat.
Pile bread with mozzarella, then tomatoes and pesto, and add another layer of mozzarella before topping with other piece of bread. 
Toast until brown, then flip and toast other side. 
Serve immediately.
Note:
The pesto should be cold, and the tomatoes very well drained – and they should be placed inside the cheese, to keep the bread from becoming soggy.