Serves: 4
Prep time: One hour and a half
For the beef:
Ingredients
1 flank steak (or two New York strip steaks), sliced thinly
2 cloves of garlic, minced
2 tablespoons cilantro, chopped
4 tablespoons lime juice
2 tablespoons soy sauce
1 tablespoon fish sauce (available in the Asian food section of most grocery stores)
1 tablespoon palm sugar, or dark brown sugar
½ teaspoon ground pepper
1 tablespoon canola oil
For the salad:
Ingredients
4 cups unripe papaya (available at Asian grocery stores, or Whole Foods)
4 ounces green beans or Chinese long beans, cut into 2-inch lengths
1 cup cherry or grape tomatoes, cut in half
1 red chili pepper – more if you like it hot
½ cup roasted peanuts plus 2 tablespoons peanuts for garnish
For the salad dressing:
Ingredients
4 tablespoons lime juice
3 tablespoons fish sauce
2 tablespoons palm sugar or dark brown sugar
 For serving:
Ingredients
3 cups steamed white rice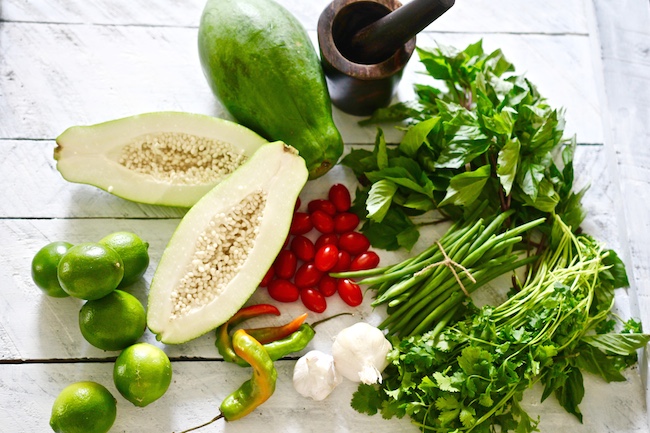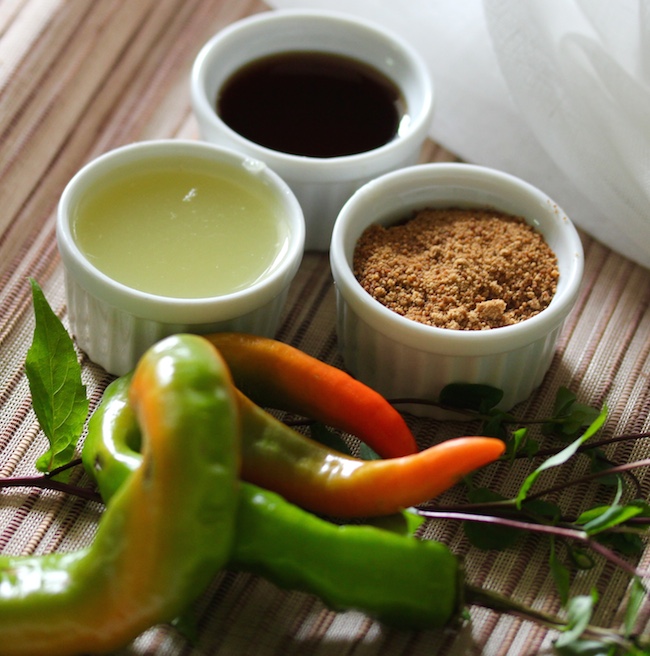 Directions
Mix together minced garlic, cilantro, lime juice, fish sauce, soy sauce, sugar, pepper, and oil for the marinade.
 Marinate beef in mixture for at least one hour.
Make the salad dressing by mixing lime juice, fish sauce and sugar together.  Set aside.
Peel papaya and cut into shreds by holding it in your hand and chopping lengthwise in a shredding motion.  (Papaya will come out in strands.)
Stop slicing when you get to the seeds; shred all four sides.  Or, feed papaya meat into the grater attachment of your food processor, or use a hand grater to shred the papaya until you have four cups of it.  Set aside.

Cook the rice according to the directions on the rice container and set aside.
Using a pestle, grind garlic cloves in a large mixing bowl, adding the chili, tomatoes, and beans, and giving them a good bash until they're bruised.
 If you don't have a pestle, work the mixture vigorously with both hands, kneading it to bring out the flavors.  Add 2 tablespoons of the salad dressing, and add papaya to the mixture, a handful at a time.
Continue to pound, or knead, mixture until papaya is softened, then mix until it is well combined.
Add rest of dressing, and ½ cup of roasted peanuts.  Transfer to a serving bowl.
Garnish with rest of roasted peanuts.
Cook the marinated beef slices on a hot grill for two minutes on each side.
Serve beef on the side of the papaya salad, with the steamed white rice.