Vegetarian Vegetable Soup
Serves: 8
Prep time: 50 minutes
Use any vegetables you like for this soup – it doesn't ever have to taste exactly the same way twice.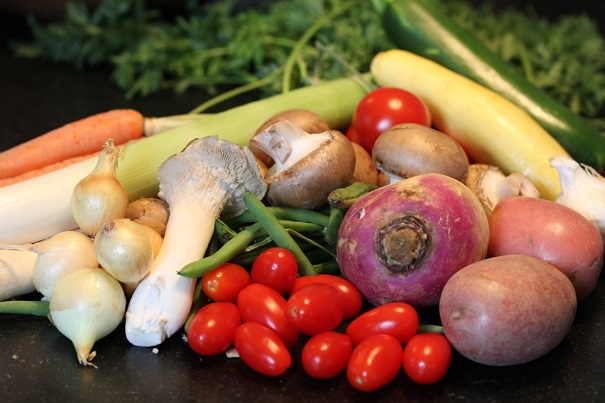 Ingredients
3 tablespoons olive oil
8 pearl onions, quartered
2 cloves garlic, minced
2 tablespoons tomato paste
1-13.5 ounce can of stewed tomatoes
1 leek, thinly sliced
2 stalks celery, thinly sliced
2 carrots, diced
1 turnip, diced
1 parsnip, diced
1 pint cremini mushrooms, quartered
¼ pound green beans, cut into 1" lengths
1 cup peas, fresh or frozen
1 cup lima beans, fresh or frozen
1 zucchini, chopped into one inch pieces and quartered
1 cup cooked alphabet pasta
1 quart vegetable stock
salt and pepper to taste
Directions
Saute garlic and onion in olive oil in a large five-quart pot, stirring frequently, until onion is translucent.
Add tomato paste and tomatoes and cook until tomatoes begin to caramelize.
Add carrots and celery.
Add stock, salt and pepper.
Bring to a boil, then add all the vegetables except zucchini,
Cook on medium heat until vegetables are tender. Add zucchini and pasta.

Simmer two more minutes and serve.