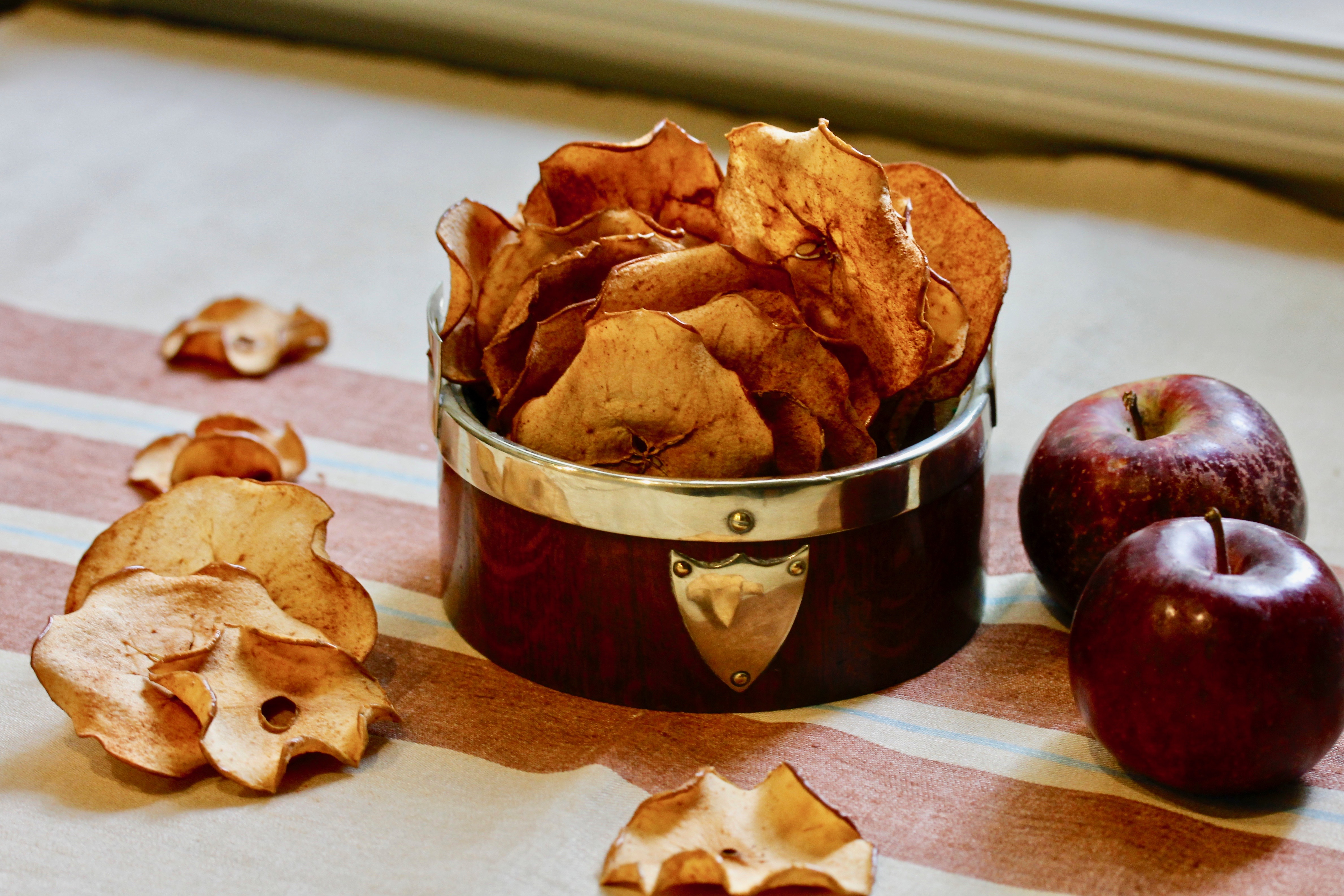 Apples are such a primal food – satisfying, long-lasting, portable, and good for you. Earlier this year I embarked on a serious diet. Over four months I lost 16 pounds; eating apples helped me do it. I ate a couple a day, whenever I was really hungry or had a craving for sweets. I also started eating dried apples, which I found at the farmers' market, and then came upon this recipe from Medical Medium for making my own baked apple slices. They have no preservatives, they're sweet and spicy with a sprinkle of cinnamon (no sugar added, thank you) and they travel beautifully.
Most airports and train stations are food deserts, and finding a good apple at the magazine and junk food stores in terminals isn't always possible (you know what I mean – those sad, waxy, fake-looking things.) Taking along a bag of baked apple slices keeps me on the dieting straight and narrow. Most of us have 'cutouts' when we're dieting: "If we're eating out I don't have to stay on my diet," or "I'm traveling, it's okay to eat a can of Pringle's and a Baby Ruth before takeoff." (Now you see why I needed to drop a few.) This recipe is easy to make in big batches so you'll always have some in the kitchen for a quick snack in front of the TV or on a road trip. Enjoy!
Baked Apple Slices
From the Medical Medium blog
Serves: Makes 50-60 apple slices
Prep time: 3 hours, including 2 and 1/2 hours of baking time
Ingredients
5 red-skinned apples
1.5 teaspoons ground cinnamon
1 teaspoon ground ginger
Directions
Preheat oven to 200 degrees. Remove stems from apples and using a sharp knife or a mandoline, cut the apples into thin discs.
Place parchment paper on two large baking sheets and layer the apples slices on top. Sprinkle with cinnamon and ginger, turn slices over and sprinkle with more.
Place baking sheets in oven and bake for one hour, before flipping them to the other side. Continue baking at low temperature for another 90 minutes, until apples are crispy. Allow to cool, store in an airtight container.