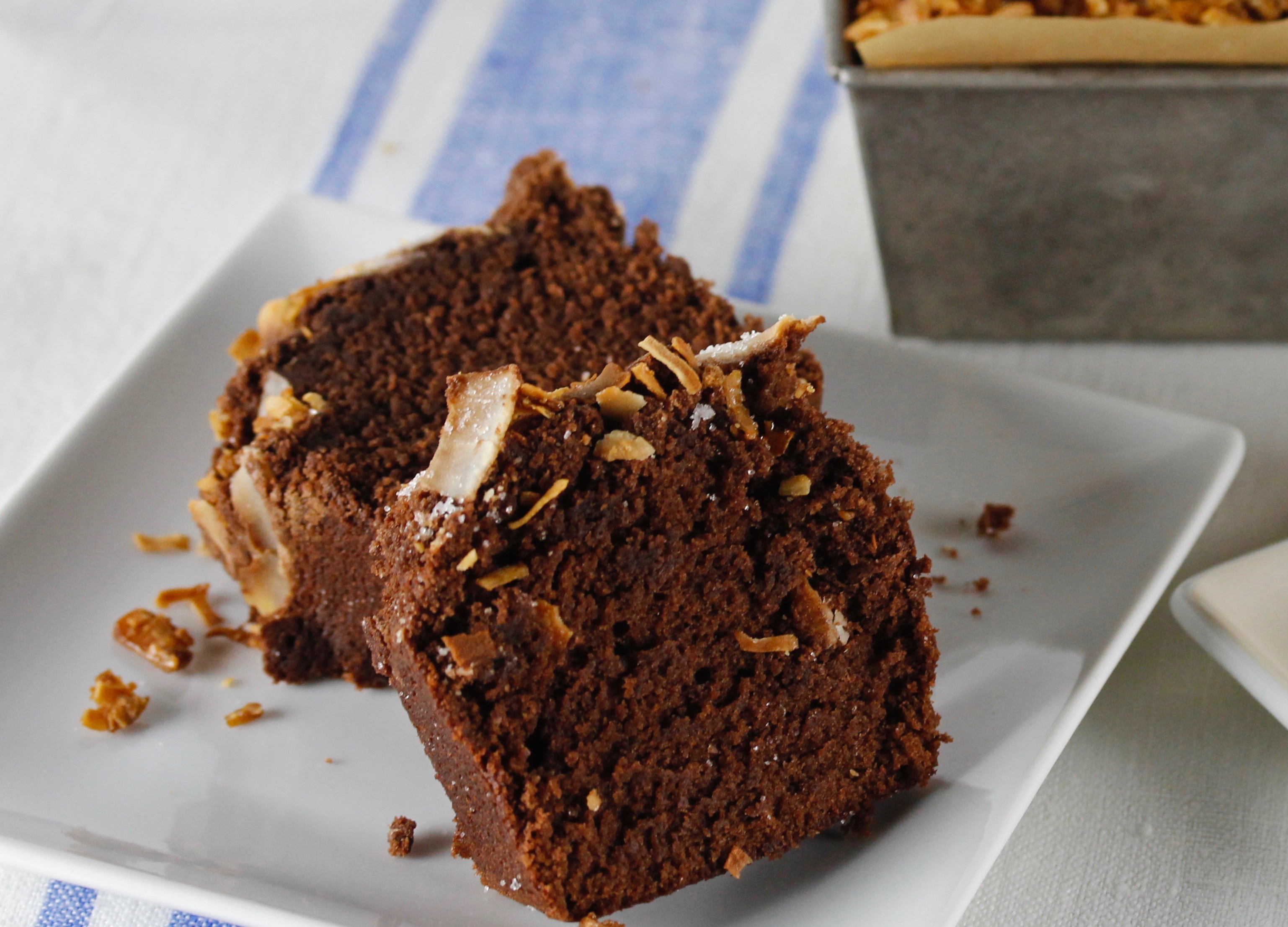 There's something about the rich texture of a pound cake that is unmistakably wonderful. Whatever the flavor, it's so appealing you just want to eat the whole piece immediately, washed down with a glass of milk, so you can get to the second piece right away.
The combination of buttermilk and chocolate in this pound cake makes it so smooothhh. It's like a Swiss milk chocolate candy bar in cake form. It's a Halloween dessert for adults, luscious and deceptively satisfying. (And if you're starting to think about holiday gift baking, what great gifts these little pound cakes would be!)
Chocolate Coconut Pound Cake
Adapted from Bon Appetit
Serves: 8
Prep time: 1 hour and 15 minutes

Ingredients
1 ½ cups flour
½ cup unsweetened cocoa powder
¼ cup unsalted butter, and a little more for buttering the pan
1 teaspoon salt
¾ teaspoon baking powder
½ cup virgin coconut oil, at room temperature
1 ½ cups plus one tablespoon sugar
3 eggs
1 teaspoon vanilla extract
2/3 cup buttermilk
¼ cup unsweetened coconut flakes
Directions
Preheat oven to 325 degrees. Butter a loaf pan (I used 5 ½ by 3 ½-inch pans but any size is fine as long as you adjust the baking time accordingly.) Line pan with parchment paper, leaving paper to hang over the edge to ease in removing the cake from the pan later.
Mix together cocoa powder, flour, salt and baking powder and set aside.
With a mixer set on medium high, beat oil, ¼ cup butter and 1 ½ cups sugar until mixture is pale and fluffy (5-7 minutes.) Add eggs, one at a time, blending after each, and beat until mixture doubles in volume. Add vanilla.
Turn mixer speed to low and add dry ingredients a third at a time, alternating with buttermilk. Do not overmix. Scrape batter into pan and make a canal down the middle of the pan with a spatula.
Sprinkle with coconut flakes and rest of sugar and bake 70 minutes for a standard 8" by 4" loaf pan. Let cake cool before turning it out of the pan.