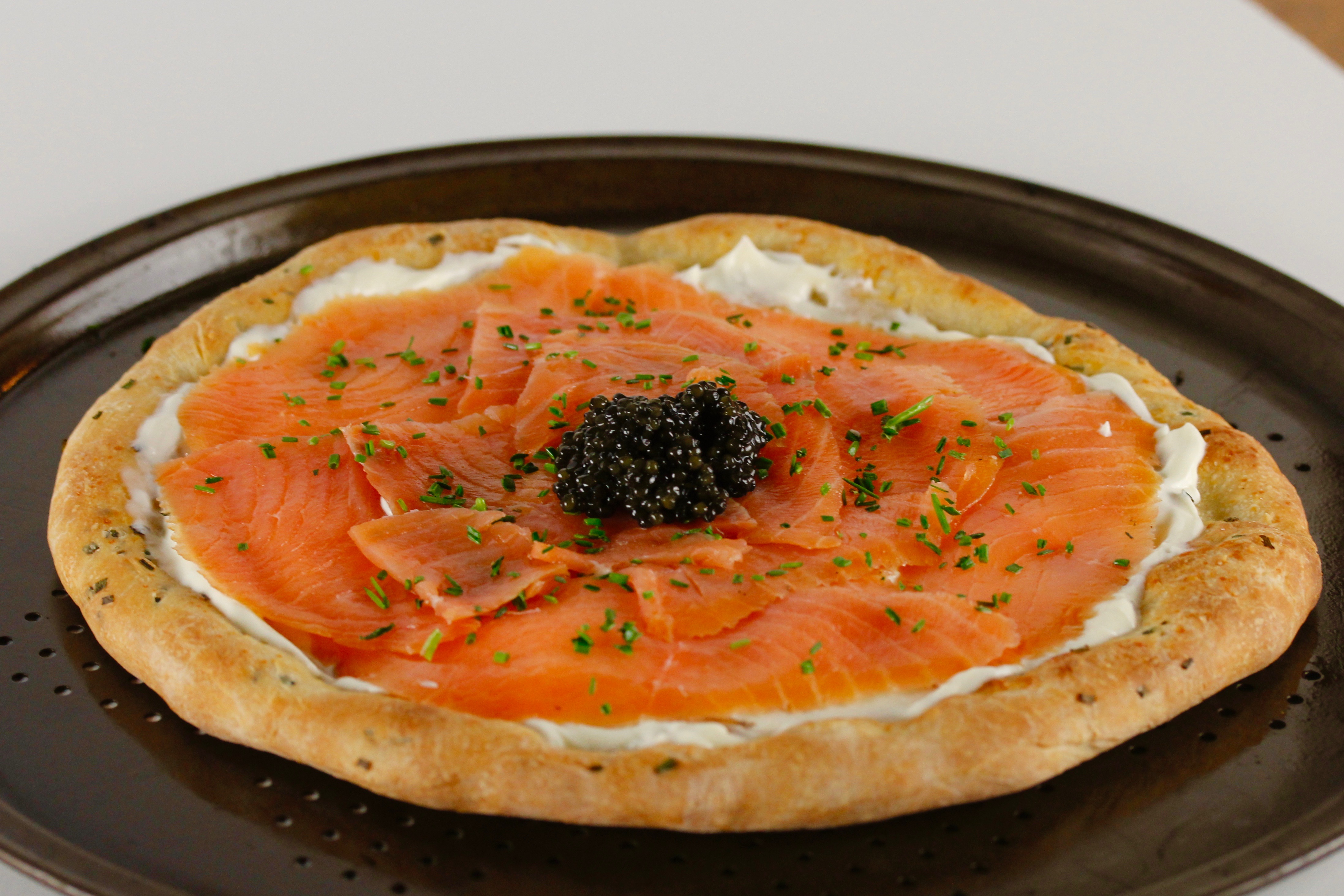 This was the pizza to revolutionize all pizzas. Wolfgang Puck's ingenuity in pizza toppings back in the eighties changed forever how we eat pizza today. He was the first to recognize the incredible versatility of pizza dough, and to see it as a basis for almost any ingredient – pineapple, kale, ham – it all began with this simple recipe for smoked salmon pizza with caviar and crème fraiche. I had forgotten all about this pizza until I saw the recipe in Food and Wine's special issue on the greatest recipes of the last forty years. And it is great, decadent, indulgent and simplicity itself.
You can easily substitute sour cream for crème fraiche, and the caviar is more of a garnish than a critical ingredient, but boy does this make for a perfect brunch, or an elegantly-rustic dinner (vodka shots optional).
Smoked Salmon Pizza with Caviar
Adapted from Wolfgang Puck, as seen in the September issue of Food and Wine
Serves: Makes two 8-inch pizzas
Prep time: 40 minutes plus 5 hours for dough to rise

Ingredients
1 cup lukewarm water
½ teaspoon active dry yeast
2 ¾ cups flour, with additional flour for dusting
3 tablespoons olive oil
1 ¼ teaspoons salt
2 tablespoons chopped chives
6 tablespoons crème fraiche (or sour cream)
4 ounces thinly-sliced smoked salmon
¼ cup caviar
Directions
Whisk together lukewarm water and yeast in a large bowl, let stand until foamy (about five minutes.) Add flour, 1 tablespoon oil, and salt, and stir until dough is formed. Push out onto lightly-floured surface and knead until smooth (about five minutes).
Cut dough in half, and shape into two balls. Put balls of dough into greased bowls, cover with plastic wrap, and allow to stand in a warm place until doubled in size (about five hours).
Preheat oven to 500 degrees, put a pizza stone in the oven and allow to heat for thirty minutes.
Punch down dough balls. Press ½ teaspoon chives into each dough ball. On a floured work surface, roll each ball into an 8-inch circle. Brush dough with one tablespoon of olive oil, leaving a one-inch border.
Transfer dough circles to a pizza peel or the back of a baking sheet dusted with flour. Slide dough circle onto hot pizza stone and bake 8-10 minutes, until pizza is golden brown.
Spread pizza crust evenly with 3 tablespoons crème fraiche or sour cream, and top with 2 ounces of smoked salmon.
Put 2 tablespoons of caviar in the center of each pizza, garnish with remaining chives and serve immediately.