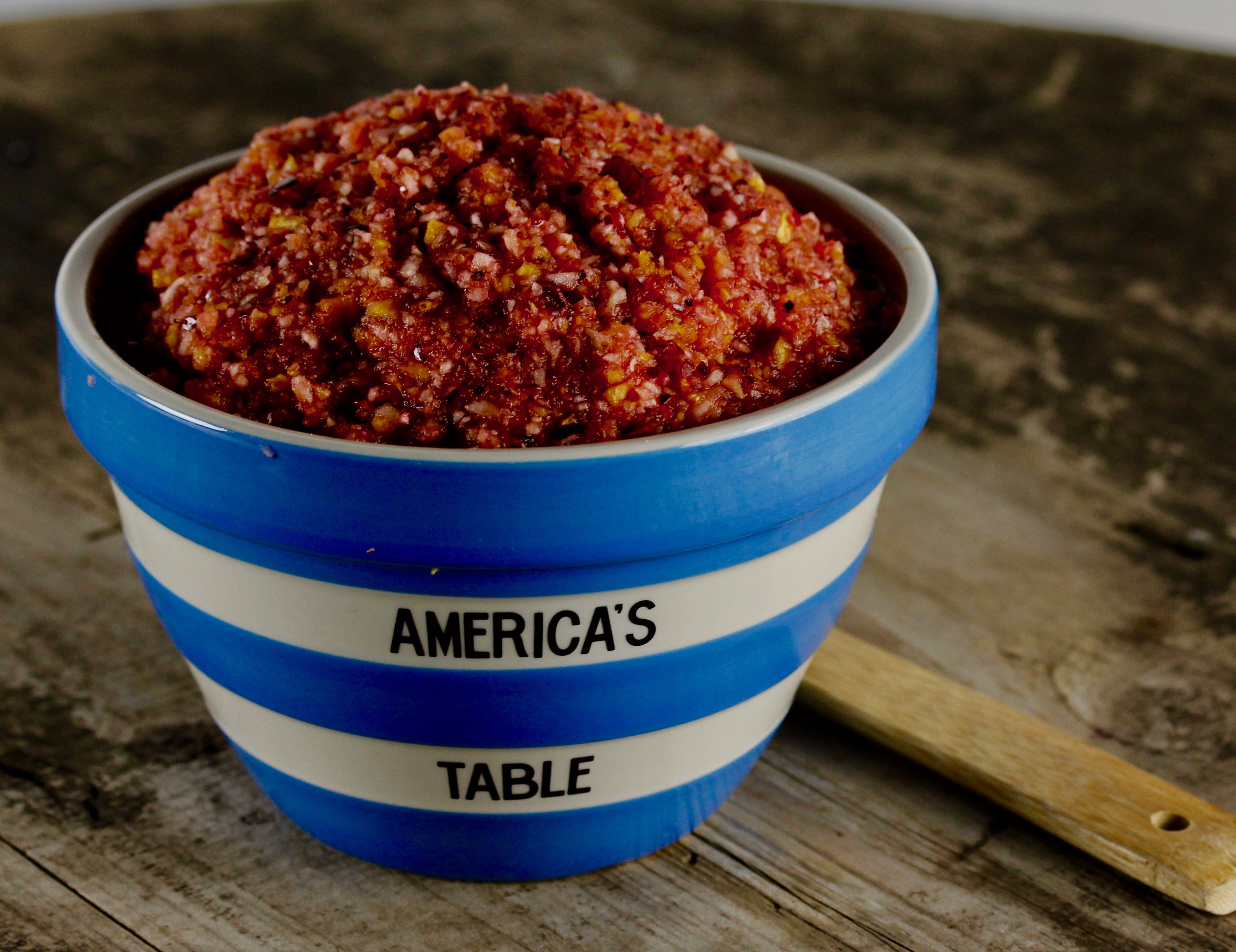 This is one of my mother's recipes – a cold, sweet-and-tart cranberry relish that we all love because it's like a palate cleanser on your Thanksgiving dinner plate. There's no cooking required – just an assemblage of raw cranberries, apples and oranges (and orange rind!) with a little sugar to balance the flavors. And did I mention that this is the fastest dish you'll make all Thanksgiving day? In the time it takes to whirl the ingredients up in the blender, you'll have the most refreshing cranberry relish you've ever tasted.
I started this blog almost five years ago, with a recipe for my great-grandmother's fried chicken. It was in a letter she wrote me when I was a teenager, written in the spindly handwriting of a very old lady. America's Table has been an absorbing part of my life, and I've enjoyed getting to know so many different people through our mutual interest in food, flowers, and treating people well. Now it's time for me to take a break from the blog. Thank you to all the people who've helped me along the way, and to the followers who keep me on my toes. I hope you've enjoyed America's Table as much as I've enjoyed creating it.
Happy holidays,
Lea
Cranberry and Orange Relish
Serves: 4
Prep time: 15 minutes

Ingredients
1 bag (1 pound) fresh cranberries, washed and drained
2 apples, unpeeled and washed
1 large or two small oranges, including the rind of one small orange (or one half of a large orange rind), washed
1/2 cup sugar
Directions
Pour cranberries into blender in batches until they are well-chopped. Place cranberries into large serving bowl and add sugar.
Chop apple into segments and chop finely in blender. Cut oranges into segments and toss in blender, and include the rind of one small orange, or half of the rind of a large orange in the mix. Chop finely.
Combine ingredients with a spoon in serving bowl and correct for sweetness. The relish should be tart, but not so tart you pucker up. Adjust flavor by adding sugar, or additional chopped cranberries.
Refrigerate so relish is well-chilled before serving. Enjoy!