If you're planning a slightly twisted, ghoulish Halloween, these cupcakes will draw some delighted gasps. They're not for the faint of heart, and that's exactly why I like them. A few days ago, my friend Roxanne came over and we baked these together. Roxanne is a very serious baker. She knows professional techniques and tricks, and has great original ideas, even though baking is not her chosen profession. She is an amateur in the true sense of the word – a lover of the art of baking. When I asked her for a suggestion for a Halloween cupcake, this was the result.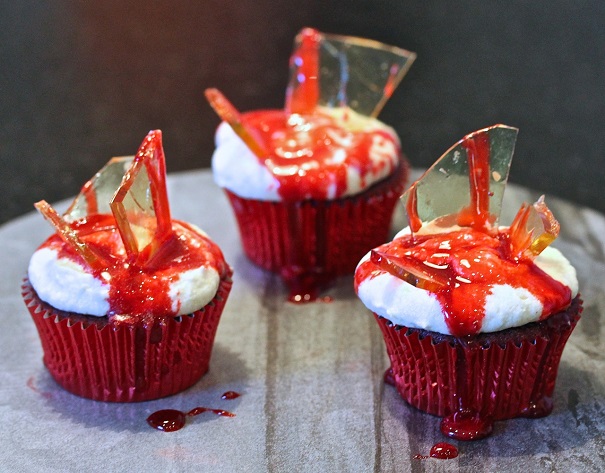 She arrived armed with a multitude of recipes and one already-baked batch of red velvet cupcakes, because she wanted to compare several recipes and choose the best one. This recipe for red velvet cupcakes goes brilliantly with the cream cheese frosting – and Roxanne added just a pinch of cinnamon to both the cupcake batter and the frosting to give it that extra oomph of flavor. She also showed me how to make the candy glass, which was so much easier than I would have imagined – it's just a couple of ingredients and a candy thermometer. An hour later, we were taking a hammer to the smooth layer of clear hard candy, and creating lots of alarming (but delicious) shards of candy.
She finished off the through-the-windshield look with faux blood made of corn syrup and food coloring. Creepy, dangerous-looking, and just right for a wicked Halloween.  We had a fun few hours putting these together. I hope you'll give these beauties a try; it was frightfully good fun to make them. With many thanks to Roxanne Roberts for her time and expertise – and very good cupcakes!
-with Sugar Glass and Corn Syrup "Blood"
Serves: one dozen cupcakes
Prep time: 2 hours
Red Velvet Cupcakes
Ingredients
½ cup buttermilk, room temperature
1 egg, room temperature
¾ teaspoon vanilla
4 tablespoons butter, room temperature
1 cup plus 2 tablespoons all-purpose flour
v2 tablespoons unsweetened cocoa powder
¾ cups sugar
½ teaspoon salt
pinch of cinnamon
½ teaspoon baking soda
1 ½ teaspoons distilled white vinegar
2 tablespoons liquid red food coloring
Directions
In mixing bowl, cream butter and sugar until fluffy.
Add egg, vanilla and food coloring and combine. Mix flour, cocoa powder, salt, and cinnamon together and set aside. Alternate adding buttermilk and flour mixture to wet ingredients until combined. Combine vinegar and baking soda, and add to batter. Beat until smooth.
Put 12 cupcakes liners in a cupcake tin.
Fill to ¾ full and bake for 20 minutes at 350 degrees.
If you are using foil cupcake liners, bake for 17 minutes. Place on wire rack to cool.

Vanilla Cream Cheese Frosting:
Ingredients
8 ounces butter, room temperature
8 ounces cream cheese
2 cups powdered sugar
1 teaspoon vanilla
pinch of cinnamon
Directions
Put butter and cream cheese in a mixer and beat at medium high speed for 5 minutes. Reduce speed to low and add powdered sugar, a ½ cup at a time until is it completely mixed in. Add vanilla and cinnamon and beat at high speed two minutes.
Frost cupcakes. Garnish with Candy Glass and drizzle with Corn Syrup "Blood"
Cupcakes are best if eaten within 24 hours of baking.
Candy Glass
Ingredients
3 cups sugar
1 cup water
2/3 cup light corn syrup
1 teaspoon cream of tartar
Directions
Line a baking sheet with foil or parchment paper and spray with cooking spray.
Heat sugar and water, until sugar is dissolved and boiling. When sugar mixture is dissolved and boiling, add corn syrup and cream of tartar to sugar and water. This will reduce the heat, so stir gently in the middle of the pot, allowing the heat to get to 300 degrees, which will take 15-20 minutes. Mixture will thicken. Do not allow sugar to begin to turn brown; that means it is getting too hot. Sugar mixture should be a clear color.
When sugar reaches 300 degrees again, pour into baking pan, raising the saucepan to about a foot over the baking sheet as you pour.
This is to prevent air bubbles from forming in the candy.

Set candy aside and allow to harden.
After an hour, take a hammer and break the glass into shards of sugar. Use as garnish on cupcakes.
"Blood"
Ingredients
2 tablespoons light corn syrup
several drops of Wilton no-taste red food coloring, and a tiny bit of blue food coloring to get a truly bloody shade of red
Another version:

Directions
Cook one bag of frozen raspberries and ½ cup of sugar at low temperature until soft.
Strain seeds from raspberries with a fine mesh sieve. The mixture that's left can be used for the "blood", without having to use red food coloring.