Do you have a memory of a particular food from your childhood that is so strong you can see it in your mind's eye and smell it, just by thinking of it? Kolace (pronounced ko-lach-eh) is that food for me. It is a yeasty pastry round filled with apricot preserves, poppy seed, prune preserves or cheese. My grandmother made them every Christmas, and for special occasions throughout the year. It's a sweet snack or a grab-and go-breakfast treat, lightly dusted with powdered sugar. I can remember the smell of the baking dough wafting through the house, and various members of the family hanging around the kitchen waiting for them to come out of the oven. We always used to ask if my grandmother had any "mistakes" – kolace that were not perfectly round, or whose filling had expanded over the side during baking. We knew she wouldn't put those on her platter and they were fair game for whomever came into the kitchen first to claim them.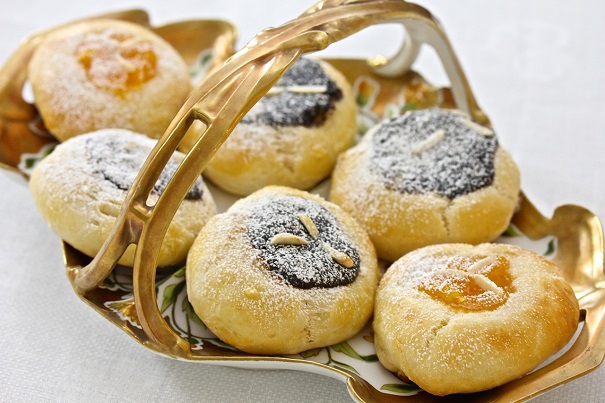 These are not difficult to make: I've seen my mother bake them with a yeast dough mix when she was in a hurry. You just don't want to overwork the dough or bake them for too long, both of which will make them tough. I buy the fillings at the Safeway: Solo makes the poppy seed, prune and apricot flavors. The cheese used is dry cottage cheese or farmer's cheese, and to be honest, I never liked that particular flavor much, but if you love cheese Danish you will love the cheese kolace.. This is a great Christmas morning treat with coffee, while gifts are being handed around and opened. I hope your family loves them as much as mine do!
Serves: Makes one dozen
Prep time: one hour and a half, including rising time

Ingredients
1 tablespoon compressed yeast or one packet of yeast
¼ cup sugar
3 cups flour
1 ½ cups milk
1/4 cup butter, melted
1 egg for dough, and 1 egg for eggwash
1 can of Solo poppy seed, apricot or prune paste
Directions
powdered sugar for garnish bleached almond slivers for garnish
Mix yeast and half of the sugar, then add ¾ cup of milk that has been scalded and then allowed to cool to lukewarm. Add 1 ½ cups, or half, of the flour to the yeast mixture and combine.
Put in warm place and let rise 10-15 minutes. There should be bubbles appearing in the mixture. Add egg, rest of sugar (3/4 cup), melted (but not hot) butter, and the rest of the lukewarm milk.
Mix with wooden spoon until well combined. Gradually add the rest of the flour, mixing after each addition until smooth and elastic.
Cover with cloth and place in a warm spot to rise. It should double in size in 1-1 ½ hours. Turn dough on to floured board and punch down.
Press dough down gently until it is 1 inch thick. Using a 2 ½ inch round cutter, cut out pieces of dough and place on a baking sheet on a Silpat baking shield.
Brush dough with beaten egg, and allow dough to rise again, for ten minutes. (If you find the dough is too wet, add flour as needed to make it easier to work with.)
With your knuckle, make an indentation in each piece of dough and fill with one of the fruit pastes or poppy seed.
Garnish with blanched almond slivers. Bake at 425 degrees for 12 minutes. Allow to cool. Powder lightly with powdered sugar and serve.