This is a recipe of my mother's, which is lightning fast in the assembling, though slow in the cooking. I added a lot of bacon, to make it more substantial. I like it for a campout because it can be made ahead of time as a casserole and then heated on the campfire before serving.   There's something classic and funny, in a Blazing Saddles kind of way, about sitting around a campfire eating pork and beans.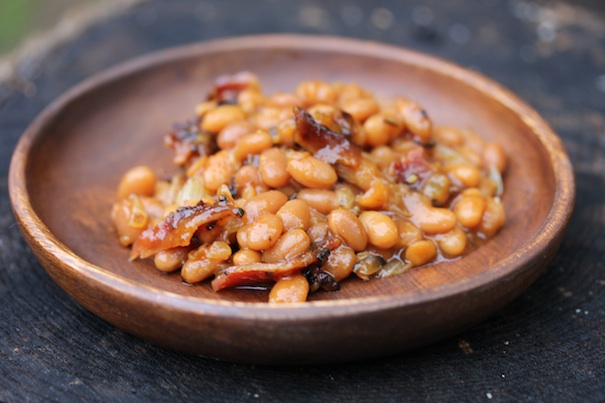 Campfire Baked Beans with Bacon
Serves: 4-6
Prep time: 15 minutes to prepare, 2-3 hours to bake in oven

Ingredients
1 pound bacon, fried and crispy
1 55-ounce can Bush's baked beans
2 tablespoons ketchup
2 tablespoons yellow mustard
3/4 cup brown sugar
1 large white onion, chopped finely
1 teaspoon olive oil
Directions
Put bacon into a 450 degree oven to cook until well done and crispy. While it is cooking, chop onions and sauté in a frying pan with olive oil until brown and crisp. Set aside.
In an ovenproof casserole dish, combine beans, brown sugar, ketchup, mustard and onions and mix.
Chop cooked bacon roughly and add to mixture. Bake at 350 degrees for at least two hours, until liquid from can is reduced and beans and bacon are thick and fragrant.
Wrap in a towel to keep beans warm, and to ease transport if pot is still hot.   At the campfire, place beans in the coals to allow pot to heat up before serving.