You don't need a reason to have friends over for drinks on a Saturday afternoon, but the Kentucky Derby is one of those light-hearted, easy pleasures – usually on a beautiful sunny day – that just begs to be celebrated. There's a little something for everyone – the horses, the hats, the whole spectacle of juleps and courtly southern manners – that's worth tuning into for an hour or so with some good company.
I wouldn't bother with a julep recipe, as that is as simple a drink as there is, with its icy silver glass and mingling scent of mint and bourbon. There is another drink that seems apt for the Derby: a Horse's Neck. I found it in a vintage 1915-era cocktail recipe book called "Drinks and How to Mix Them," and while it can be served with bourbon, whiskey, or brandy (according to the book), if it's Kentucky, we need bourbon. It's called a horse's neck because of the way the lemon peel curls out of the top of the glass, similar to the neck of a horse leaning over a fence. It reminds me of something my parents used to drink, very gingery and whiskeyish, but not too strong.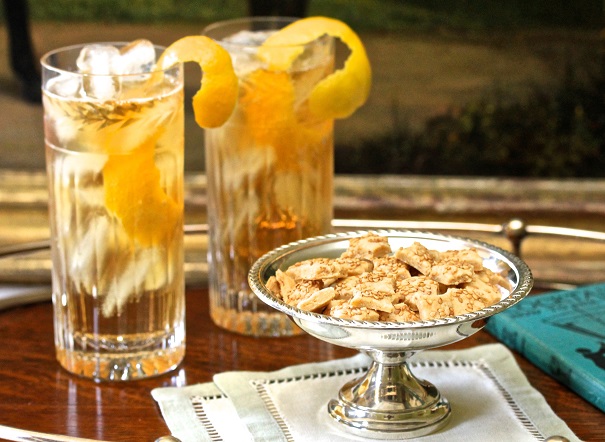 The accompaniment to the Horse's Necks are Benne Bits – not the sweet cookie, but the hotter than Hades cocktail snack that people love to nibble on before dinner while throwing back something cold and wet. The best ones are tiny, and look like harmless little crackers that you'd pop into your mouth by the handful – buttery and light with roasted sesame seeds. Then the cayenne kicks in at the end of the bite and things get hot. And as soon as you've recovered, you must have another. I swear they add something unique to a cocktail party, and their southern pedigree makes them the perfect choice for Derby cocktails.
So pick your horses, settle back with a Benne Bit and a cool drink, and enjoy!
Benne Bits
Recipe adapted from my friend Lind Vaughan's version of Benne Bits.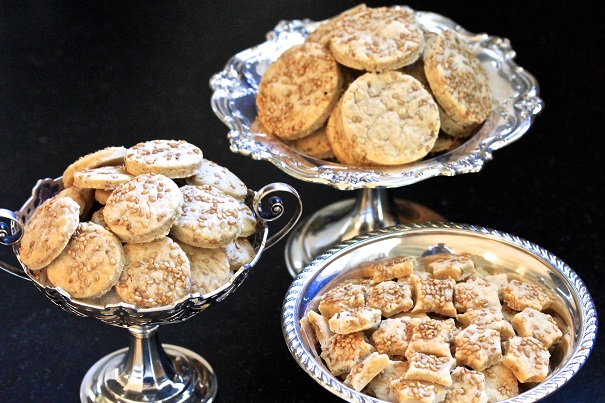 Serves: 8
Prep time: 40 minutes, including 20 minutes for roasting seeds, plus 15-25 minutes to bake, depending upon size of crackers

Ingredients
¼ cup and 2 teaspoons sesame seeds
2 cups flour
1 ½ teaspoons kosher salt
½ teaspoon cayenne pepper
¾ cup unsalted butter, cut into small pieces
¼ cup plus one tablespoon of ice water
Directions
Preheat oven to 325 degrees. Roast sesame seeds in a dry frying pan at medium heat, stirring regularly until seeds are browned and begin to give off a fragrance. Cool seeds.
In a food processor, process flour, salt, cayenne and 1 tablespoon of the roasted seeds for 30 seconds until seeds are finely ground and ingredients are well incorporated.
Add butter and process until mixture is crumbly. Add half of the water and pulse several times until combined.
Add 1 tablespoon sesame seeds and rest of water. Process another half minute until dough begins to form.
Put dough on a lightly-floured surface and roll out to ¼ inch thickness. When dough is rolled out, sprinkle surface with sesame seeds and roll into the dough.
Cut out bits with a small cookie cutter (I made them in three sizes, but I prefer the smallest size because they're more like eating cocktail peanuts than crackers, and people will grab a handful rather than just one.) and place on a silpat-covered baking sheet.
Bake 15 minutes for the one-inch size benne bits, 20 minutes for the two-inch sized bits and 25 minutes for the 3-inch benne bits. Serve with cocktails.
Horse's Necks
Serves: 1
Prep time: 5 minutes
Horse's Necks

Ingredients
The peel of half a lemon, cut into one long curl.
2 ounces bourbon
4 ounces cold ginger ale
Directions
Place lemon peel in a glass tumbler, allowing part of the lemon peel to hang over the side of the glass.
Fill tumbler with ice.
Add ginger ale and bourbon and serve immediately.