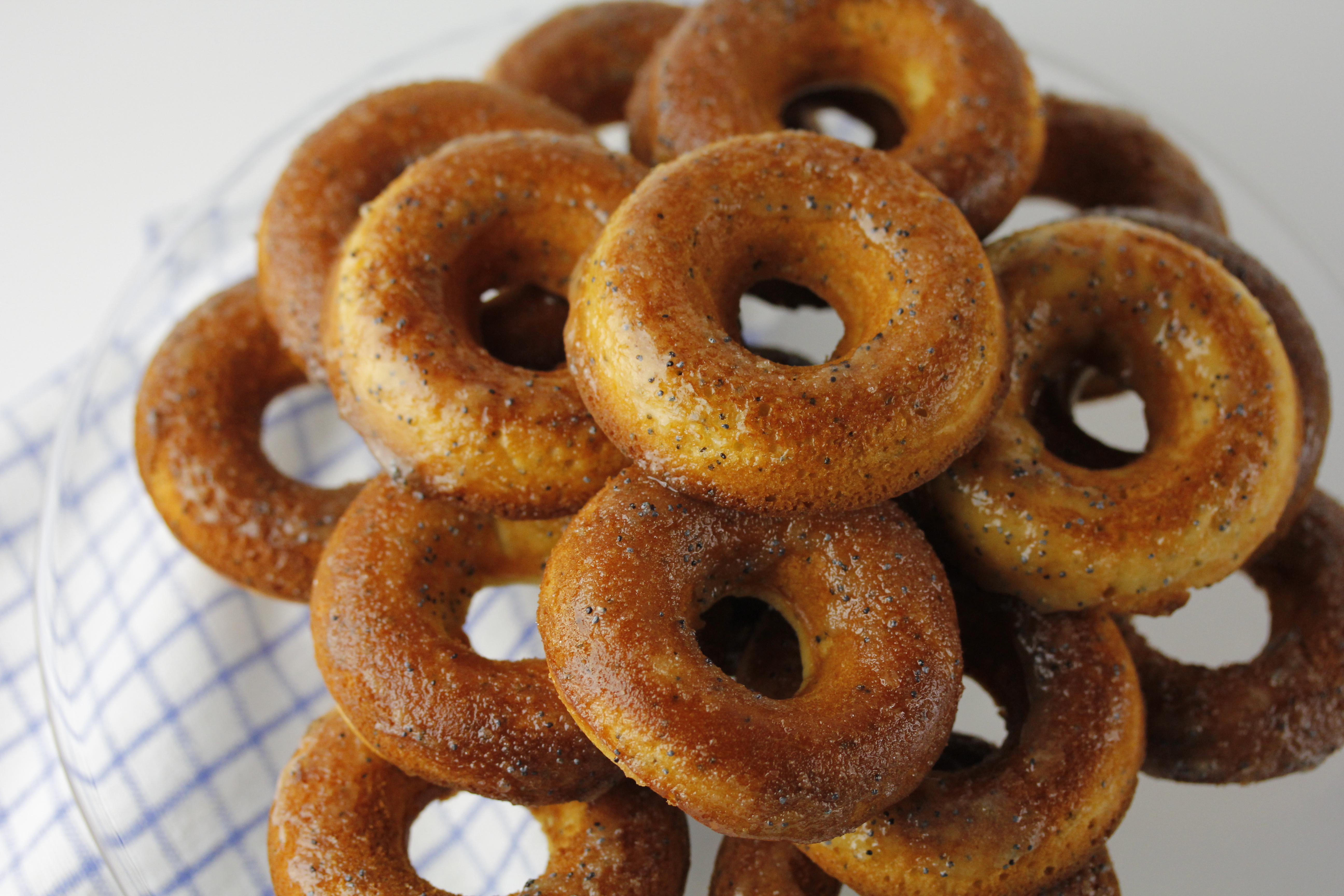 To me, the fall is the only excuse you need to make doughnuts, and every year I like to try a different version of a baked doughnut. This one has pink grapefruit (I wish you could smell how fresh and clean the batter smells!) It also has blue poppy seeds, which are produced in Canada and Holland, and though the color is pretty it doesn't affect the way they taste. And finally, they're baked instead of fried, dipped lightly in a mixture of melted butter, grapefruit zest, and a bit of sugar – no thick, icky frosting on these lovely girls.
Grapefruit Poppyseed Baked Doughnuts
Makes: 18 doughnuts
Prep time: One hour, which includes baking time for two batches at 25 minutes each
If you don't have a baking pan for doughnuts, here's a Wilton non-stick pan I found on Amazon. Or you can also use the same recipe in a muffin tin – just keep an eye on them so they bake only until nice and golden on top. Muffin tins come in wildly different sizes these days so I can't give you a specific baking time.
Ingredients
1 ½ cups flour
2 ½ teaspoons baking powder
¾ teaspoon kosher salt
2 tablespoons finely grated grapefruit zest
1 cup plus 2 tablespoons of sugar
2 eggs
1/3 cup vegetable oil
1 teaspoon vanilla
¾ cup plain yogurt
8 tablespoons grapefruit juice
1 tablespoon poppy seeds
2 tablespoons melted butter
3 tablespoons grapefruit juice
Directions
Preheat oven to 350 degrees. Spray cooking spray on a doughnut baking pan.
Work 1 tablespoon of grapefruit zest into 1 cup of sugar with your fingers until mixture sticks together, about a minute.
Add eggs, oil, and vanilla and beat with a mixer on high speed for four minutes. Reduce speed to low and mix in half of dried ingredients and ¾ cup of yogurt. Mix in rest of dry ingredients and 5 tablespoons of grapefruit juice and 1 tablespoon of poppy seed.
Pour batter into doughnut pan and bake for 20 minutes – only until they are just golden.
Transfer doughnuts to a baking rack, poke a few holes in each doughnut and brush remaining 3 tablespoons of grapefruit juice over doughnuts.
Mix together 2 tablespoons melted butter, 2 tablespoons of sugar and 3 tablespoons of grapefruit juice, and drizzle over tops of doughnuts.
Sprinkle with 1 tablespoon grapefruit zest and serve.