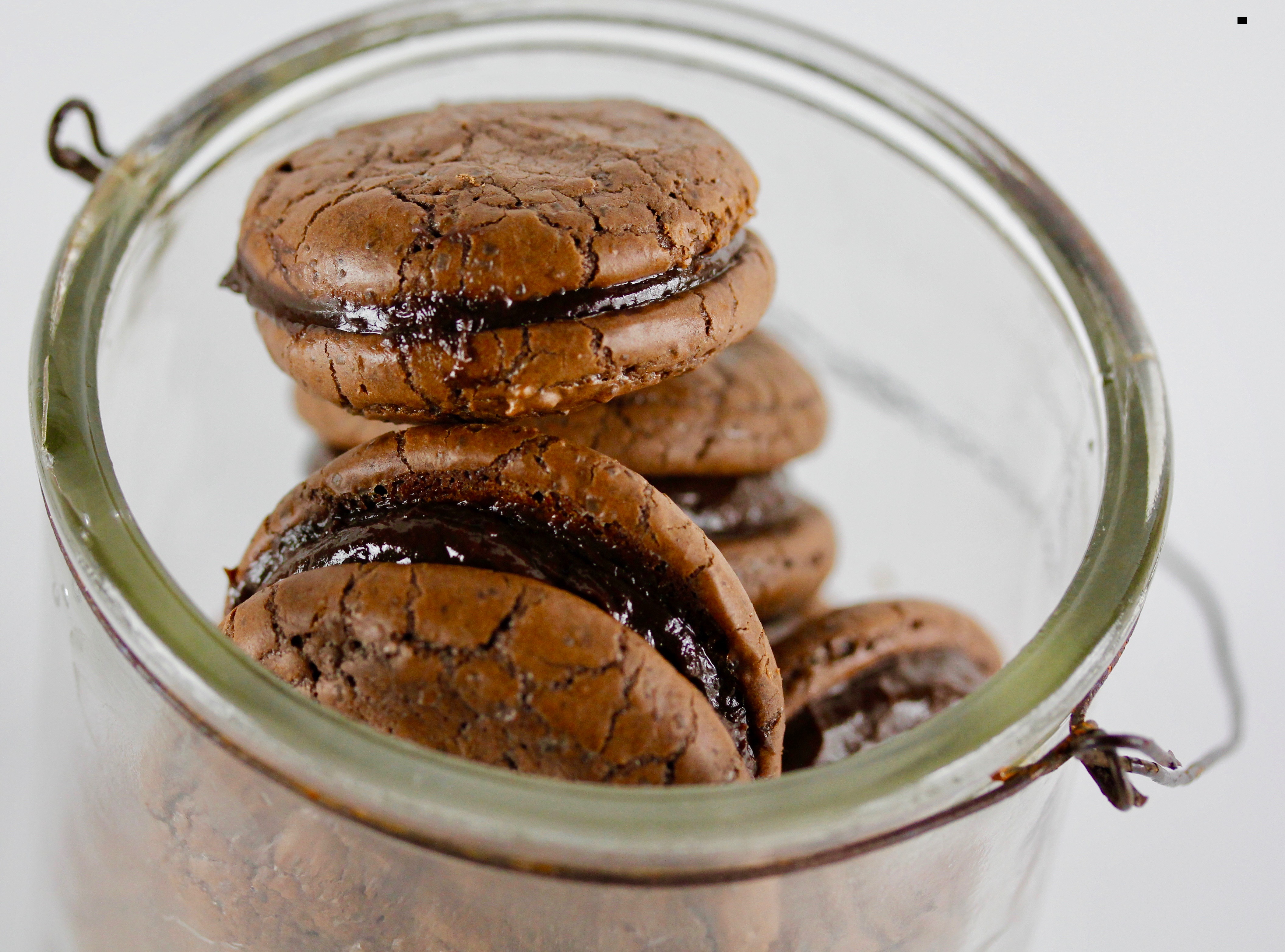 This time of year makes me think longingly of back-to-school treats, like a really special cookie to nibble on after a frenetic day of school. I liked having enticing snacks waiting for my kids after school, because it would make them slow down long enough to tell me about their day while they ate. It became our routine, and helped me know what was going on with their schoolwork, teachers and friends.
Our snacks were generally healthier things, like fruit and cheese, but for the first day of school I always added a new cookie to the happily-expanding cookie repertoire. This chocolate sandwich cookie from the Claridge's cookbook is the perfect first-day-of-school snack. It's meltingly delicious, crumbly cookies held together by a rich buttercream ganache filling. It falls apart in your mouth for an explosion of chocolate in multiple textures – pure bliss!
Chocolate Sandwich Cookies
Adapted from Claridge's The Cookbook – and more commonly referred to as 'biscuits' in the UK
Serves: Makes 30 cookies
Prep time: 2 hours, allowing for chocolate to cool, plus 12 hours for ganache to rest

Ingredients
For the chocolate ganache:
5 ounces dark chocolate, at least 56% cacao
¾ cup heavy cream
1 tablespoon honey
4 ½ tablespoons unsalted butter, softened

For the cookies:

2 eggs
6 ¾ oz. demerara sugar
9 oz. dark chocolate, at least 56% cocoa, broken into pieces
1 ¾ oz. unsalted butter
1 ¾ oz. flour
¼ teaspoon baking powder
Pinch of salt
Directions
To make the ganache:
Melt the chocolate in a heatproof bowl over a saucepan of simmering water, or microwave.
In a small saucepan, bring the honey and sugar at medium heat to a boil, then remove from heat. Pour 1/3 of the cream into the chocolate and stir briskly to incorporate the cream. It will look grainy, but no worries – pour in the second third of cream and incorporate, and the third. Chocolate will be glossy. Add butter and honey and still well.
Clean the sides of the bowl, scraping ganache into place, cover with plastic wrap to prevent a skin from forming and store in refrigerator for 12-24 hours. (Note: the recipe in the cookbook specifically call for storing the ganache at room temperature, but my first batch was a total failure. The ganache was too soft and it squirted out of the sandwich as soon as I bit into the cookie. So I refrigerated the next batch of ganache to make it much harder. Also, don't overbake the cookie or it will be too hard!)
To make the cookies:
Preheat oven to 350 degrees.
Whisk together eggs and sugar until just combined and set aside for 20 minutes to rest.
Over low heat, melt chocolate and butter in a saucepan until melted together. Whisk chocolate mixture into the eggs and sugar, and then stir in dry ingredients. Cover with plastic wrap and allow to sit for 10-20 minutes to set, but do not refrigerate.
Transfer mixture to a piping bag and pipe the mixture on to baking sheets in mounds that are about 1 ¼" in diameter. Using the back of the spoon, smooth the tops of the mounds so that are as uniform as possible.
Bake for 8-10 minutes, until cookies on crisp at the edges but soft in the middle. Allow to cool completely.
To assemble, match cookies in equal-sized pairs. Fill another piping bag with ganache and pipe a teaspoon of ganache into the center of the flat side of one of the cookies. Top with remaining cookie and press together gently. (Use any extra ganache to pour on ice cream, fruit, or cake.)
Cookies will keep up to three days at room temperature in an airtight container.