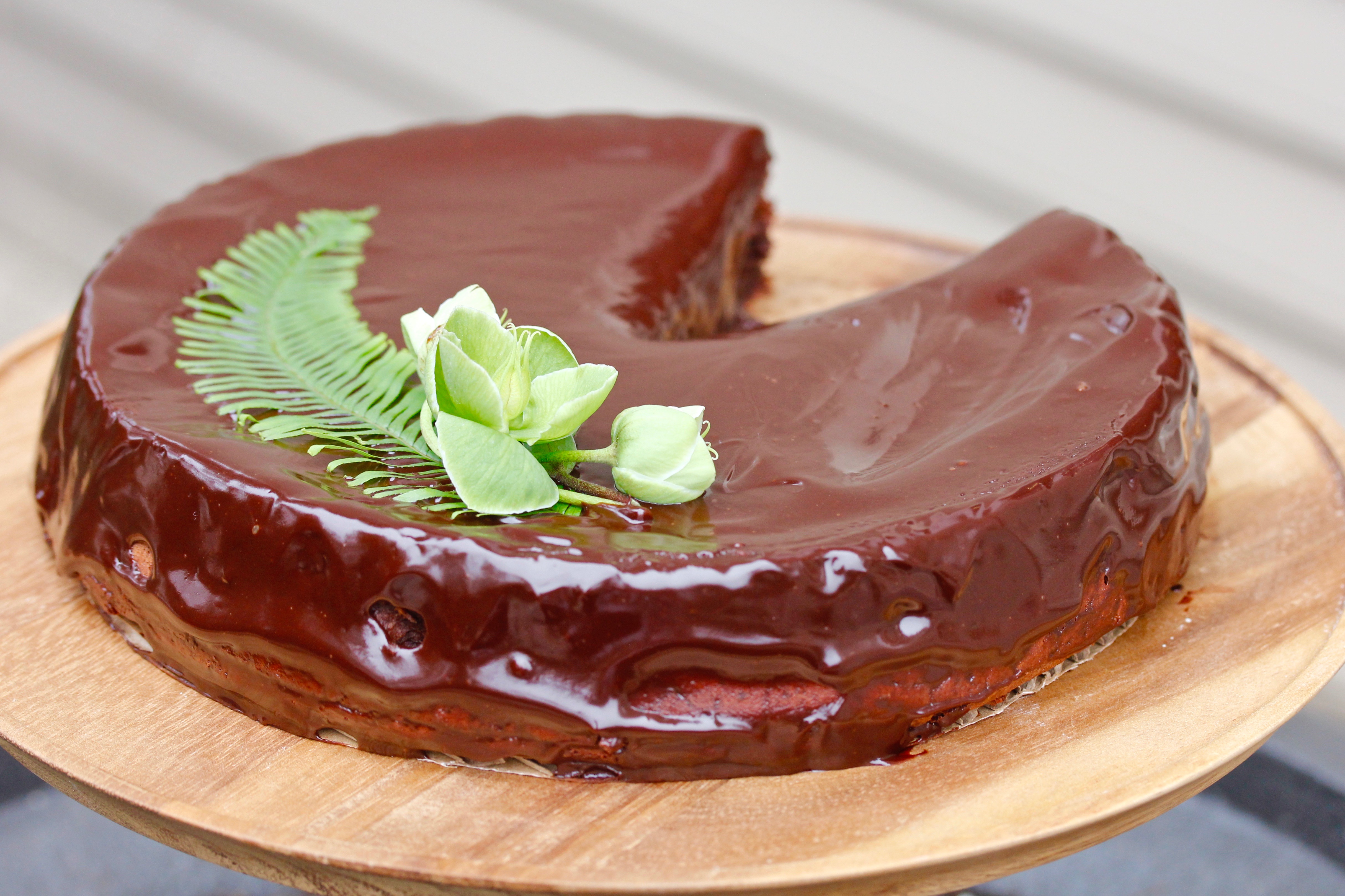 Is your mouth watering yet? Red wine and dark chocolate – two of the most satisfying and complex flavors of all time, in one mind-blowing cake. When I realized there were four different recipes for a chocolate-and-red-wine cake in my dessert file, I took it as a sign from the universe: manifest the cake.
This isn't health food, and while I try to offer as many recipes for clean eating as possible on AT, I've developed this philosophy about food:
Eat healthfully as much as you can but only eat healthy foods you actually like, and when you decide to splurge on a special treat, make sure it's the highest quality version of that treat you can find.
If you've been thinking about pizza all month, get the best pizza, even if it means you have to drive across town to get it. When I want a cheeseburger it has to be Shake Shack – no other burger is worth the calories to me. And for chocolate cake – it has to be this recipe from now on. Use a deep, full-bodied red wine to get a glaze as rich as the dark chocolate. I used an Italian Brunello de Montalcino, which is far too fine to be a cooking wine, but hey, it was a reason to open a bottle of Brunello. See what I mean? No need to deprive yourself of the things you love. Think of this as cocktails and dessert in one single, excellent, serving.
Red Wine Glaze on a Dark Chocolate Cake
Serves: 6
Prep time: 2 hours, off and on

Ingredients
For the cake:
1/3 cup flour
8 ounces bittersweet chocolate, chopped (I used 63% cacao, but use whatever percentage you like best)
1 cup unsalted butter
1 cup sugar
1/2 teaspoon salt
4 eggs
For the glaze:
8 ounces bittersweet chocolate, finely chopped
½ cup red wine
½ cup powdered sugar
½ teaspoon salt
Directions
Preheat oven to 325 degrees. Butter and flour a springform pan.
Heat chocolate, sugar and half the butter in a double boiler or in a heatproof bowl set over a pan of simmering water. Stir until chocolate is almost melted, and remove from heat. Continue stirring until chocolate is liquid. Set aside to cool.
Once the chocolate is cooled, add one egg at a time to chocolate mixture, beating each in with an electric mixer until the chocolate is thick. At low speed, add salt and flour and pour into pan.
Bake 55-65 minutes until top is firm. Transfer cake to wire rack and cool before removing from pan. The middle of the cake will sink a bit as it cools.
To make the glaze:
Heat butter, chocolate and salt in double boiler at low temperature until completely liquid (5 minutes.) Stir in powdered sugar.
Bring wine to a boil in a separate, small saucepan. Remove chocolate from heat and whisk in wine. Glaze will thicken as it cools. (Give it ten minutes.)
Place cake on wire rack over a baking sheet and pour the glaze over the cake, spreading it with a spatula to the edges and down the sides. Allow glaze to set (2-3 hours,) or eat immediately, which is what I did.