Makes 20 donut holes
Prep Time: 1 and ½ hours

Ingredients
1 1/4 cups cake flour, sifted
½ cup sugar
1 ¼ teaspoon baking powder
¾ teaspoon salt
1/8 teaspoon ground nutmeg
1/4 cup buttermilk
¼ cup milk or cream
1 egg
2 tablespoons butter, melted
1 cantaloupe for displaying donut holes
1 donut hole pan
Directions
Heat oven to 425 degrees.
Spray with vegetable spray.
Mix flour, sugar, baking powder, salt and nutmeg.  Add other ingredients and stir until combined.  Fill each cup about ¾ full.
Bake 6-7 minutes or until tops spring back when touched.
Cool in pan, then remove to rack and allow them to cool another five minutes.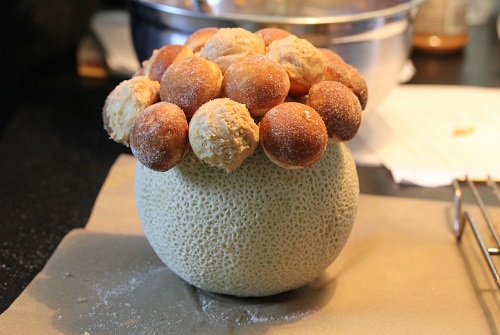 Cinnamon and Sugar Donut Holes

Ingredients
1 ½ teaspoon cinnamon
½ cup granulated sugar
Directions
Mix cinnamon and sugar together. Roll donut holes in mixture and serve.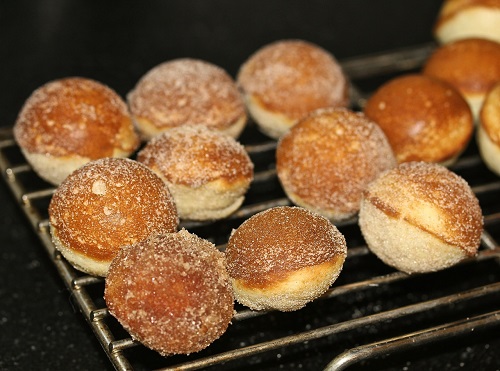 Peanut Butter and Jelly Donut Holes
Peanut butter frosting (adapted from Martha Stewart's Cupcakes):

Ingredients
5 ounces cream cheese
1/3 cup sugar
¼ teaspoon salt
3/4 cup creamy peanut butter (not natural)
1/2 cup heavy cream or ready-made whipped cream
1 teaspoon vanilla
2 tablespoons grape jelly (For 10 donut holes)
Directions
Beat cream cheese and sugar at medium speed.
Add peanut butter, salt and vanilla.  Whisk cream until peaks form, or fold in ready-made whipped cream.
Using fine piping tip, pipe grape jelly into the center of the donut hole.
Cover top half of donut hole with frosting and affix to cantaloupe, or just put it on a plate.
Another variation:
Roll the frosted peanut butter donut holes in mini semisweet morsels for a chocolate-peanut butter donut hole.