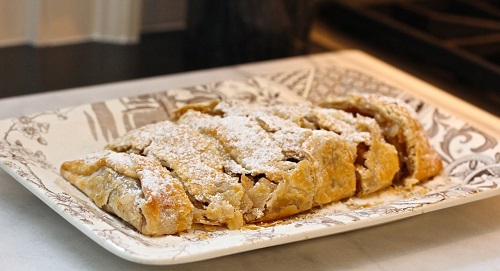 Makes two ten-inch strudels
Prep time: one hour, including time for pre-cooked apples to cool

Ingredients
Preheat oven to 375 degrees.
8-10 apples, thinly sliced
1 and ½ cup sugar and cinnamon, mixed together
½ cup chopped walnuts
½ cup graham cracker crumbs
zest of two lemons
Optional: ½ cup golden raisins
6 tablespoons butter, cut into fine pieces
pie crust dough for two pie crusts
For 2 pie crusts:
4 cups flour
1 teaspoon salt
4 tablespoons sugar
1 and 1/3 cup chilled unsalted butter
8-10 tablespoons ice water
Directions
Using a mixer with a paddle attachment, combine flour, salt and sugar on low speed for 30 seconds.  Cut the chilled butter into ½-inch cubes.  Add butter to the flour mixture and combine on low speed for a minute, until mixture is crumbly, with bits of pea-sized dough.
Add ice water, I tablespoon at a time, mixing on low speed for ten seconds after each tablespoon.  Dough should begin to clump in a ball.  Mold dough in a disk, wrap in plastic wrap and refrigerate for an hour.
OR you can buy premade pastry dough and use that instead of making the crust from scratch.  I'm not a snob about these things.
Remove chilled dough from freezer and roll out on a floured board to create an oblong shape.  Roll out as thinly as possible while still keeping dough easy to move.
Gently fold dough in half, and half again, and move to a silicon-covered baking sheet.
Cut apples into diced pieces and put in ovenproof baking dish.  Sprinkle with 2/3 of the cinnamon and sugar mixture and 4 tablespoons of butter.
Bake in preheated 375 degree oven for ten minutes, stirring fruit every 3 or 4 minutes.  Remove from oven and allow apples to cool.
Strain excess liquid from apples.  (The point of pre-cooking the apples is to remove some of the liquid that might later soak the pastry when the strudel is baking – a trick learned from White House pastry chef Roland Mesnier, and not part of the original family recipe.)
Unwrap dough on baking sheet and gently pile cooled apple mixture in middle of dough.  Add graham cracker crumbs, walnuts, and bits of butter.
Sprinkle lemon zest on top of mixture.  Bring the edges of the strudel into the middle of the apple mixture, folding one edge on top of the other until the apples are completely covered.  Use a drop or two of water to hold edges of dough together, if necessary.
Bake for 35 minutes, until light golden brown.  Slice and serve while still warm.  Good with vanilla ice cream.