– adapted from the Silver Palate Cookbook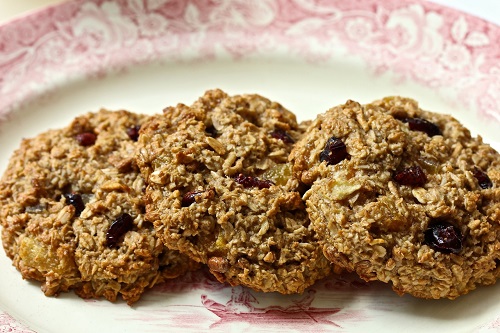 Yield: 32 cookies
Prep Time: 45 minutes

Ingredients
¼ cup canola oil
¼ cup unsweetened applesauce
1 egg white
¼ cup frozen apple juice concentrate
½ cup seven grain cereal
¼ cup flour ¼ cup whole-wheat flour
1 teaspoon cinnamon
½ teaspoon cloves
1 teaspoon ground ginger
1 teaspoon minced crystallized ginger
½ cup golden raisins, or dried cranberries, or dried apricots, chopped
½ cup brown sugar
1 tablespoon fresh orange juice
1 tablespoons fresh lemon juice
¼ cup unsweetened shredded coconut
1 ½ cups oatmeal
½ teaspoon baking soda
2 teaspoons vanilla
Directions
Preheat oven to 350 degrees.  Use silicon baking sheets, or lightly spray pan with vegetable oil.
Combine all ingredients and mix well.
Place ¼-cup measures of the dough, two inches apart.
Press dough into large circles and bake for 15 minutes, or until golden.  Remove from cookie sheet and cool completely – cookies are soft when still warm and will firm up as they cool.