This is a farmhand breakfast, fresh and filling as they come. How did I live this long without tasting a corn pancake?!? They're transformational, with their little kernels of fresh sweetcorn popping happily with each bite. Pour on some maple syrup or molasses and you'll think you've time-traveled into a Laura Ingalls Wilder book. I added bacon corkscrews (so easy) to round out this big, bad breakfast.
If you're headed out to a football game or an afternoon of leaf-raking, this meal will keep you well-fueled through a cold afternoon. Enjoy!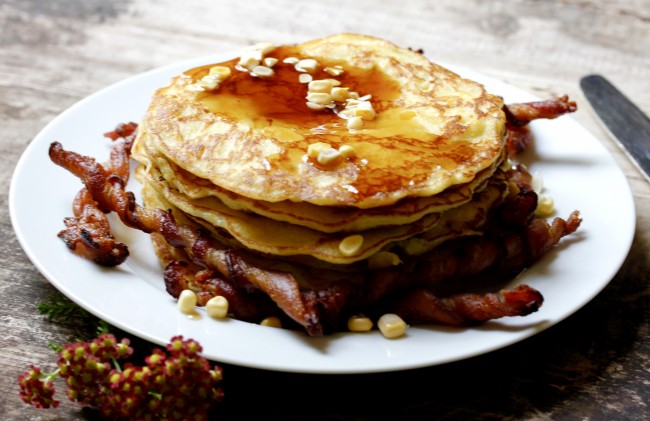 Fresh Corn Pancakes with Bacon Corkscrews
Serves: 4
Prep time: 30 minutes for both bacon and pancakes
Adapted from Gourmet magazine

Ingredients
1 cup flour
1 tablespoon sugar
4 teaspoons baking powder
4 ears of corn, cut uncooked – enough for 2 cups
1 teaspoon salt
¾ cup whole milk
2 eggs
2 tablespoons oil
8 tablespoons unsalted butter, melted and cooled
1 pound bacon
maple syrup or molasses to pour on pancakes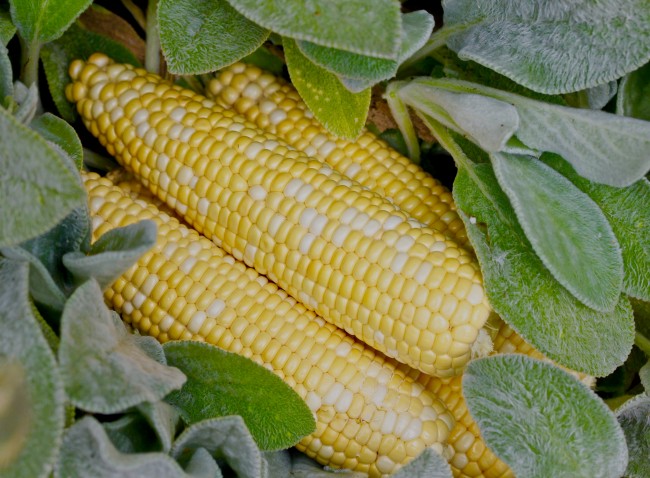 Directions
Mix together flour, baking powder, salt, and sugar.
Put ½ cup corn kernels into blender with milk and puree until smooth.
Strain through a sieve and add in eggs, oil, and butter.
Add remaining corn and flour mixture and combine.
Heat a skillet to medium high heat and cook until bubbles appear on surface.
Flip and cook until both sides are golden. Serve with syrup or molasses. Bacon Corkscrews 
Twist raw bacon strips around wooden kebab skewers and bake in a 400 degree preheated oven for twenty minutes.
Remove from oven and slide skewers out of each strip of bacon while bacon is still warm.
Allow corkscrews to sit and harden before serving.