As the acorns pile up on the lawn and the trees begin to turn, it feels like the food we eat should change along with the color of the leaves. It's time for a hearty meat pie, like this toothsome beef-and-mushroom variety. I love one-dish dinners, and this stick-to-the-ribs meal does involve more prep time than I'm usually willing to do, but you can make them in quantity, freeze them, and have a special treat waiting in the freezer for that hectic night when there's no time to cook. It also makes a great weekend meal – the leftovers get better each time they're reheated.
I also like this recipe because it only needs a simple green salad to round out a family dinner, or you can make it your dinner party entrée with the addition of a few sides. The puff pastry is golden and beautiful, and there's no limit to the ways you can decorate the pie to dress it up or down to suit your diners. Enjoy!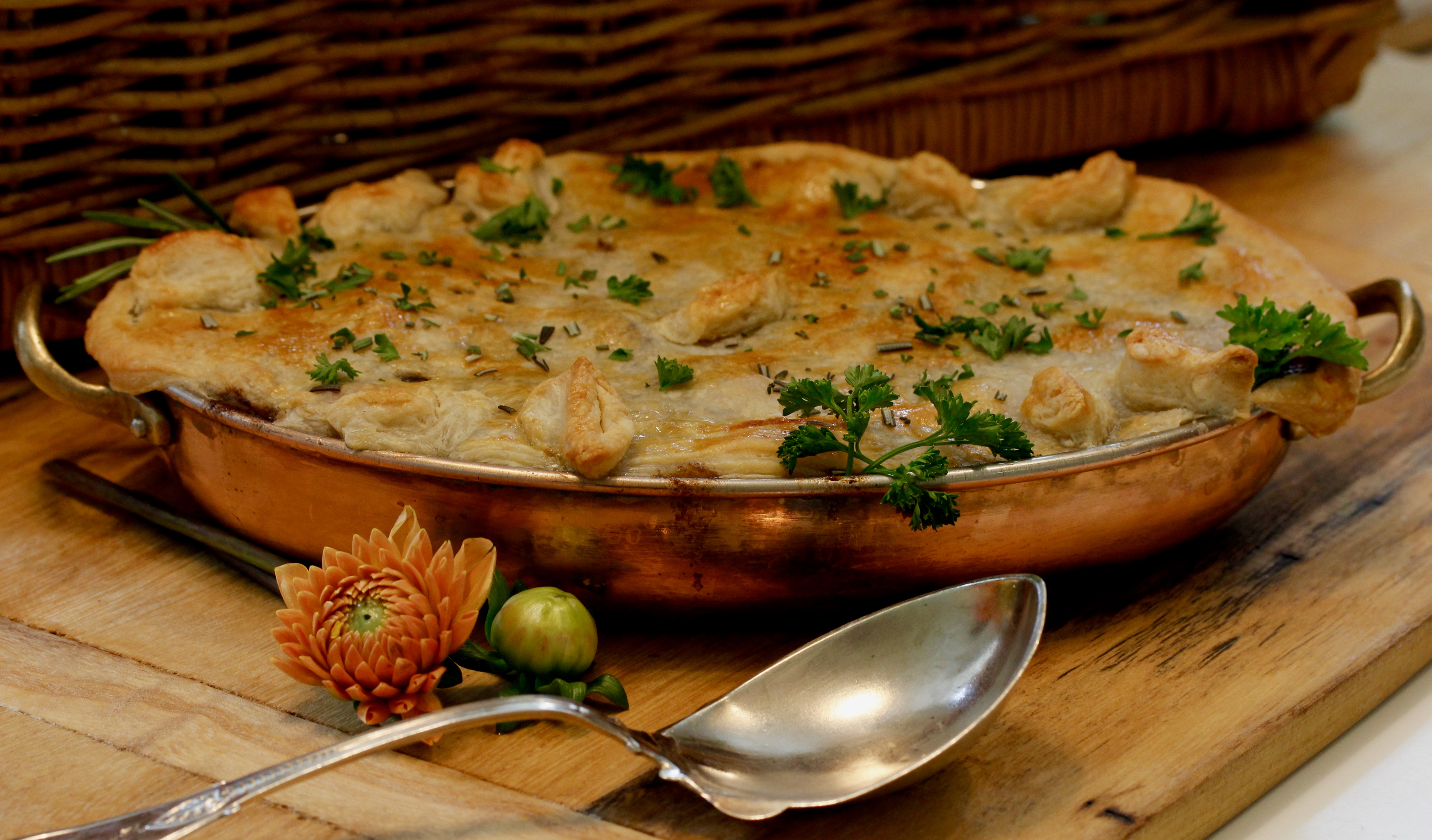 Beef and Mushroom Pie
Prep time: 2 hours
Serves: 4-6

Ingredients
2 pounds chuck steak
4 ounces pancetta, or bacon
1 ounce flour
4 tablespoons olive oil
2 cups red wine
20-25 pearl onions
8 ounces button mushrooms
1 cup beef stock
bouquet garni of rosemary, thyme and parsley
freshly ground pepper
1 tablespoon butter
1 puff pastry sheet
1 egg, beaten
additional rosemary, thyme and parsley, minced, for garnish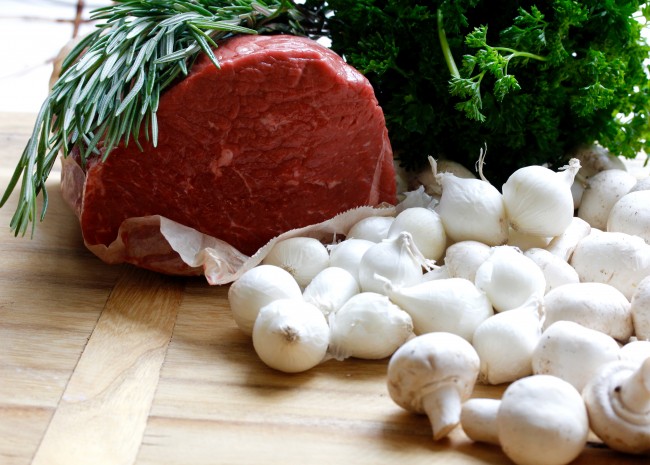 Directions
Preheat oven to 350 degrees.
Chop pancetta or bacon into narrow strips and blanch them in boiling water for 5 minutes to reduce the salt content.
Cut beef into large cubes and coat in flour and season with pepper.
Dry the pancetta and brown it in 2 ounces of olive oil in a large lidded casserole dish.
Remove the bacon and brown the beef in the fat, frying in batches until all the meat is browned, and set aside.
Put half the wine to the casserole dish and bring to a boil to deglaze the pan.
Add the meat, bacon, remaining wine and stock.
Add the bouquet garni, add pepper to taste, and cover and simmer in the oven for 1 ½ hours.
While the meat is cooking, peel the onions and simmer in the stock until tender, about 5 minutes.
Then brown the onions and mushrooms in the remaining oil and butter and stir them in with the meat.
Heat on low until combined.
Pour into pie dish, piling meat in the center to create a nice full-looking pie.
Allow the mixture to cool completely before putting pastry on top.
Place the sheet of puff pastry over the top, cut to size, and brush the top with beaten egg.
Bake for 30 minutes until pastry is golden and serve hot.
The pie goes well with mashed potatoes and roasted brussel sprouts as side dishes.