Isn't it a marvel the way you can taste, or smell, or hear something long forgotten and have it brought back to life in an instant, a powerful memory you didn't even know was still there? For me, the smell of Concord grapes is like being thrust back in time to my five-year-old self, perched on the fender of a tractor as my uncles stacked wooden boxes of grapes to go to market. Another thing that brings back happy childhood memories is the taste of simple butterscotch pudding, sweet and smooth. It might sound a little prosaic, but it's a classic example of traditional home cooking, made extraordinary by wholesome ingredients stirred with patience and love. I paired the pudding with a thin, crispy gingersnap for a spicy contrast, and garnished with a dollop of whipped cream. Childhood in a pudding bowl!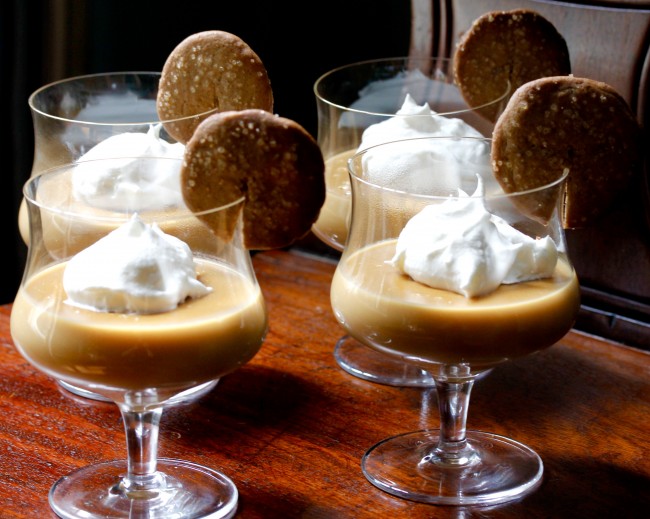 Butterscotch Pudding
Serves: 8
Prep time: 20 minutes plus several hours to chill pudding, if you want to serve it cold
Note: It's even better when it's served warm; place a piece of plastic wrap over the pudding to prevent a skin from forming after it cools, then remove plastic and reheat just before serving.

Ingredients
½ cup brown sugar
3/4 cup sugar
¼ cup water
¼ cup whipping cream
1/3 cup cornstarch
1 teaspoons salt
3 cups whole milk
1 teaspoon vanilla
4 egg yolks
¼ cup unsalted butter, softened
2 tablespoons Scotch (optional)
whipped cream for garnish
Directions
Stir ¾ cup of sugar and ¼ cup water in a saucepan over low heat until sugar dissolves.
Increase heat and boil until mixture becomes a dark golden color.
Remove from heat and add cream.
Stir vigorously until smooth and set aside.
Mix brown sugar, cornstarch and salt in another saucepan over low heat.
Whisk in milk and keep stirring until mixture thickens and boils (this will take 6-8 minutes).
Remove from heat and whisk in the caramel sauce.
Whisk egg yolks in a large bowl, then gradually whisk in a little of the caramel sauce at a time, stirring constantly, until it is all combined with the egg yolks.
Simmer over low heat and add butter, scotch and vanilla. Serve in small bowls or teacups, and garnish with gingersnaps and whipped cream.
PS – My favorite cookie in all the world is a gingersnap. I tried a new recipe and planned to include it in this post, but they were disappointing and not worthy of sharing. I just moved houses last week and there aren't enough hours in the day, but I promise to put my magical gingersnap recipe up in a few weeks!