Adapted from Donna Hay's The New Classics.
Serves: makes 12 cookies
Prep time: one hour
For the cookie:
Ingredients
12 ounces dark chocolate, broken into small pieces
2/3 cup superfine sugar (just process regular sugar in a food processor for 30 seconds to get superfine texture)
¼ cup butter
2 eggs
1 teaspoon vanilla
¼ cup flour
¼ cup baking powder
For the peanut butter filling:
Ingredients
1/2 cup confectioners, or powdered , sugar
1/4 cup creamy peanut butter
1/2 cup dried roasted peanuts, processed into peanut butter
1/4 cup butter
1/2 teaspoon vanilla
1/4 cup cream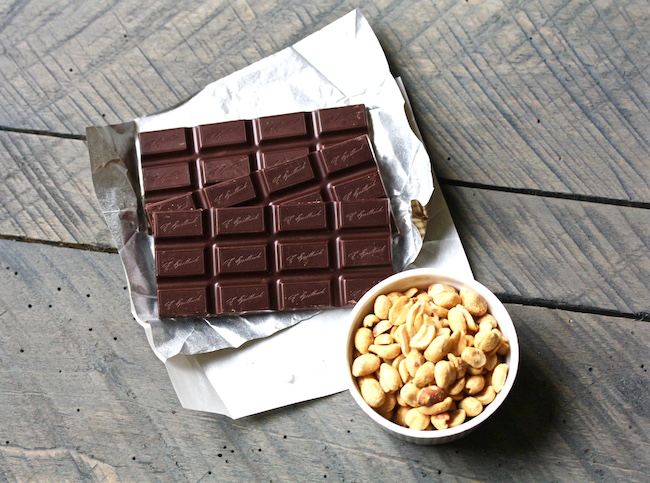 Directions
Preheat oven to 350 degrees.
 Place half of the chocolate and the butter in a small saucepan at low heat and stir until melted.
 Put eggs, sugar, and vanilla into a mixing bowl and beat for 15 minutes until smooth.
 Add chocolate mixture, the rest of the chocolate, and the flour and baking powder into the mixing bowl and combine.  
Allow mixture to stand for ten minutes.
On a baking sheet covered with parchment or a Silpat sheet, spoon the cookie batter, one tablespoon at a time.
 Bake 10-12 minutes.
 Cookies will have cracks in them.
 Allow cookies to cool completely.

Put dried peanuts in food processor for one minute; it will smooth into peanut butter.
For the frosting, put sugar, butter, peanut butter – both the creamy peanut butter and the peanut butter made from dried peanuts – and vanilla, into a mixing bowl and beat for six minutes, until fluffy.
 Add cream and beat another two minutes.
 Spread half of one cookie with the frosting and place another cookie on top of the frosting to create a sandwich cookie.