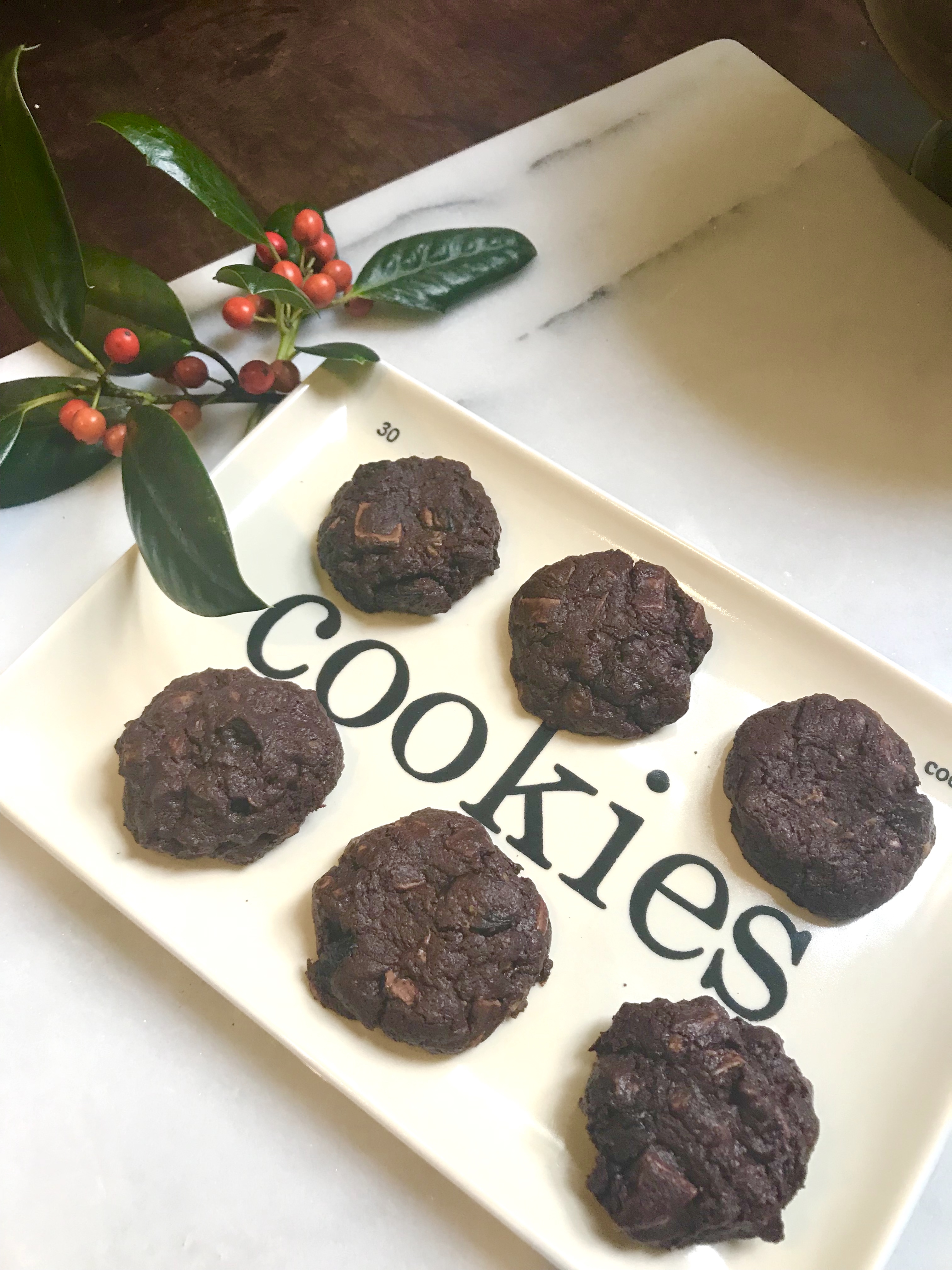 The first time I met Bill Yosses he was interviewing for the position of White House pastry chef. The Chief Usher, Gary Walters, and I had been interviewing pastry chefs for a couple of months and I was struck by Bill's easy self-confidence and positive attitude. Then he baked for the Bushes (Gary and I taste-tested also) and everyone was sold. He went on to expand his skills even further in the Obama White House, where he found new and inventive ways to make desserts healthier, using alternative ingredients and less sugar. His new book, The Sweet Spot, from Penguin Random House, came out this fall and today's recipe is from that book – a wonderful Christmas cookie option that he calls his "High Percentage Chocolate-Chocolate cookies." He uses 80 percent chocolate to get the most chocolatey flavor to combine perfectly with tart cherries and pistachios (he says you can use 70% chocolate as well) and they are heaven! Bill recipes prove that you don't have to load every dessert with sugar to make it delicious. He's a true innovator and a great chef.
Makes:3 1/2 dozen cookies
Ingredients
1⁄2 cup tart dried cherries
8 ounces dark 80% chocolate
2 tablespoons unsalted high-fat European-style butter, at room temperature
2 ½ tablespoons whole wheat flour
1⁄2 teaspoon baking powder
Pinch of kosher salt
2 large eggs
1⁄3 cup (lightly packed) light brown sugar
1⁄2 teaspoon vanilla paste
1⁄2 cup pistachios, toasted and coarsely chopped
6 ounces milk chocolate cut into Toll House–size chunks
Sea salt flakes (optional)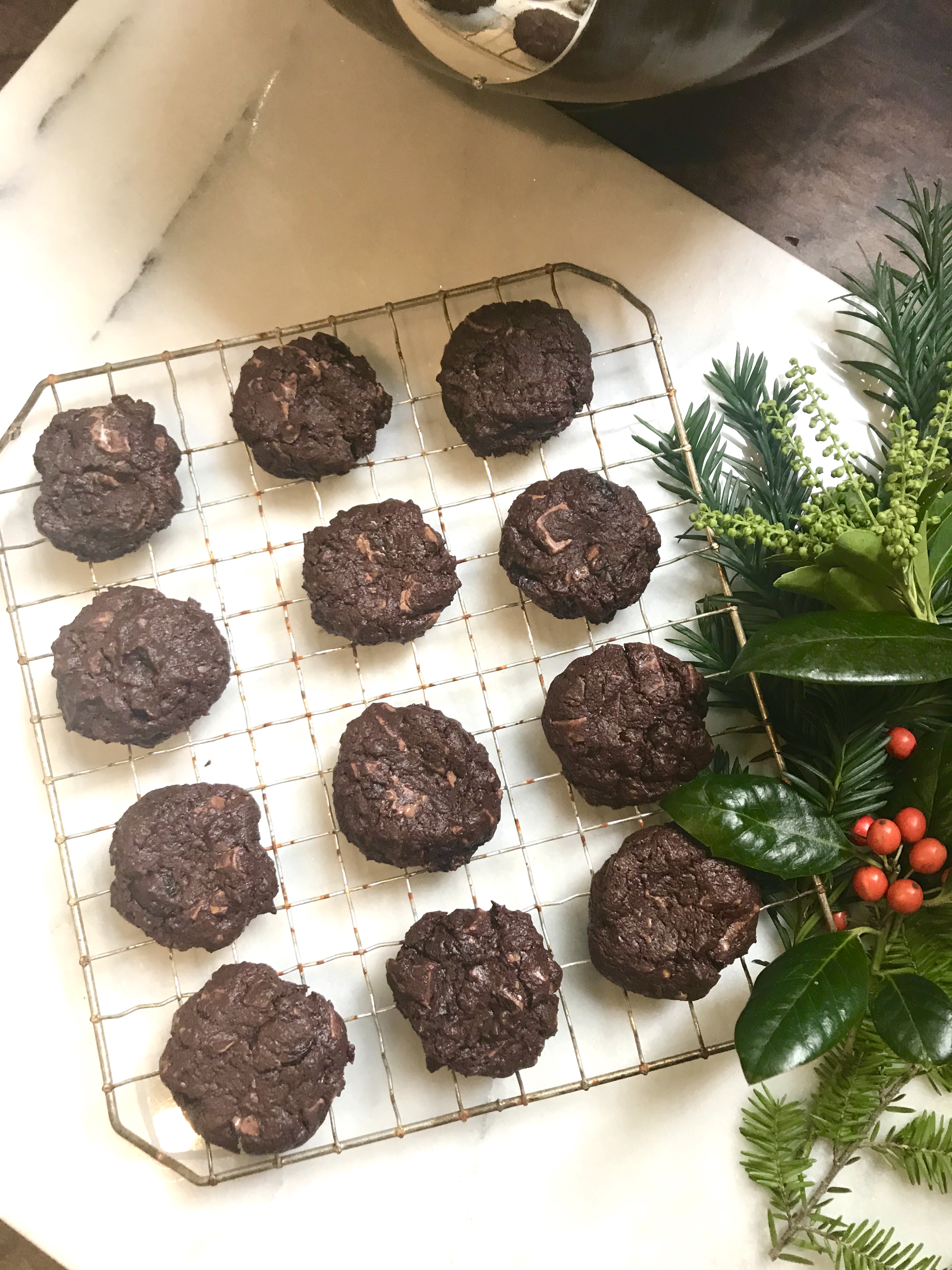 Directions
Preheat the oven to 350°F. Line two rimmed baking sheets with parchment.
Bring a small saucepan of water to a boil. Add the cherries and cook for 2 to 3 minutes to plump. Drain and spread on a paper towel.
Combine the dark chocolate and butter in a small microwave-safe bowl and melt in the microwave in 5-second intervals, stirring after each, until it is thoroughly melted and looks smooth and glossy.
Monitor the chocolate closely, as it can easily burn. Set aside to cool for at least 10 minutes.
Combine the flour, baking powder, and salt in a fine-mesh sieve set over parchment and tap through to sift. Set aside.
In the bowl of a standing mixer fitted with the paddle attachment, beat together the eggs and brown sugar on medium-high speed until the mixture is frothy. Add the flour mixture, vanilla, cherries, pistachios, and milk chocolate and mix until just incorporated.
With the mixer running, add the cooled melted chocolate to the bowl and mix until just
incorporated. Remove the bowl from the mixer and finish mixing with a wooden spoon to avoid overbeating.
Spoon walnut-size portions onto the prepared baking sheets, leaving an inch between them.
Bake until the cookies form a crust with a slightly browned edge, about 8 minutes. For fudgier cookies, bake 6 to 7 minutes.
Slide the parchment onto a marble or wooden countertop or onto a cold sheet pan to stop the baking. If desired, sprinkle a few flakes of sea salt onto each cookie while still soft. The cooled cookies will keep, tightly covered, for up to 4 days.