I like to find recipes from former first ladies and post updated versions from time to time, and while there are a few recipes that survive from Martha Washington, there is no recipe for a cherry dessert. If she'd known how the myth of her husband admitting to chopping down a cherry tree to prove his truthfulness and integrity would grow to become a part of American folklore, I'm sure she would have left us her recipe for Tidewater cherry pie. Her reputation for hospitality was well-known throughout the other colonies in her day, and she was well-accustomed to receiving unexpected guests with great hospitality at Mount Vernon throughout her life. All the best first ladies seem to have an inherent grasp of the importance of making every American feel welcome when they visit; it's a form of inclusion that teaches people that they belong to something bigger and better than themselves, and that's a good feeling.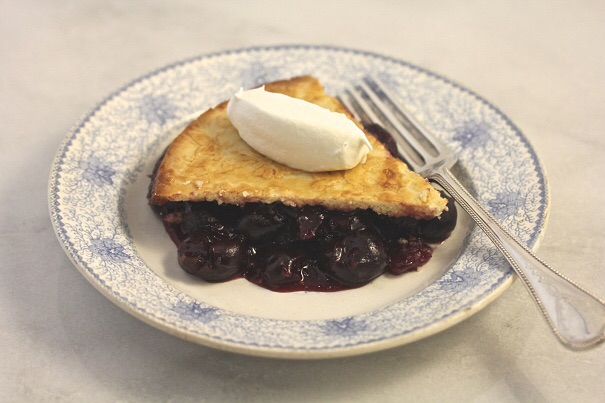 This is a recipe for a cherry cobbler with a sugar cookie crust, but what makes it really special is the way it looks. I found this etched rolling pin on Etsy and fell in love. It makes the crust look like a beautiful piece of damask – just the kind of fabric Martha Washington would have worn. All you have to do is roll it across the dough and voila! – instant pattern. (I think a crafty person could probably stencil walls with this thing, and it would be amazing.)
Humble Elephant makes etched rolling pins of many designs – in fact, you can have one custom made to say anything you like on it. What a great wedding rehearsal dinner dessert that would be, with the names of the bride and groom and the wedding date written across the top of a pie! You can also use them to make beautifully patterned sugar or shortbread cookies, Anyway, here is the link, if you want to find something similar.
I think Martha would approve.
Serves: 6
Prep time: one hour
For the cobbler filling:
Ingredients
6 cups fresh, pitted cherries
1¼ cups sugar
¼ teaspoon lemon juice
2 tablespoons instant tapioca (make sure it's instant)
For the filling:
Directions
Combine cherries, sugar, lemon, and tapioca into a large saucepan and heat at medium heat until mixture thickens, about ten minutes.
Pour cherry filling into a pie pan.
For the cookie crust:
Ingredients
3 cups cake flour
1 cup sugar
1 cup unsalted butter
2 eggs
¼ teaspoon salt
1 teaspoon vanilla extract
1 beaten egg and 1 tablespoon of milk for eggwash
For the cookie crust:
Directions
Cream butter and sugar until fluffy.
Add vanilla and eggs and mix well.
Add flour and salt and combine but do not overmix.
Dough will seem too wet, but place dough on a piece of plastic wrap and chill for several hours.
After dough has hardened, roll dough into a circle that is at least an inch smaller than the same diameter of the pie pan you are using. (You want to be able to see the cherries around the edges of the dough.)
Roll the dough out onto a baking mat.
Using the etched rolling pin, press down hard to push pattern into dough.
Put etched dough into freezer for another 15 minutes, after pressing the pattern into the dough.
When it is frozen, place the baking mat with the dough on to a baking sheet and brush lightly with eggwash of milk and egg.

Bake at 400 degrees for 20 minutes.
When the dough is nicely browned, remove from oven and allow to cool.
Carefully lift cookie from baking mat and place on top of the cherry mixture.
Garnish with whipped cream and serve.