This is one of those delicious cake-like cookies that are a bit old-fashioned, the sort of thing you might be served at tea with the Dowager Duchess of Grantham. I love this cookie because it's festive and unusual. Honey is more a sweetener than a flavor, so honey cookies can be a little bland, but the honey in the soft and shiny frosting comes through like the warm buzz of honey bees hard at work on a midsummer's day – and the fresh ginger keeps it from being too sweet.
I've been saving up some special baking accompaniments for months – dried rose petals and dried coneflowers purchased during last fall's London trip, and these cookies were the perfect vehicle for them. You can also use candied ginger, blanched almonds, or red currants as garnish, or you can keep it simple and just enjoy them as they are. These cookies will stay soft and fresh for some time if you store them in a tin or airtight container. They're great pick-me-ups for that late afternoon energy deficit, with a strong cup of Earl Gray. Just what the Countess would ring for when Cousin Shrimpie comes round for tea.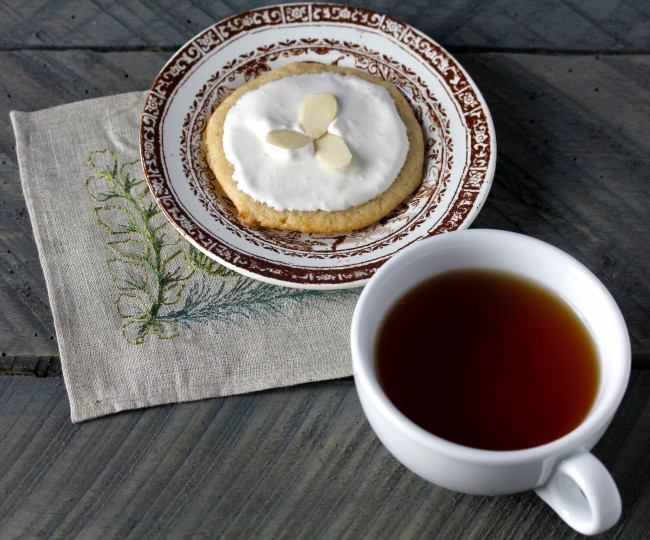 Serves: makes 2 dozen medium-sized cookies 
Prep time: 50 minutes  

Ingredients
1 cup brown sugar
2/3 cup canola oil
½ cup honey
2 egg yolks
1 teaspoon vanilla
2 teaspoons fresh grated ginger
2 Tablespoons Crisco
¼ cup milk
2 cups flour
2 teaspoons baking powder
½ teaspoon salt
For the frosting: 

Ingredients
2 egg whites
1 teaspoon vanilla
¼ teaspoon salt
1 ¼ cups honey
For garnish: 

Ingredients
Blanched, shaved almonds
Currants
Edible flower petals
Candied ginger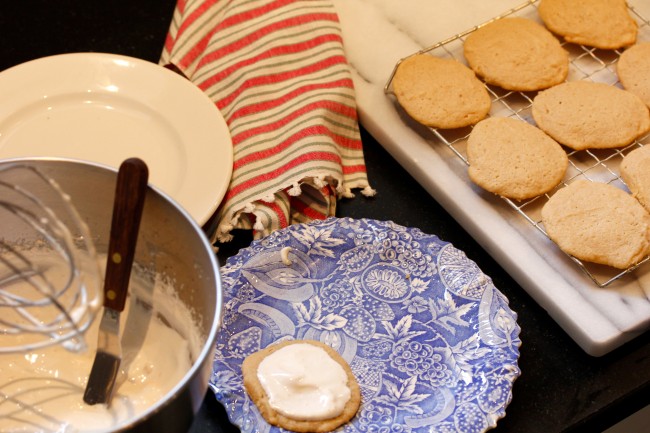 Directions
Preheat oven to 350 degrees.
Mix the honey, brown sugar and oil until blended.
Add egg yolks, vanilla, flour, milk, ginger, Crisco, baking powder, and salt, and mix well.
Batter will be thick.
Spoon dough onto a silpat-covered baking sheet, and bake for 9 minutes until the bottom edges of the cookies begin to turn brown-ish (more golden).
Allow cookies to cool, then remove to a baking rack to cook completely – work carefully as cookies will be soft!
For the frosting, heat honey in a pan until it's runny.
Combine egg whites, vanilla, and salt in a mixing bowl and beat until egg whites are stiff, but not dry.
As egg whites are beating, pour a thin stream of honey into the egg white mixture and beat on high for 7 minutes, until frosting begins to stiffen.
When cookies are cool, frost tops with the frosting and garnish as desired.