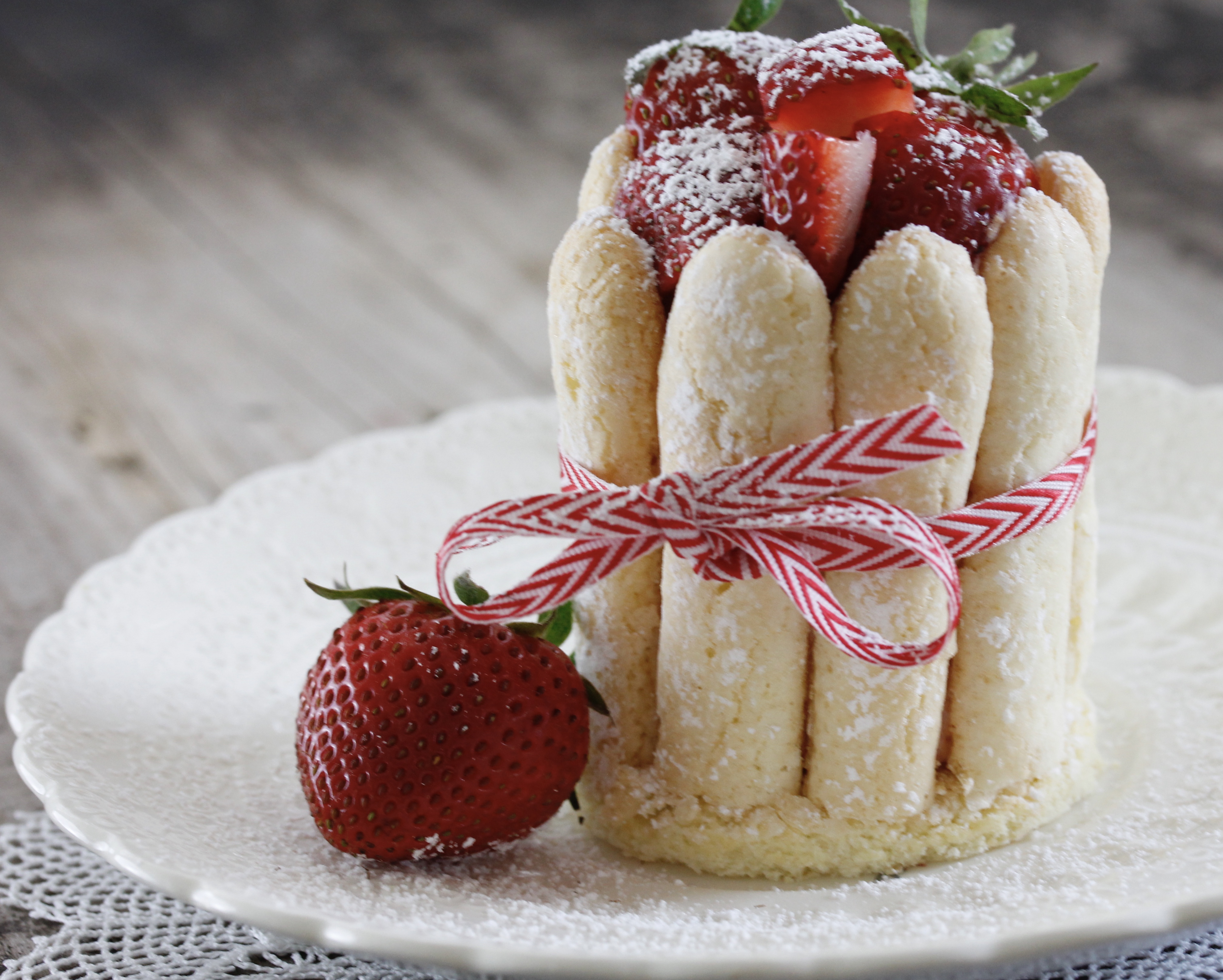 Local strawberries are perfect right now – luscious, bountiful,dro and full of sweet nothing-else-tastes-quite-like-it-flavor. They're a different species from the pale versions you find at the grocery store in December. These are STRAWBERRRRRIES as God meant them to be – a delight to the sense – and there are a hundred different ways to enjoy them. This recipe for individual strawberry charlottes can be a little work or a lot, depending on whether you want to make your own ladyfingers, that most delicate of sponge cookies. You can always buy them, though the homemade version is worth the effort. These pretty little desserts, with strawberry mousse tucked inside, have to be guilt-free because they're so petite. What a treat!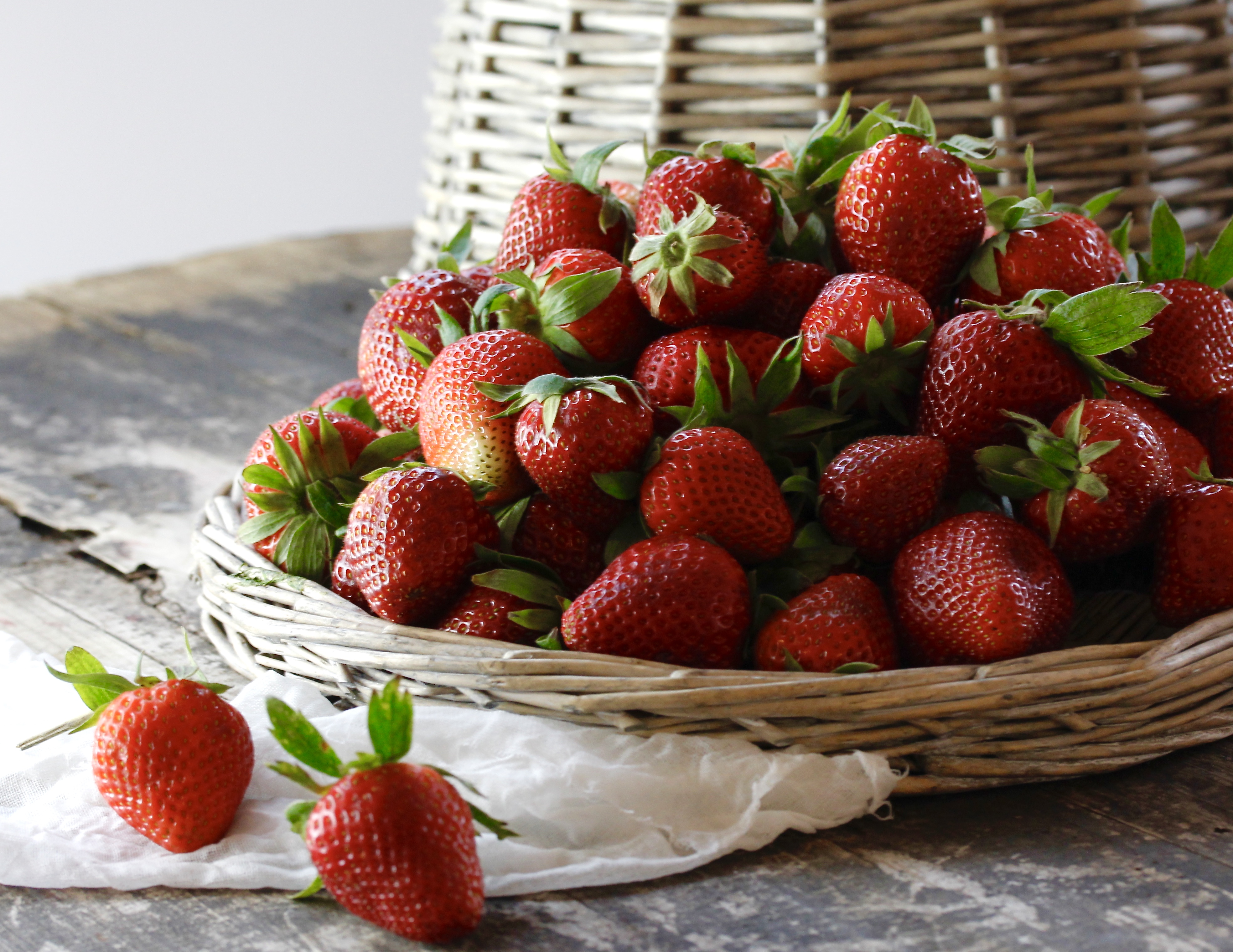 STRAWBERRY CHARLOTTES
Serves: 4 Makes 4 individual charlottes
Prep time: 1 ½ hours
Ingredients
For the ladyfingers:

4 eggs, separated
½ cup caster sugar
¾ cup cake flour
1/3 cup powdered sugar plus 4 tablespoons for dusting
1 teaspoon vanilla

For the strawberry mousse:

16 ounces fresh strawberries, hulled and washed
1 cup heavy whipping cream
4 tablespoons powdered sugar
3 teaspoons unflavored gelatin
2 tablespoons water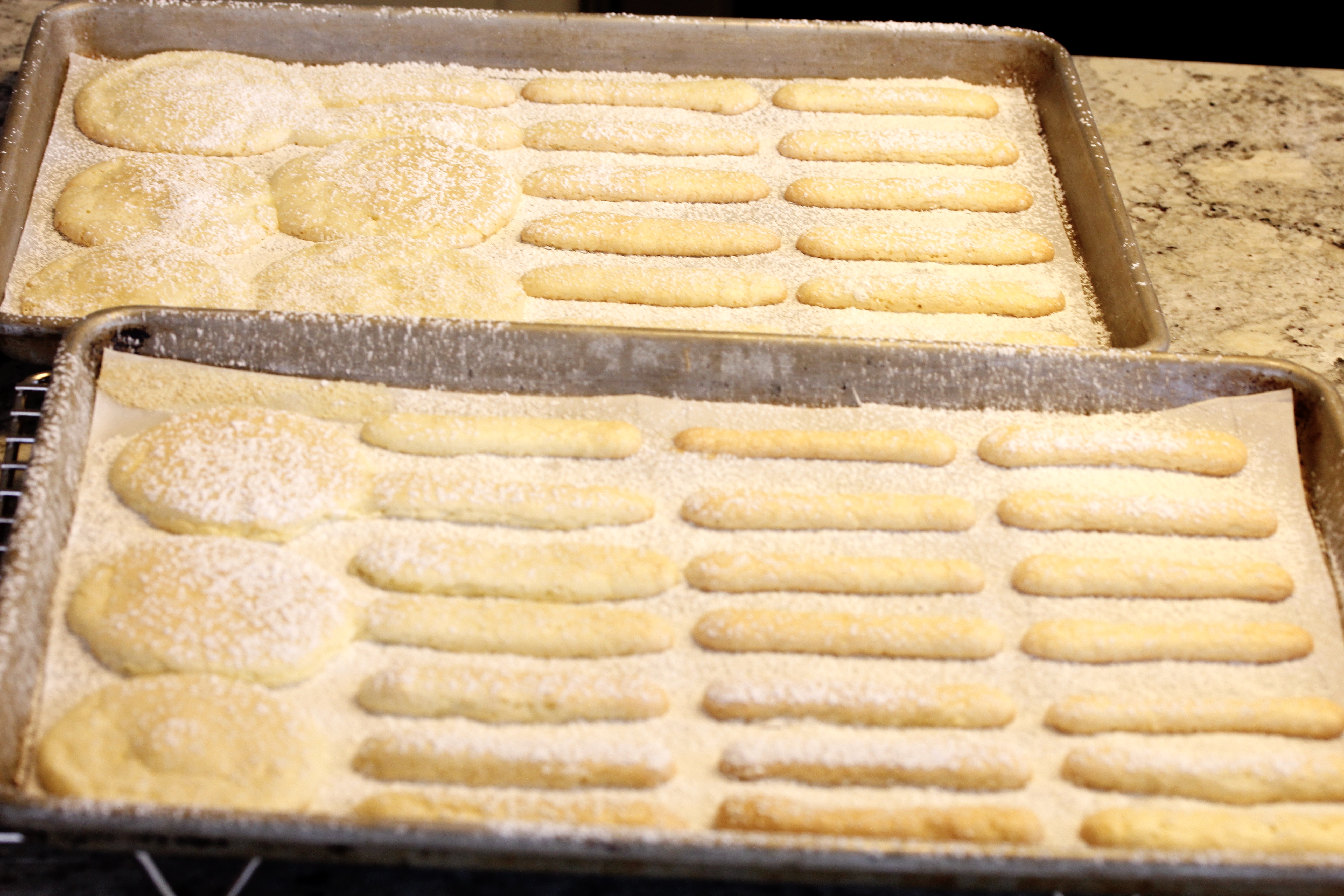 Directions
Preheat oven to 350 degrees.
Line two baking sheets with parchment paper. Trace 4 3-inch rings on the reverse side of the parchment as a guide to make the base of the charlotte. Sift the flour and set aside.
In a mixing bowl, whip together the egg yolks, caster sugar, and vanilla until pale yellow and thick.
In a separate bowl beat egg whites and powdered sugar until stiff. Add half the egg white mixture to the yolk mixture and gently fold. Add half of the flour and fold. Add the remaining egg white mixture and flour and – very gently – incorporate them.
Scoop the batter into a large piping bag with a medium round tip. Pipe into 2-inch long fingers about 2 inches apart.
Sift powdered sugar over the lady fingers and the bases before baking. Bake for 14 minutes. Allow to cool.
For the mousse
Puree strawberries and place in a bowl. In a separate small bowl add gelatin and water and mix together.
Add gelatin to the pureed strawberries and mix well. Whip the cream and powdered sugar together until stiff.
Add the cream to the strawberry mix and gently combine. Refrigerate for 30 minutes.
To assemble the charlottes
Place the round bases into the bottom of 4- 3"-diamter pastry rings. Arrange the ladyfinger side by side around the edges. Pipe the mousse into the ring. Top with fresh strawberries.
Refrigerate for an hour or until set. To serve, slowly remove the rings from the charlottes. Tie a ribbon around them – for decoration only – they will stay together on their own. Dust with powdered sugar.