Irish Beef Stew
Adapted from Simply Recipes.com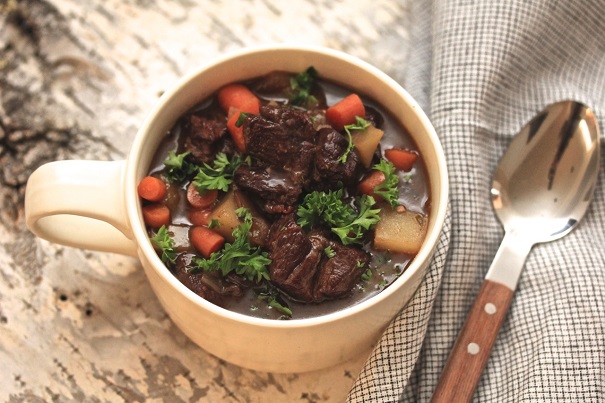 Serves: 4-6
Prep time: 30 minutes prep time and one hour thirty minutes cooking time

Ingredients
1 pound beef stew meat, in large chunks
¼ cup olive oil
6 garlic cloves
3 teaspoons salt
4 cups beef broth
2 cups water
3/4 cup Guinness stout
1 cup red wine
2 tablespoons tomato paste
1 teaspoon sugar
1 tablespoon fresh thyme
1 tablespoon Worcestershire sauce
2 bay leaves
3 tablespoons butter
3 pounds potatoes, peeled and cut into ½-inch pieces
1 large onion, chopped
2 cups carrots, peeled and chopped into ½-inch pieces
½ teaspoon pepper
2 tablespoons fresh parsley, chopped
Directions
Heat the olive oil in a large soup pot until it begins to smoke.
Use one tablespoon of the salt to sprinkle on the beef, then place in pot to cook, allowing pieces to brown nicely before turning (about 4 minutes on each side).
You want a nice dark brown color on the meat.

Add garlic and allow to cook for about a minute before adding red wine, Guinness, water, beef stock, sugar, tomato paste, Worcestershire sauce and bay leaves.
Allow mixture to simmer, then cover and cook for an hour, stirring as needed.
While soup is cooking, melt the butter in a frying pan and add the onions and carrots.

Saute on low temperature for 15 minutes or until onions are golden brown.
Set aside until soup has simmered for an hour.
Add onions, carrots and raw potatoes to the stew.

Add black pepper and the rest of the salt.
Simmer another 30 minutes until potatoes are soft.
Remove bay leaves.
Garnish with fresh parsley and serve.