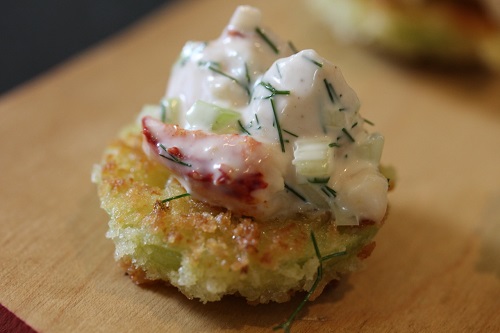 Serves 6
Prep Time: One hour
For the lobster salad:
Ingredients
1 and ½ cups boiled, shelled lobster meat cut into small chunks (two small lobsters)
1/3 cup organic mayonnaise
1 Tablespoon plain yogurt
½ cup diced celery
2 Tablespoons fresh dill
½ teaspoon salt
¼ teaspoon black pepper
zest of one lemon
juice of ½ lemon
For the fried green tomatoes:

Ingredients
6 small green tomatoes
1 egg, beaten
1 cup panko breadcrumbs
1/3 cup olive oil – use half the oil for each of two batches of tomatoes
1/2 cup flour
salt and pepper to taste
Directions
Mix the ingredients for the lobster salad together and chill in the refrigerator.
Heat olive oil at medium heat.  Slice tomatoes to 1/3-inch rounds. 
Dredge lightly in flour, dip in egg and then in panko breadcrumbs. 
Pan fry until golden brown and place on paper towels to drain.

Top each green tomato with a spoonful of lobster salad, and garnish with lemon zest.