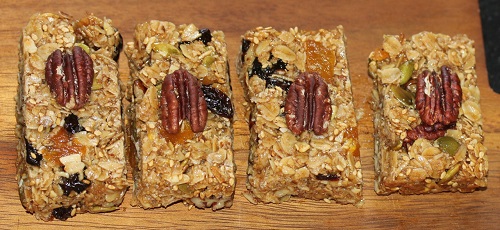 Ottolenghi's Granola Bars
Serves 6
Prep time: 45 minutes
Ingredients
1/3 cup pecans
1/3 cup pumpkin seeds
¼ cup sesame seeds
1/3 cup dried apricots, chopped into small pieces
1/3 cup dried sour cherries
½ cup ground almonds
2 cups whole rolled oats
6 Tablespoons unsalted butter
1 ¼ teaspoon cinnamon
pinch of salt
¼ cup honey
¼ cup Demarara sugar (this is a light brown sugar with a hint of molasses)
Small bowl of hot water for soaking dried cherries and apricots
Directions
Preheat oven to 275 degrees.
Grease a 9×9 inch baking pan and line with baking parchment
Scatter pecans on a baking sheet and roast for 8 minutes in preheated oven.
Remove pecans from oven and raise temperature of oven to 320 degrees.
Half fill a small bowl with hot water and soak the apricots and cherries for ten minutes, then drain.
In a mixing bowl, stir together pecans, ground almonds, cherries, apricots, pumpkin seeds, sesame seeds, oats, cinnamon, and salt.
Bring butter, honey and sugar to a simmer in a saucepan and cook until light brown – don't let it get too dark.
Pour butter, honey and sugar mixture over the dry ingredients and mix thoroughly.
Spoon the mixture into the baking pan and pack down tightly with a spoon.
Bake for 22 minutes, until lightly brown on top.  Allow to cool before removing from pan. 
Bars will be soft when removed from the oven but will firm up as it cools.

They can be individually wrapped when they cool, for an on-the-go snack.
For people with nut allergies, you can omit the pecans and ground almonds.  Use wheatgerm as a replacement for the almond powder.