A summer ham is so versatile. It goes seamlessly from Sunday dinner to Monday morning breakfast with eggs, and then maybe a ham sandwich with dill pickles and mustard for lunch. Stone fruits are one of my favorite things about the summer – they remind me of this lazy, easy time of the year and have such versatility. I decided to combine the two: I pickled some apricots as a delicious garnish, as well as pureeing some into a glaze, for a sweet edge on the ham. The beautiful late summer color in this dish makes it a feast for the eyes as well as the stomach.
I hope you'll give this a try – happy summer!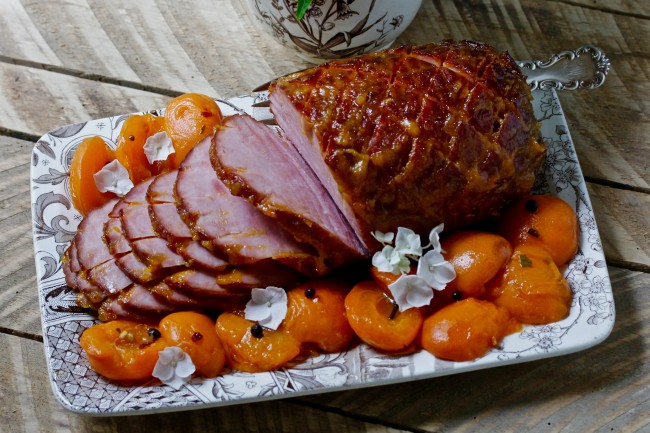 Glazed Ham with Pickled Apricots
Serves: 6-8
Prep time: 1 ½ hours plus a day for pickling
For the pickled apricots: 

Ingredients
10 large apricots
3 cups water plus ½ cup
juice of one lemon
1 cup sugar
1 ½ cups distilled white vinegar
4 teaspoons pickling spice
¼ teaspoon salt
For the ham: 
Ingredients
1 one-pound ham
1 cup orange juice for basting
4 cups dried apricots
1 cup water
 1 tablespoon fresh lemon juice
5 tablespoons light brown sugar
2 tablespoons honey
¼ cup orange juice for glaze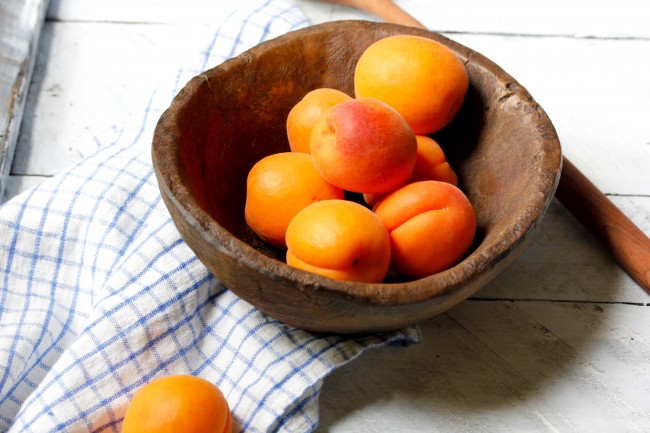 Directions
To make the pickled apricots:
Halve apricots. Add lemon juice to water, remove from heat and soak for 15 minutes.
Drain apricots and sprinkle with sugar.
Cover apricots and allow to sit in refrigerator to marinate for 8 hours.
Add vinegar, spice, salt and ½ cup water to apricots.
Bring mixture to a boil and skim off foam.
Reduce heat to low and simmer until apricots are tender, 2-3 minutes.To make the ham: 
Put ham and 1 cup orange juice in a deep baking dish and roast at 325 degrees for two hours, basting the ham with the orange juice every half hour.To make the glaze: 
Combine apricots, water, lemon juice, brown sugar, honey and orange juice in a pan, simmering on low heat until the sugar dissolves.
Bring to a boil, then return to low heat for 15 minutes until apricots are tender.
Puree the apricots with the orange juice that's left in the pan.
Brush the puree over the ham and allow to cook one more hour, re-glazing every 15 minutes.
Remove ham and serve with pickled apricots on the side.