Peanut Butter Finger Bars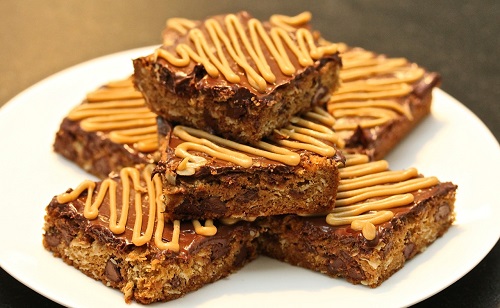 Ingredients
1 stick of butter
½ cup sugar
½ cup brown sugar
1 egg
½ cup peanut butter
½ teaspoon baking soda
¼ teaspoon salt
½ teaspoon vanilla
1 cup flour
1 cup oatmeal
6 ounces chocolate chips
For the topping:
½ cup powdered sugar
¼ cup peanut butter
2 to 4 Tablespoons milk
Directions
Cream together butter and sugars.
Blend in egg, peanut butter, baking soda, salt and vanilla.
Add flour and oatmeal. Press mixture into 9 x 13-inch pan.
Bake at 350 degrees for 20 to 30 minutes until golden brown. Remove from oven.
Sprinkle with chocolate chips. Wait ten minutes and spread chocolate chips into a frosting.
Mix topping ingredients together.
Spread in lines on top of chocolate frosting.
Cool and cut into twenty squares.