Adapted from Food52 Genius Recipes, by Chef Michel Nischan
Serves: 6
Prep time: 30 minutes
Ingredients
 1 ½ cups white wine vinegar
3 stalks of celery, chopped into ¼ inch pieces
2 carrots, peeled and chopped into 1/4 inch pieces
1 red bell pepper, cored, seeded and chopped into ¼ inch pieces
3 small seedless cucumbers, peeled and chopped into ¼ inch pieces
1 cup radicchio, well-chopped
1 cup baby arugula, well-chopped
1 cup cabbage, well-chopped
1 apple, peeled and chopped into ¼ inch pieces
3 tablespoons olive oil
black salt and pepper to taste
1 cup soft goat cheese crumbled
½ cup almond slivers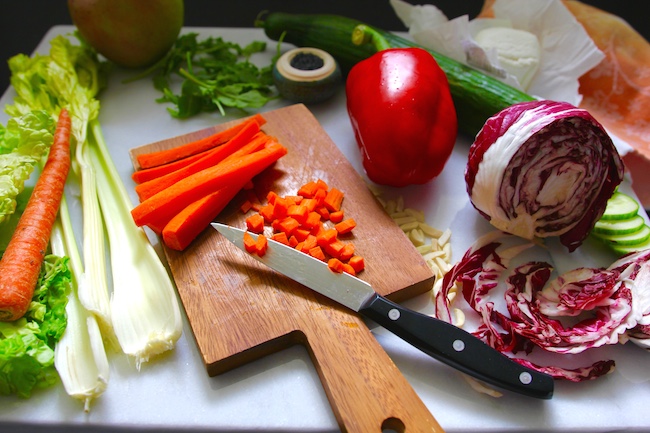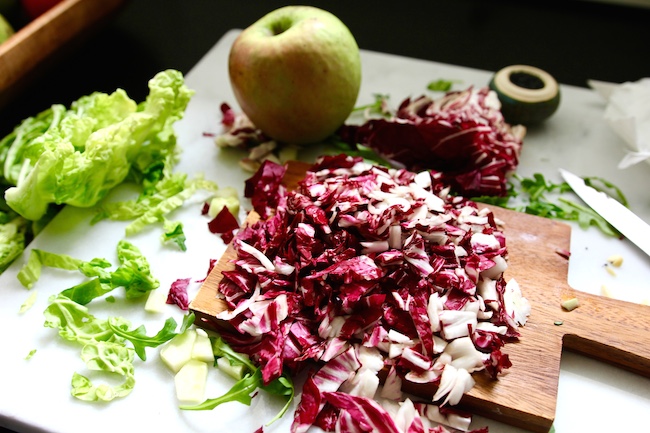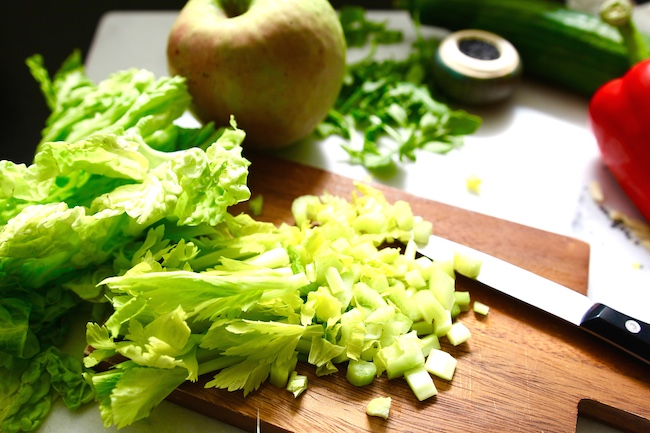 Directions
Pour the vinegar into a pan and simmer at medium heat.
Add celery and carrots and remove from heat, allowing vinegar to cool.
When the mixture is cool, add red pepper, and cover and store in the refrigerator until cold.
 Strain the carrots, celery and red pepper out of the vinegar.
In a large bowl, mix together cucumber, apple, arugula, radicchio and cabbage, and add the carrots, celery and red pepper.  Add 1/2 cup of the reserved vinegar to the olive oil, and pour over vegetables.
Season with salt and pepper to taste.  Add goat cheese and almonds and mix well.  Serve with a good, fresh bread as accompaniment.