This March is all about kids at America's Table, which gives me the opportunity to pull out some tried-and-true favorites for family meals. In keeping with my theory that if you're going to eat something you love, it should be the most superbly prepared version of the thing you love, here's the best homemade chicken fingers recipe I know. You can bake them and they're still tasty, but they won't have the golden crispness of the ones shown, which are fried very quickly in light olive oil.
I've always loved this recipe because the chicken fingers can be breaded and frozen for later use, and they're a very popular sleepover meal when paired with veggies and some healthy dipping sauces. They don't get soggy, and can be eaten cold hours later and still taste great. Speaking of dipping sauces, I've included my recipe for a tomato dipping sauce that is healthier than ketchup (it has much less sugar), as well as a honey mustard dipping sauce that is light on the mustard and a great way to begin introducing kids to stronger flavors.
One of my daughters is a connoisseur of the chicken finger, having ordered them wherever we ate from the time she could chew until she was a teenager, and she recommends these as the best version – something about the breading not being too heavy or the meat too thick. I hope you'll give them a try – everybody loves them!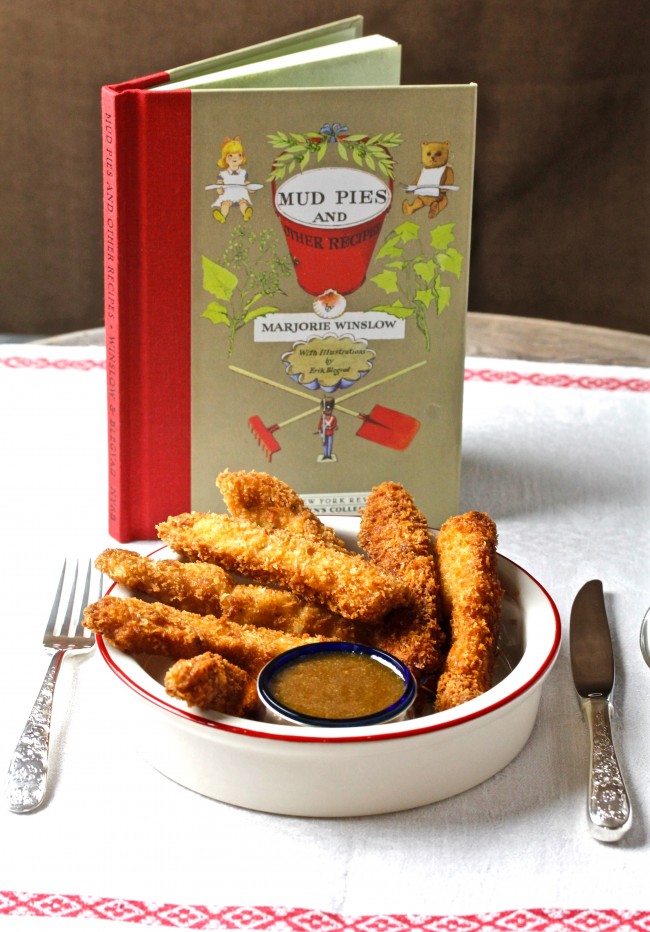 Serves: 6 servings for kids or 3 servings for adults
Prep time: 20 minutes for the chicken fingers, 30 minutes for the tomato sauce (including 20 minutes for slow cooking)

Ingredients
1 chicken breasts, skinned
1 cup flour
2 eggs beaten
1 tablespoon cream or milk
2 cups panko crumbs
1/4 teaspoon salt for chicken and ¼ teaspoon salt for panko crumbs
1 teaspoon lemon pepper spice
1 cup light olive oil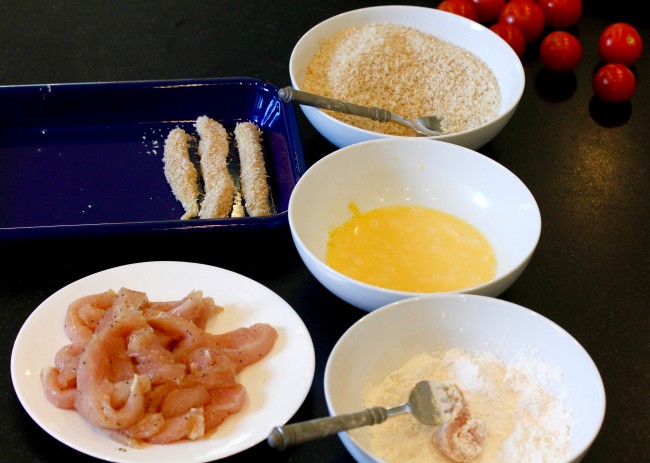 Directions
Cut chicken breasts into long strips and season with ¼ teaspoon salt and lemon pepper spice.
Dredge chicken in flour.
Mix eggs and milk (or cream) together.
Dip floured chicken pieces lightly into egg mixture and coat with panko crumbs to which ¼ teaspoon salt has been added.
Heat oil in large skillet to medium heat and cook chicken pieces until golden brown (about 5 minutes). Drain on a paper towel and serve with dipping sauces.
Honey Mustard Dipping Sauce
Ingredients
½ cup honey
2 teaspoons Dijon mustard
Whisk honey and mustard together until well combined and serve.
Tomato Sauce
Serves: 4
Prep time: 30 minutes

Ingredients
1 small onion, minced
2 cloves garlic, minced
3 tablespoons olive oil
14-ounce can whole cherry tomatoes (You can use regular canned tomatoes but the cherry tomatoes have more flavor.)
1 teaspoon of sugar
½ teaspoon freshly ground pepper
1 teaspoon salt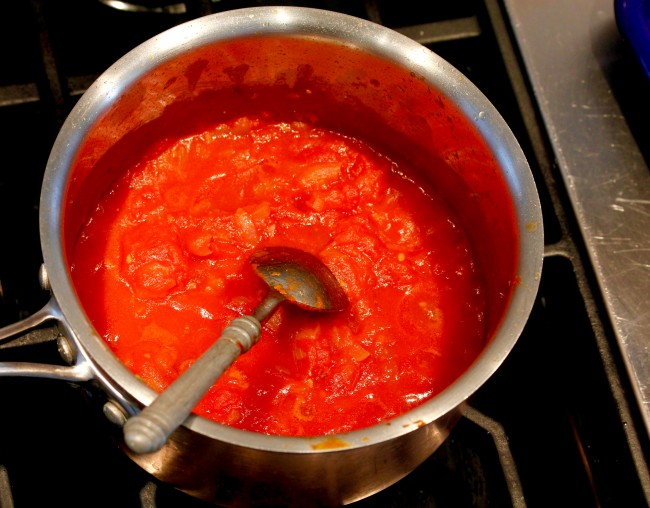 Directions
In a large frying pan, using olive oil, sauté onion and garlic in olive oil until golden brown.
Add tomatoes, salt, sugar and pepper.
Allow mixture to simmer for 20 minutes on very low heat.
Serve as a dipping sauce for the chicken fingers.