This is a meal for the deep, deep winter. Lamb shanks need several hours of roasting to get to falling-off-the-bone-tenderness, but they're so worth the wait! I've paired them with aligot, or as I think of it, extra cheesy mashed potatoes. Only the French could take something as good as mashed potatoes and melt mild cheese into them for the most over-the-top, heavenly, mind-blowing potatoes ever. If you've never tried them, you should, because they might be the best thing I've ever tasted. They're much creamier than mashed potatoes, and hopelessly addictive. (I should never have made this meal on a weekend when I was home alone. It's the only thing I've eaten for two days.)
I don't have a Dutch oven, so I used a large frying pan to brown the lamb shanks, then moved everything to a roasting pan for the oven. Even though I love to cook, I don't like spending a lot of money on kitchen accessories – they take up space and collect dust – and many kitchen products are so highly specialized now that you could quickly accumulate a storeroom's worth of zoodle-makers, rice cookers, and garlic peelers. It's not a bad idea to think about how you can adapt what you have before buying something you may not really need.  There's a certain freedom to living an uncluttered life, and the older I get, the more I appreciate that. (And there are fewer things for me to forget!)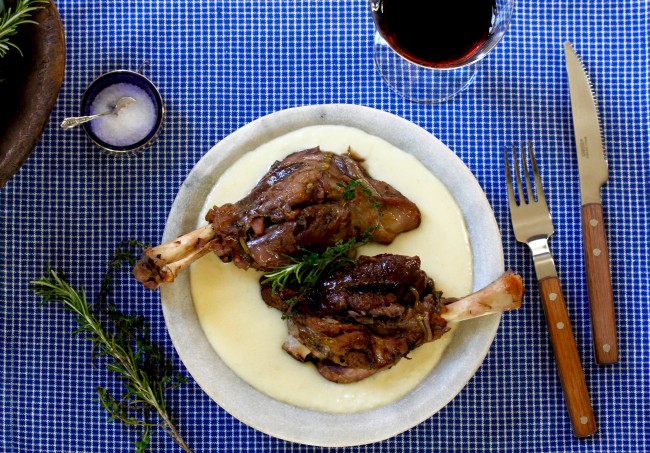 Roasted Herbed Lamb Shanks
Serves: 4 
Prep time: 30 minutes plus two hours of cooking time 

Ingredients
6 lamb shanks
3 tablespoons olive oil
1 large yellow onion, chopped finely
3 celery stalks, chopped finely
2 parsnips, chopped finely
1 leek, washed and sliced into coins
1 cup beef stock
2 cups red wine
1 bay leaf
several sprigs thyme
2 tablespoons fresh rosemary, removed from wood and chopped finely
2 tablespoons fresh sage, minced
2 garlic cloves, minced
1 teaspoon salt and pepper to taste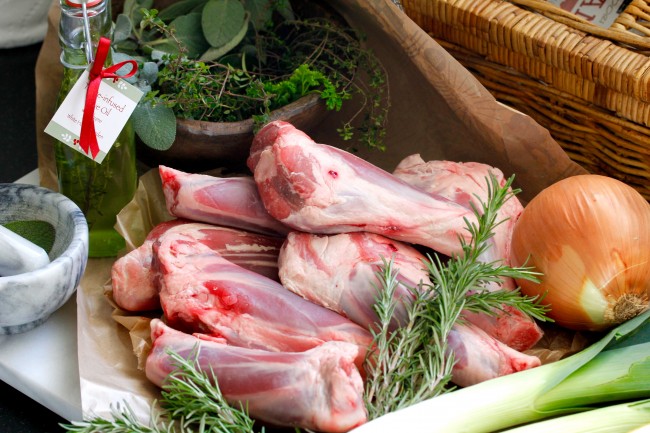 Directions
Preheat oven to 350 degrees
Sprinkle salt and pepper over lamb shanks.
Heat the olive oil to medium-high heat and brown the shanks on all sides in a large dutch oven, working in batches if necessary. Set shanks aside on a plate after they are browned.
Add celery, parsnips, onions, and leek to the oil in the pan and cook on medium heat until vegetables become translucent. Remove from heat, add wine, beef stock, herbs, and garlic to the pan and bring to a boil, reserving some of the fresh herbs for garnish.
Return shanks to pot, and sprinkle with teaspoon of salt.
Cover and roast in oven for two hours until meat is very tender.

To serve, spoon the pan juices over lamb shanks and serve with fresh herbs sprinkled on top.
Especially good with extra cheesy mashed potatoes:
Extra Cheesy Mashed Potatoes
Serves: 4 
Prep time: 30 minutes 

Ingredients
3 pounds potatoes, peeled and chopped into one-inch pieces
½ teaspoon salt for potato water, ½ teaspoon salt to add to cooked potatoes
1 garlic clove, crushed
1 cup cream
6 tablespoons butter
6 ounces mozzarella cheese
4 ounces gruyere cheese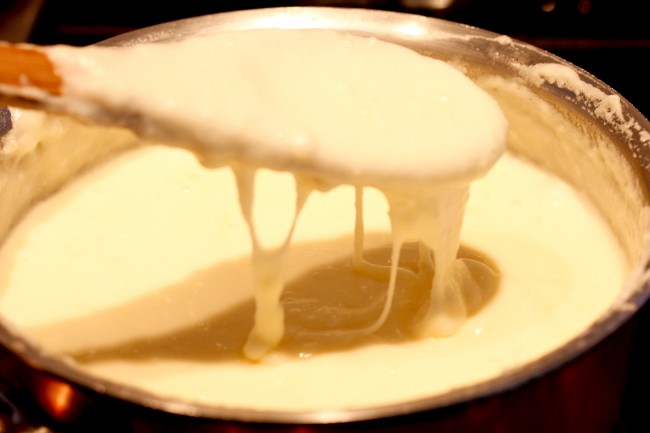 Directions
Cook potatoes in salted water in a large saucepan for about fifteen minutes, until they are tender.
Drain and mash, using a mixer or ricer, and return potatoes to saucepan.
Add garlic, cream, salt, and butter, and cook on low heat, allowing butter to melt.
Add cheeses and stir until they are completely melted into the potatoes.
The potatoes will have a smoother consistency than mashed potatoes; you'll see strings of the potato-cheese mixture as you cook and stir.
Serve while hot.