Back in 2013 when I first saw the word "spatchcock," I assumed it was some kinky thing I'd have to look up in the Urban Dictionary and then be sorry that I had. As it turns out, spatchcocking, said to derive from the term "dispatch the cock," is an 18th century English or Irish word, and refers to a method of cooking a chicken by removing the backbone and flattening it. The chicken cooks more quickly, and all of the skin is nicely crisped, so it's more tender. Once I knew what it really was, spatchcocking seemed to be everywhere in foodie world, so here's a reprise of a favorite way to do it.
It seems appropriate to use an English recipe for this chicken, and this one is adapted from Nigella Lawson's. I replaced the raisins with grapes, because they're juicier and less sweet than raisins, and I like the tangy combination of the grapes with the white wine and vinegar. This is also fast. You can roast a chicken in about an hour this way. With fresh spinach, pine nuts, and croutons underneath, this makes a lovely one-dish meal.
SPATCHCOCK CHICKEN WITH GRAPES AND PINE NUTS
Serves: 4
Prep time: 35 minutes plus 50 minutes to roast the bird
Ingredients
1 medium to large chicken
2 slices sourdough bread
4 cloves of garlic, unpeeled
1 tablespoon pine nuts
8 ounces of fresh baby spinach leaves
½ teaspoon Dijon mustard
2 tablespoons olive oil
4 sprigs fresh thyme
½ teaspoon paprika
½ cup fresh grapes, sliced in two
1 tablespoon pine nuts
1 tablespoon white wine
½ teaspoon sea salt
1 tablespoon white wine vinegar
2 tablespoons extra virgin olive oil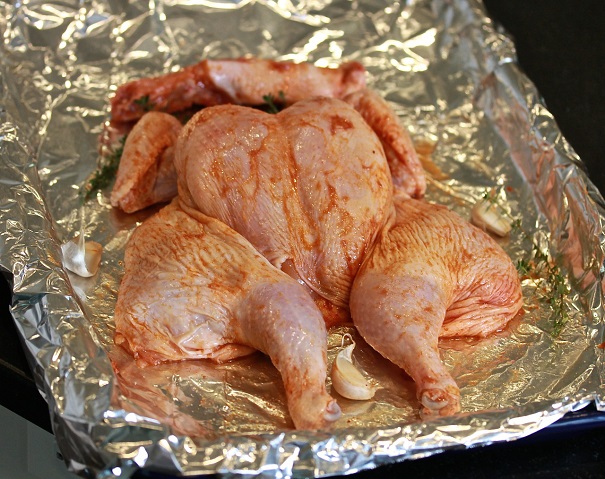 Directions
Preheat oven to 375 degrees. Toast sourdough bread lightly in toaster.
To spatchcock the chicken, using poultry shears or other sharp scissors, cut down the spine of the bird and remove it. Press down on the breast of the chicken to open it out flat.
Put chicken into a roasting pan and sprinkle all over with 1 tablespoon of olive oil, paprika, and thyme. Toss in unpeeled garlic. Toast for 35-40 minutes until chicken is golden and cooked through.
While chicken is cooking, put grapes into a small saucepan with the white wine and bring to a boil. Remove from heat and set aside.
Toast the pinenuts in a small, hot, dry frying pan until golden. Set aside.
Cut the sourdough bread into croutons.
Heat remaining olive oil in the frying pan and fry croutons until crisp. Set aside.
When the chicken is cooked, let is stand outside the oven for five minutes. Discard thyme.
Arrange spinach leaves on a platter.
Whisk together the mustard, salt, vinegar, and 3 tablespoons of the extra virgin olive oil. Place the chicken and garlic cloves on top of the spinach. Pour remaining pan juices into the olive oil mixture, and whisk.
Pour dressing over chicken and spinach, sprinkle with pinenuts, croutons and several more fresh sprigs of thyme.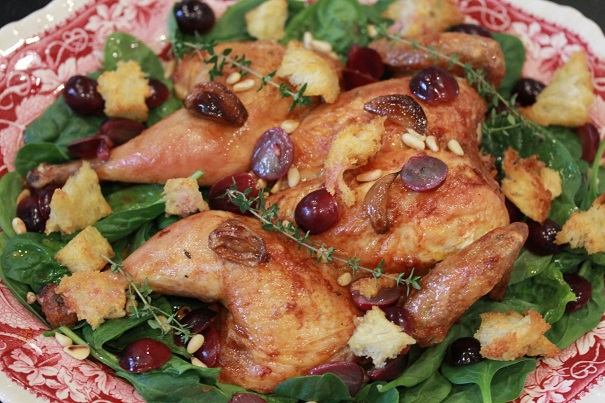 Note: Chicken can be made a day in advance and refrigerated.