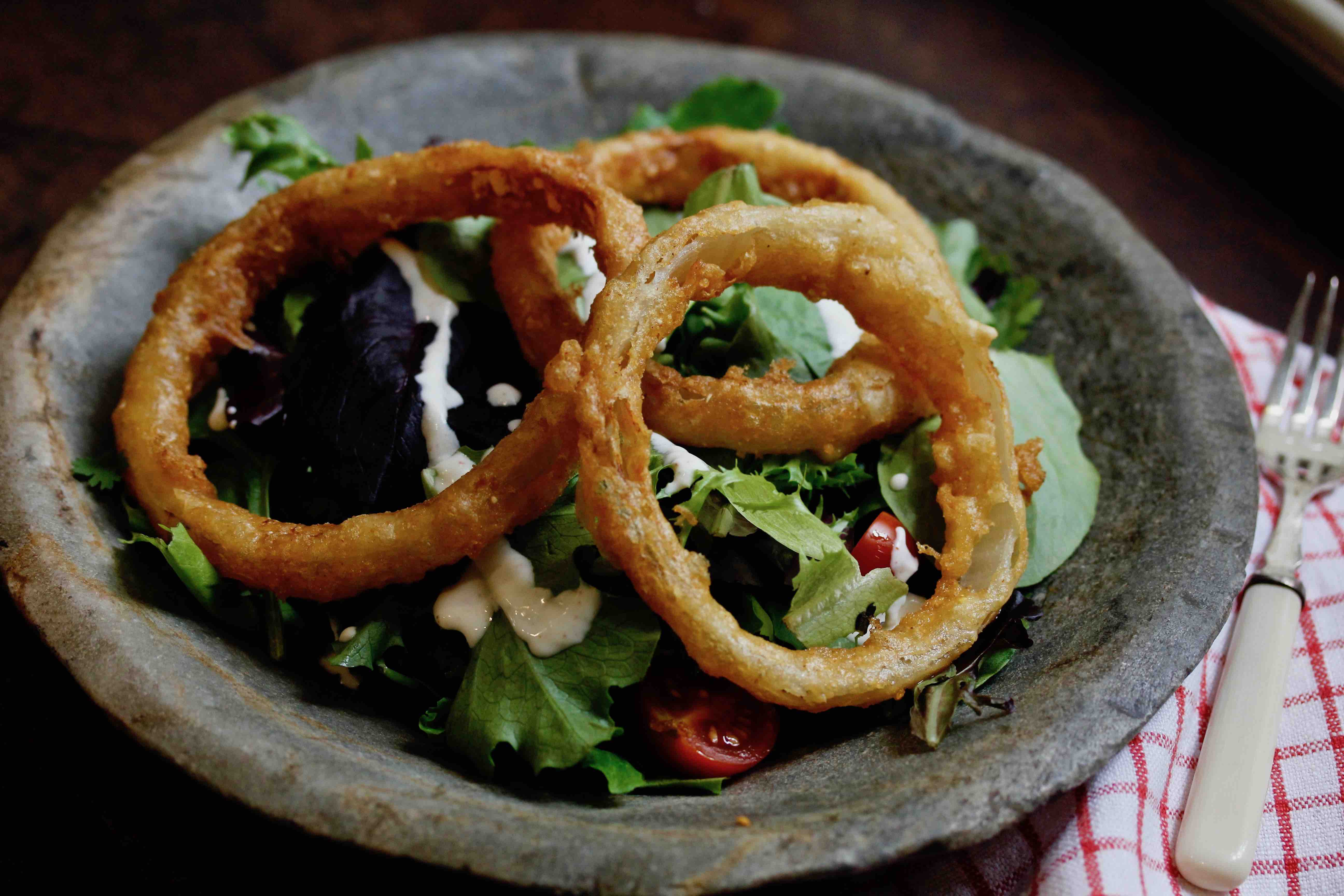 Onion rings have been dumped on the dustheap of culinary clean eating. Sure they're deep fried, and the batter probably isn't gluten-free, but they are a mouth-watering American classic. And lest we forget – onions are vegetables! You're not allowed to feel bad about eating onion rings anymore. Also, these are the best onion rings EVER!
Maybe the problem is that we eat onion rings with burgers and steaks and other foods that aren't heart-healthy, but how about some world-class onion rings presented on a bed of yogurt-based, lightly dressed mesclun salad? Isn't that a main course to indulge in, guilt-free?Finding the balance between what you've always loved to eat, and what you think you should eat to be healthy is worth the effort. Because after all, food is more than sustenance, it's one of the great pleasures of life.
Onion Ring Salad
Prep time: 40 minutes
Serves: 4

Ingredients
2 bags mesclun salad greens, washed and dried
1 large sweet onion
2 cups buttermilk
¼ cup cornmeal
1 teaspoon baking powder
½ teaspoon paprika
½ teaspoon chili powder
½ teaspoon pepper
1 ½ cups flour
2 teaspoons salt
1 cup chilled club soda
¾ cup cold beer
Vegetable oil for frying
For the yogurt dressing:

1 cup Greek yogurt
½ cup milk
½ teaspoon salt
½ teaspoon chili powder
Combine ingredients and set aside.
Directions
Slice onion into ½-inch thick rounds and separate into rings. Submerge onions in buttermilk and chill 30 minutes.
Mix together cornmeal, baking powder, paprika, ¾ cup flour, chili powder, pepper and 1 ½ teaspoons salt in a medium bowl.
Add club soda and beer and whisk – mixture should be a thin batter, and add more beer or flour if it's too thick or too thin.
Put remaining ¾ cup flour in a bowl. Pour 2 inches of oil into a large pot.
Heat to 375 degrees, using a thermometer, or until oil is nearly smoking.
Work onions into pot in catches (don't overcrowd), allowing excess batter to drip off before dredging lightly in flour. Dip in batter again, letting excess drip back into bowl, and fry, turning a few times until golden brown, puffed and crisp.
Transfer onions to a wire rack set on a baking sheet and allow to drain. Salt and serve on top of a bed of mesclun that has been dressed with the yogurt dressing.