Boardwalk food. Just the words conjure sea breezes and special summertime feasts available only at seaside locales. Saltwater taffy, fried oysters or Ipswich clams, crinkly fries flecked with sea salt. This recipe for fried oyster sandwiches, or po' boys, as they're known in the South, has a distinctive and delicious Asian twist, served with kimchee and a hearty helping of pickled French fries. (If you like salt and vinegar chips, you're going to LOVE these fries.) And if you're going to deep fry something and splatter oil and smell up the kitchen, why not make the most of it? Add some batter-fried mushrooms – still one of the best deep-fried foods ever – or okra, or mild peppers.  It's all good, hot, and salty as a day at the ocean!
It might not be the healthiest meal, but to me it tastes like summer. Think of it as the occasional indulgence that keeps life interesting – and invite some friends or family to share this classic all-American meal.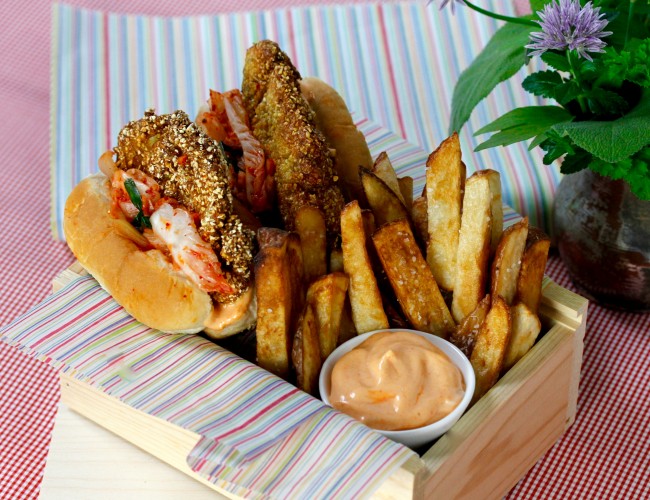 Fried Oyster Sandwiches
Serves: 4
Prep time: 30 minutes

Ingredients
1 cup shucked oysters, drained
1 ¼ cups buttermilk
1 cup flour
1 tablespoon Old Bay seasoning
1 large egg
½ teaspoon salt
½ teaspoon black pepper
2 cups cornmeal
3 cups peanut oil
4 finger rolls or top-split hotdog rolls
For the sauce: 
Ingredients
1 teaspoon Korean Gochugang (hot pepper paste), or garlic chili paste
1 cup mayonnaise or vegenaise
Serve with: 
Ingredients
½ cup Korean kimchi (available at Whole Foods), or cole slaw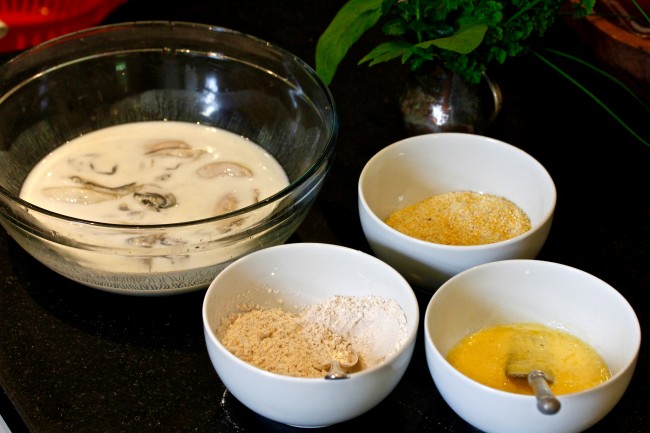 Directions
Soak oysters in 1 cup of buttermilk for 30 minutes. Drain.
Mix together flour and Old Bay seasoning in a bowl and set aside.
Whisk egg and ¼ cup buttermilk in a bowl and set aside.
Mix cornmeal, salt and pepper in a bowl and set aside.
Heat oil to medium high, and while it is heating, dredge oysters in flour mixture, then egg mixture, then cornmeal, shaking off any excess.
Work in batches, carefully transferring oysters to oil, and fry until golden brown.
Transfer to paper towels to drain. Coat and fry remaining oysters.
To assemble sandwiches: split open rolls; put several oysters into the sandwich, and garnish with kimchi and sauce. Serve.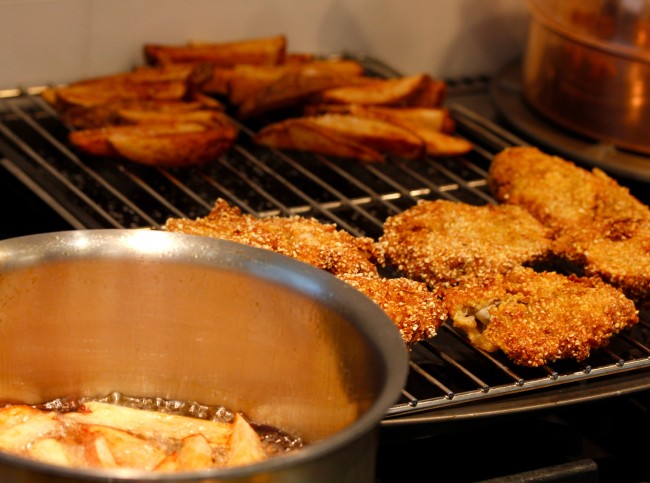 Pickled French Fries
Serves: 4
Prep time: 30 minutes, plus several days to allow the potatoes to ferment in the brine

Ingredients
4 pounds of potatoes, scrubbed and cut into 1/3-inch pieces, to make thick French fries
8 cups water
2 tablespoons kosher salt, plus extra salt for garnish
6 large leaves of cabbage
6 cups peanut oil for frying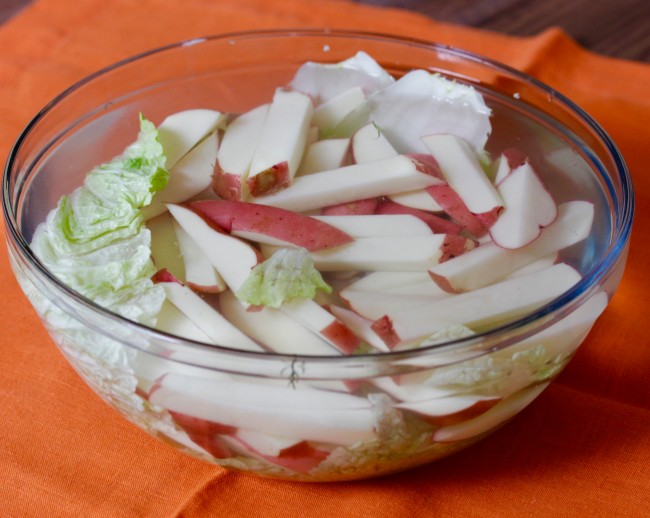 Directions
In a large bowl, combine water and salt.
Stir to dissolve salt.
Add potatoes and cabbage, cover bowl and store in a cool dark place for at least 3 days. The longer you allow the potatoes to sit in the water, the more flavorful they will be.
Drain and dry potatoes and discard cabbage.
In a large pot, pour 3 inches of oil and heat to medium-high (about 325 degrees).
Fry potatoes in batches until cooked through, about 5 minutes.
Remove from oil with slotted spoon and allow to drain on paper towels.
Reheat oil to higher temperature (about 375 degrees), and refry potatoes until they are crispy and brown – which takes about a minute per batch.
Drain again and sprinkle with salt.