Cooking well takes time, so whenever I can find a recipe that has multiple uses, I'm more likely to give it a try. A flaky buttermilk biscuit doesn't take long to make, and when you add cooked bacon before baking, you're creating a lovely and substantial breakfast biscuit while leaving yourself the option of bacon, lettuce, and tomato biscuits for a light lunch later. Made in smaller sizes, the BLT biscuits are perfect summer hors d'oeuvres, because who doesn't love a crunchy BLT in a bite? The biscuit dough is so rich that you don't need to butter them, especially when there's all that bacon flavor to appreciate.
One baking note: if you still bake by volume rather than weight – meaning you measure ingredients out by the half cup or cup – I wish you'd take a look at measuring ingredients by weight instead. It really does make a difference in the texture of piecrusts, cakes, and, well, just about everything. Baking is best when it's treated as an exact process – something I've been stubbornly refusing to do since forever – but now that I'm cooking so much more, I see that exact proportions carried out as the instructions suggest really do yield better results. It's just hard for people like me who are going through life in a big hurry, but I admit (grudgingly) that weighing the ingredients is worth it. More and more recipes list their ingredients in ounces for just this reason.
If you want to buy a kitchen scale, any basic version like this will work: http://www.amazon.com/AmazonBasics-Digital-Kitchen-Scale-Display/dp/B00V5IM5PY/ref=sr_1_8?ie=UTF8&qid=1462722166&sr=8-8&keywords=kitchen+scale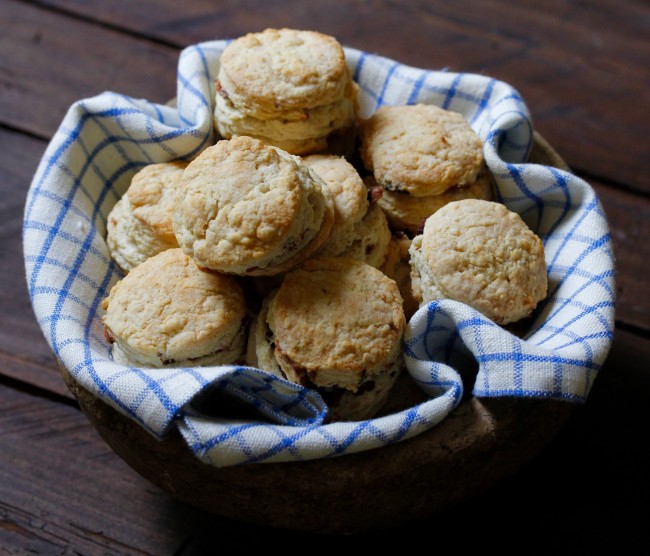 Bacon Buttermilk Biscuits
Serves: Makes 8-10 biscuits
Prep time: 35 minutes

Ingredients
2 cups (10 ounces) flour
8 tablespoons cold unsalted butter, cut in pea-sized pieces
2 tablespoons unsalted butter, melted
½ cup buttermilk
½ cup plain yogurt
1 tablespoon baking powder
¼ teaspoon baking soda
½ teaspoon salt (NOTE: if you are making the biscuits without bacon, use 1 ½ teaspoons of salt.)
½ pound bacon, cooked until very crispy, drained, and broken into small pieces
For BLT biscuits: 
Ingredients
1 cup romaine, washed and drained
2 tablespoons vegenaise or mayonnaise
2 medium tomatoes, sliced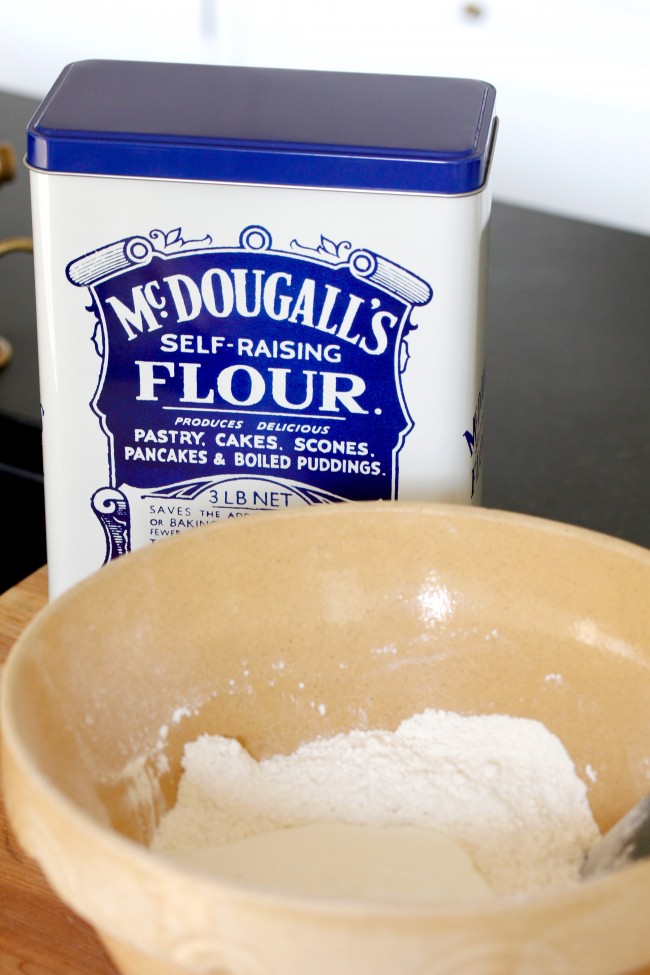 Directions
Preheat oven to 425 degrees and place oven rack in center of oven.
Cook bacon until very crisp, drain and set aside.
Mix together yogurt and buttermilk and set aside.
In a food processor, mix flour, baking soda, salt and baking powder for several seconds before adding the butter.
Pulse until mixture is course and large pieces of butter have disappeared.
Move mixture to a large bowl and add buttermilk and yogurt.
Mix until dough just begins to come together and turn out onto a floured surface.
Roll dough into a rectangle or square and use a pastry cutter to fold the dough in on itself in thirds. (This is what creates the layers of flakiness.) Turn dough and roll out again.
Sprinkle bacon bits across top of dough and repeat the process of folding dough into thirds.
Cut biscuits into squares with a knife or use a cutter to make round biscuits.
If you use a cutter, try not to twist the cutter as you press down into the dough – it will push the layers together and make them less flaky.
Place biscuits upside down on a parchment-covered baking sheet and brush with the melted butter.
Bake for 15 minutes, or until tops of biscuits are browned.
Can be served with jam, or made into little bacon, lettuce, and tomato biscuits.
To make a BLT biscuit, split bacon biscuit in half and spread with vegenaise or mayonnaise.
Top with lettuce and tomato, replace top of biscuit and serve.