SANDWICH SUPPERS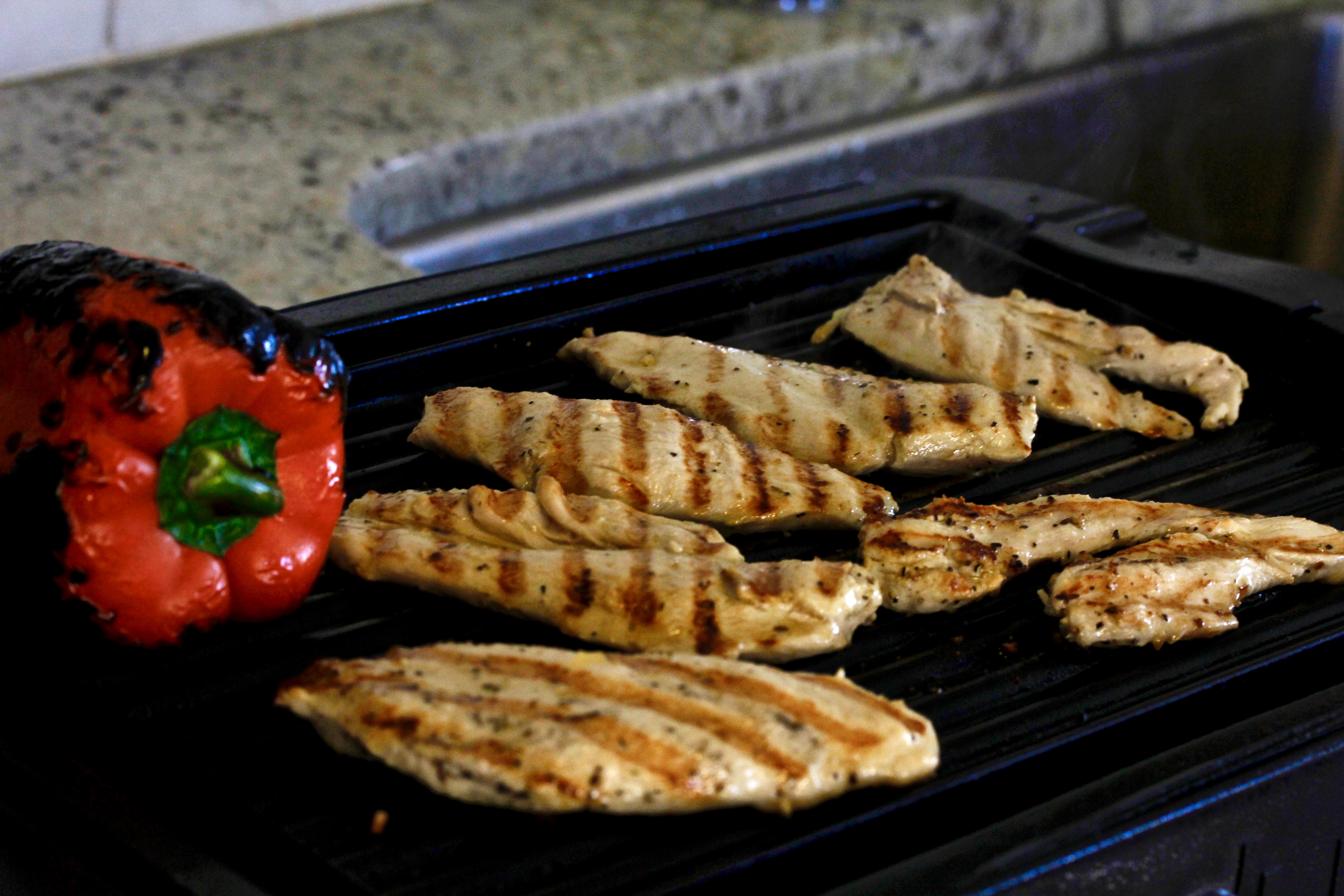 You know those nights when you come home and you're too tired to cook, but you're really, really hungry, and you can't stand the idea of another pizza? If you can muster enough energy to build a sandwich, these two mouthwatering beauties will leave you feeling fat and happy, as they say in the South. I love both of these sandwiches: they have such a rich variety of ingredients that you are never left feeling as if you need anything more.
You can use leftover chicken for the grilled pita (it's really a chicken salad you eat with your hands.) The cheese and mushroom sandwich is so good that my mouth is watering just thinking about what it tastes like. Mushrooms and fontina cheese are a match made in heaven – why haven't I been eating this all my life? I saw a recipe in Bon Appetit that suggested using mayo instead of butter on the bread, and it worked beautifully. So here they are – suppers in sandwich form. Enjoy!
Pita Pockets with Grilled Chicken and Tahini
Serves: 4
Prep time: 20 minutes
Ingredients
4 whole wheat pitas, cut into halves
2 boneless, skinless chicken breasts, or chicken tenders
3 tablespoons tahini
2 tablespoons lemon juice plus one teaspoon lemon juice for the romaine
2 tablespoons olive oil plus one teaspoon for the romaine
3 tablespoons water
2 cloves garlic, minced
2 cups shredded romaine
1 red bell pepper, or canned red pepper
1 ½ teaspoon salt
½ teaspoon pepper
Directions
Cut chicken breasts in half, or if you're using raw chicken tenders, brush with a mixture of: 1 tablespoon olive oil, 1 tablespoon lemon juice, ¼ teaspoon pepper, ¾ teaspoon salt and half of the garlic. This can be made ahead and left to marinate for up to four hours.
Grill chicken on both sides until done (about 5 minutes on each side for boneless breasts) Slice and set aside.
Grill red pepper until skin is charred. Allow to cool, peel and skin and remove the seeds. Cut into thin slices and set aside.

To make the tahini sauce:

Mix tahini, 1 tablespoon of olive oil, 3 tablespoons of water, the rest of the garlic, ½ teaspoon salt and 1/8 teaspoon of pepper.
Grill or roast pita bread until lightly toasted.
Combine 1 teaspoon olive oil, ¼ teaspoon salt, 1/8 teaspoon pepper and 1 teaspoon lemon juice to the shredded lettuce. Toss to coat.
Stuff pita bread with chicken, peppers and lettuce and drizzle with tahini sauce. Serve immediately.

Grilled Cheese and Mushroom Sandwich

Serves: 2
Prep time: 15 minutes




Ingredients

4 slices white or wheat bread
3 tablespoons mayonnaise
8 pieces baby belle mushrooms, thinly sliced
2 tablespoons parsley, finely chopped
1 cup fontina cheese, coarsely grated
2 tablespoons butter plus 2 teaspoons butter for grilling sandwiches
½ teaspoon salt
1/8 teaspoon pepper

Directions

Heat 2 tablespoons of the butter in a nonstick skillet. When butter is melted add mushrooms, season with salt and pepper and cook until all liquid is evaporated. Set aside and allow to cool.
Add cheese and parsley. Mix well.
Place bread on a cutting board and spread mayo on top side of each slice.
Heat 1 teaspoon butter in a nonstick pan. Place bread, mayo side down, in pan and top with mushroom and cheese mixture. Top with second slice of bread. Spread mayo on the top side of the second piece of bread.
When underside is golden brown, flip sandwich and cook until both sides are golden brown.
Add another teaspoon of butter and repeat process for second sandwich.