ROASTED SALMON WITH IRISH WHISKEY GLAZE AND MUSHY PEAS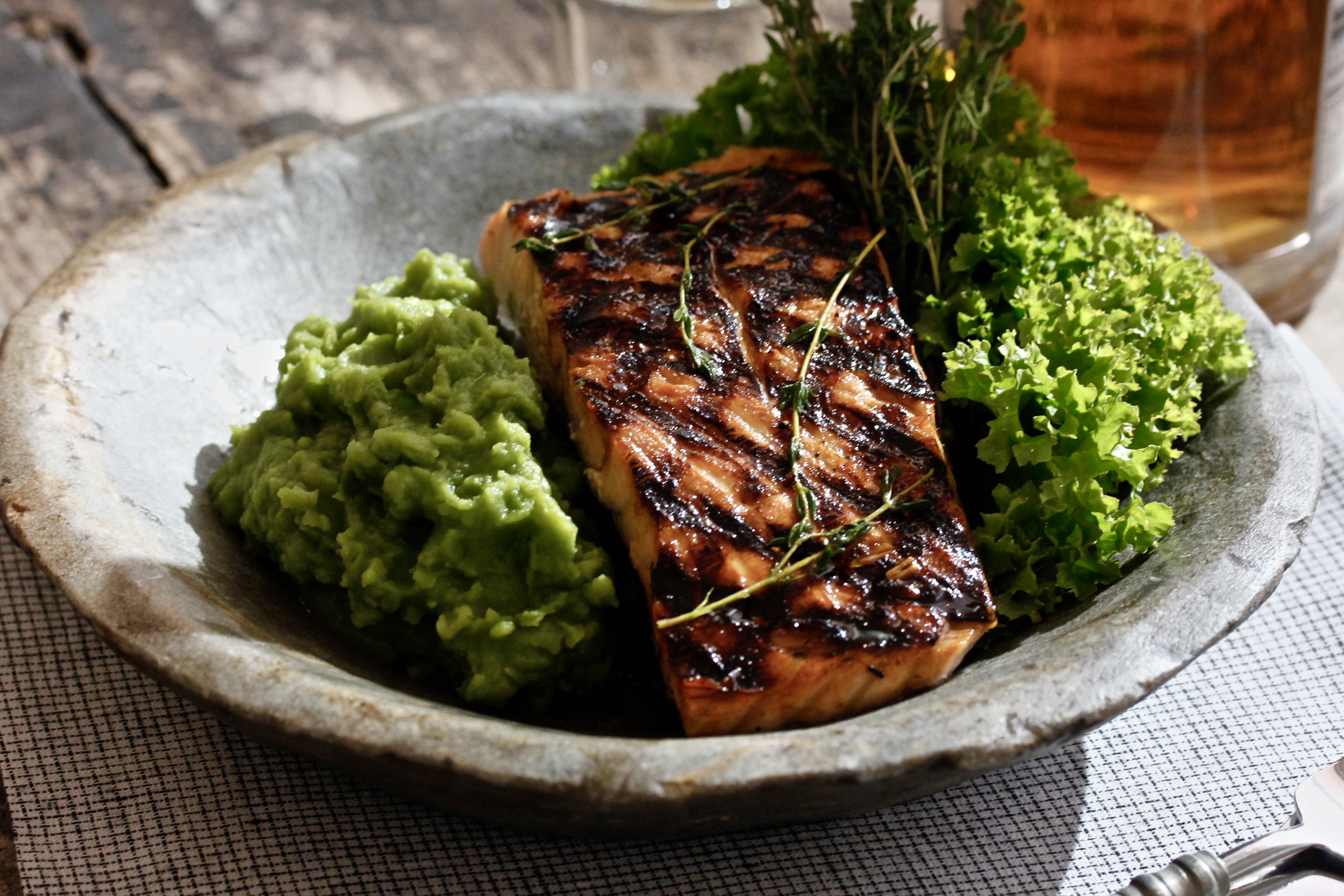 There's nothing like a little Irish whiskey to elevate a simple piece of salmon to the gustatorial heights. It's easy to get tired of salmon unless you keep changing up the accompanying flavors that enhance it. A little miso and soy sauce, a big squeeze of lime juice – or, in this case, a splash of whiskey – takes the most ordinary slab of fish and turns it into a delicacy to be taken in tiny bites and held in the mouth to savor slowly. I'm also including my recipe for mushy peas, a staple side of the British isles, often served with fish and chips. If you like split pea soup, you will love mushy peas – they're a lot more than a bag of frozen peas that have been mashed up. Mushy peas are comfort food, and provide a nice counterbalance to the salmon.
Roasted Salmon with Irish Whiskey Glaze
Serves: 4
Prep time: 20 minutes plus at least one hour for marinade
Ingredients
4 salmon fillets, of about 6 ounces each
¼ cup Irish whiskey
2 tablespoons honey
¼ cup cider vinegar
2 teaspoons chopped thyme
1 ½ teaspoons grated lemon zest
2 tablespoons vegetable oil
¼ teaspoon salt
¼ teaspoon pepper
Directions
Mix together a marinade of whiskey, honey, vinegar, thyme, lemon zest, oil, salt and pepper. Marinate pieces of salmon for at least one hour. Refrigerate if you'll be marinating for longer than that.
Preheat oven to 450 degrees. Place salmon on a rack in a roasting pan and roast for 10-12 minutes. You can also grill the salmon if you prefer. Baste with the marinade on each side of the salmon as it cooks, turning once. Use remaining marinade to baste before serving.

Mushy Peas
Serves: 6
Prep time: 45 minutes plus an overnight soaking of the peas in the refrigerator the night before cooking

Ingredients

2 cups dried split peas
2 tablespoons unsalted butter
1 tablespoon baking soda
1 teaspoon salt

Directions

Soak the split peas in a pot with the baking soda, covering with four times their volume in water. Cover and leave in the refrigerator overnight.Drain peas and rinse with cold water.
Put peas in a medium-sized pan and cover with cold water. Add salt, bring to boil and then reduce to simmer.
Skim off any foam that rises to the surface of the water in the cooking pot and cook for 30 minutes.
Add butter and pepper and mix into the peas. And serve. These make good leftovers if shaped into patties and fried with butter and onions.