Hurray for Tex-Mex Thursday! If you need your regular fix of Tex-Mex food, here's an easy recipe that can turn an ordinary meal into a fiesta by adding a happy jolt of jalapeno and sharp cheddar to a baking powder biscuit. This recipe comes from my buddy Matthew Wendel, who cooked for the Bushes at their ranch in Texas and at Camp David. He knows a lot about satisfying, simple home cooking. Here's what he says about today's scrumptious recipe:
At the Crawford Ranch, time was a precious commodity. Usually when I finished one meal, it was time to start preparing for the next one. My life was made simpler by developing recipes that I could make ahead, or that were easy to prepare at the last minute with ingredients I always had on hand. This was a go-to biscuit recipe for me. The Bushes loved it because these biscuits are full of flavor and texture. Experiment with the recipe using different chiles and different cheeses.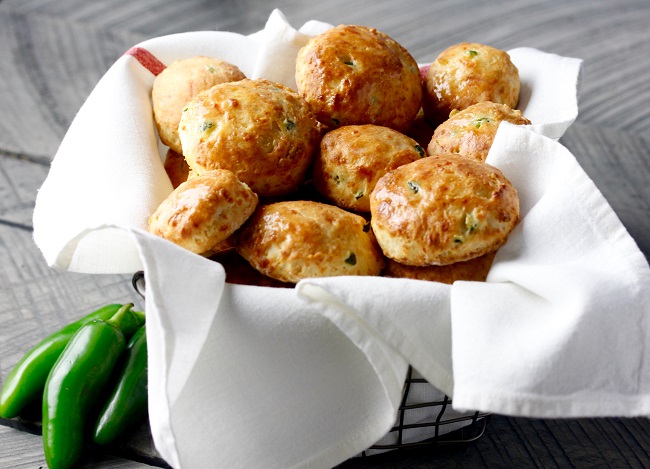 Jalapeno Cheese Biscuits
Serves: yields 3 dozen biscuits
Prep time: 25 minutes

Ingredients
5 cups flour
5 teaspoons baking powder
1 teaspoon salt
3 tablespoons sugar
½ teaspoon baking soda
1 cup sharp cheddar cheese, grated
3 jalapeno peppers, chopped and seeded (if you love jalapenos, add another pepper just for fun!)
1 cup butter-flavored Crisco shortening
2 cups buttermilk
1 package dry yeast
5 tablespoons warm water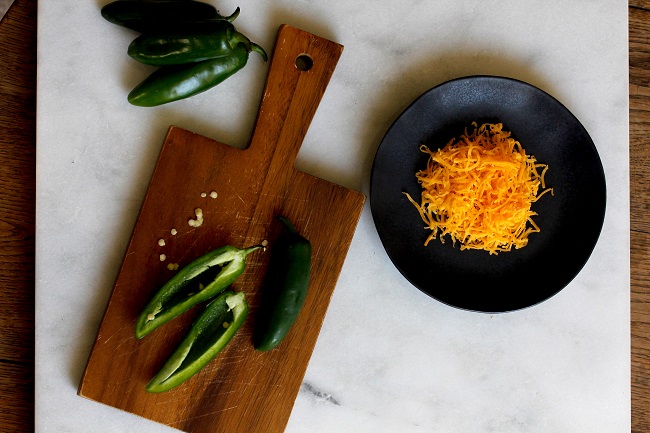 Directions
Preheat oven to 450 degrees.
In a large bowl, sift together first five ingredients: flour, baking powder, salt, sugar and baking soda. Mix in the grated cheddar cheese and the chopped jalapenos.
Cut the shortening into the dry ingredients with a pastry cutter, until dough is the size of small pebbles. Add buttermilk.

In a separate small dish, dissolve yeast in warm water and allow to sit for several minutes. Add to dough.
Mix lightly and press out onto floured surface. Knead lightly, but do not over mix. Roll biscuits ½ to ¾ inches thick and use a biscuit cutter to cut them into the size you like.
Bake on a greased cookie sheet for 10-12 minutes.

Dough can be stored in refrigerator over-night if well-covered. Raw biscuits may also be frozen and baked at a later time.

Note from Matt: I never buy buttermilk. It is so easy to make your own by mixing 1 tablespoon of vinegar with 1 cup of whole milk. Let it set for five minutes. Experiment by trying different flavors of vinegar to flavor your biscuit dough.