I like this salad because it takes an American classic – the bacon, lettuce and tomato sandwich – and changes up the quantities of the ingredients to make it a little healthier, though just as delicious. There is still toasted bread (in the form of buttered crouton squares), and there's plenty of lettuce, tomato, and bacon to give that unique flavor combination that always reminds me of Saturday lunch at my mom's house. The dressing is a light, creamy Italian with enough mayo (or vegenaise, if that's your preference), to make it taste like the BLTs we know and love. It couldn't be simpler, and I put it together in about five minutes more than the time it takes to fry the bacon. Because the proportions of the ingredients are different, you're getting lots more veggies and less bread, but the taste experience is the same.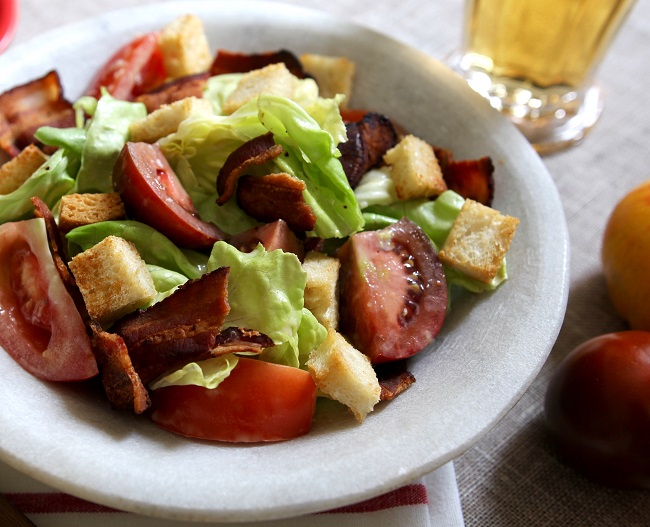 And since we're talking about classic American foods, have you ever tried a grilled cheese on pretzel bread, with cheddar and gruyere – topped with a fried egg? This was an accidental creation, cobbled together from the few ingredients left in the kitchen after a weekend away. The pretzel rolls were stale, so I sliced, buttered, and grilled them until they were brown. I added cheddar and gruyere because those were the only cheeses I had, melting it slowly on the bread in a covered frying pan while I fried a couple of eggs as toppers. The combination of crunchy pretzel bread, cheeses, and egg was like an unearthily good McMuffin, and more than filled us up for dinner (though it would be a great brunch meal). You can't really call this a recipe, just a little thing I stumbled upon and wanted to share. Enjoy!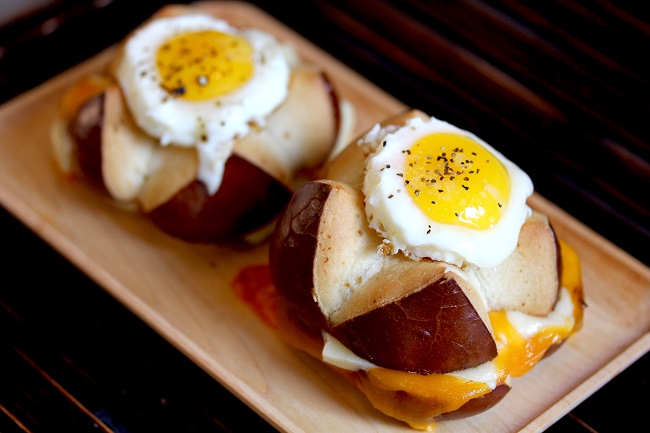 Bacon Lettuce and Tomato Salad
Serves: 2
Prep time: 15 minutes

Ingredients
6 cups Boston Bibb lettuce
1 cup baby arugula
1 ½ cups tomatoes (grape tomatoes are best if it's winter and the tomato pickings are slim)
10 strips of bacon, well-cooked and crispy (no streaky bits)
2 cups white bread croutons, cubed and toasted
1 tablespoon butter
Salt to taste
For the dressing:
Ingredients
2 tablespoons Parmesan cheese
juice of one lemon
a garlic clove, grated
¼ cup olive oil
3 tablespoons of your favorite mayonnaise or vegenaise
Salt and pepper to taste
Directions
Cook bacon until crispy and brown.
Drain well and break into one-inch pieces. Wash and drain lettuce, and tear into bite-sized pieces.
Chop tomatoes into segments. Combine lettuce, bacon and tomatoes in a large salad bowl.
Add croutons (see directions for croutons below,)  drizzle with salad dressing, and serve.
To make the dressing:
Mix mayonnaise, Parmesan cheese, garlic, lemon juice, and lastly, the olive oil.
Add salt and pepper to taste. Depending upon the brand of mayonnaise you use, you may need to use a bit less olive oil – or a bit more – to achieve the right consistency for salad dressing. Whisk ingredients until well combined.
To make croutons:
Preheat oven to 375 degrees. Cut bread into one-inch cubes and drizzle with melted butter and salt. Toast in oven until golden brown, removing once to flip the croutons so they are browned on both sides – about ten minutes total.

Grilled Cheese with Pretzel Bread and Fried Egg
Serves: 2
Prep time: 10 minutes

Ingredients
2 pretzel rolls
2 eggs
6 ounces cheddar cheese
4 ounces gruyere cheese
1 teaspoon butter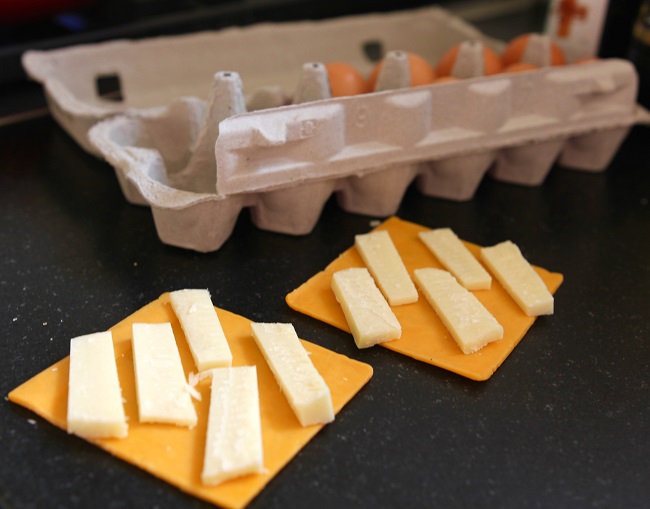 Directions
Slice bread and butter sides. In a frying pan set on low heat, toast the bread until golden brown.
Keeping heat low, add cheddar and gruyere cheese to bread and cover with a pot lid, allowing cheese to melt (gruyere melts more slowly than cheddar, so slice the gruyere thinly).
While the cheese is melting, fry eggs in a separate fry pan. Put the two sides of the grilled cheese together and top with a fried egg.  Serve immediately.