When I was growing up, a succulent pork roast studded with caraway seeds was a regular occurrence in the cold weather months. In a family of Bohemian cooks, pork didn't show up at the table without caraway seeds on it somewhere, usually accompanied by potato dumplings and sauerkraut. My grandmother was well known for this particular meal, and her friends used to come out to the farm – ostensibly to hunt pheasant each fall – when what they really wanted was to put their feet under her lace-covered table and load up on roast pork with dumplings and sauerkraut. (The dumplings and sauerkraut, as much as I love them, are an acquired taste.) Here is an adaptation of her roasted pork loin, to which I've added apples for their sweetness and texture.  I like to serve it with barely-steamed spinach, which is a nice counterpoint to the apples.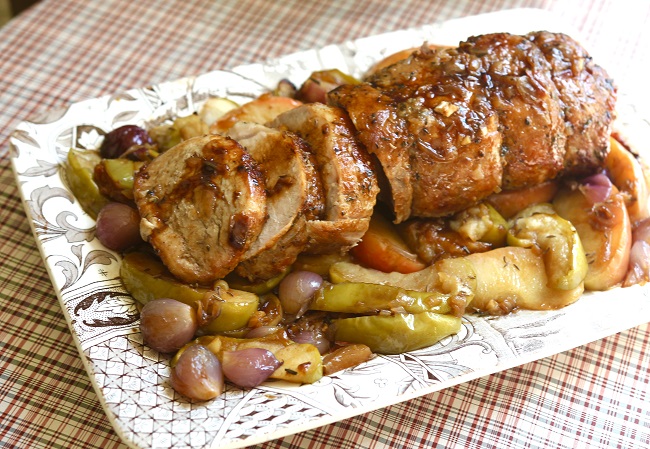 Pork Loin with Apples and Cider
Serves: 4
Prep time: 2 hours, including cooking time

Ingredients
3-pound pork loin, trimmed
1 ½ teaspoons salt and ½ teaspoon pepper
4 tablespoons butter
1 cup shallots, sliced, and a few left whole
4 apples – 2 Granny Smith and 2 Honey Crisp, unpeeled and sliced into segments
1 tablespoon flour
2 cloves garlic, chopped
1 cup hard cider
1 teaspoon caraway seed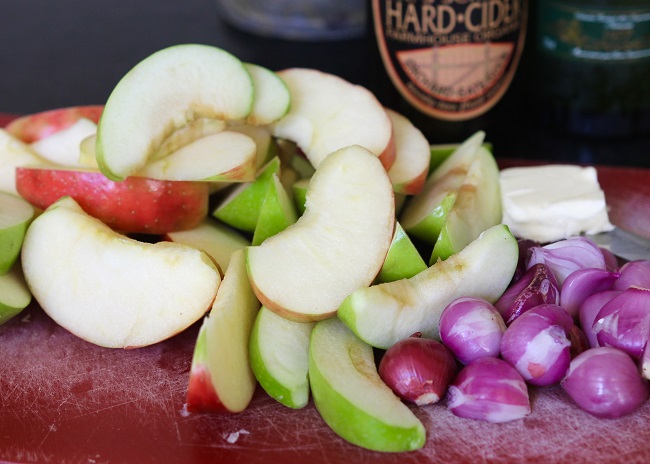 Directions
Preheat oven to 325 degrees.  Tie pork loin together with kitchen twine – about every two inches along length of loin.  Mix together salt and pepper and flour, and rub all over pork loin.
In a Dutch oven or large frying pan, sear the meat in 2 tablespoons of butter on a high heat, turning it until it is completely browned.
Move meat to a large baking pan, with the pan juices, and scatter shallots and garlic over the pork.  Top with remaining butter cut into small pieces.
Cover baking pan and roast for 45 minutes.
Add apples and hard cider, baste the pork loin with the pan juices and the cider, and roast for another 30 minutes.  Baste loin again and raise oven temperature to 400 degrees, to finish cooking for another 15 minutes.
Remove pork loin from baking pan and allow to rest.  Remove string.
Transfer shallots and apples to a serving platter.
Pour rest of pan juices into a small saucepan and reduce by half.  Slice pork loin into thin slices and arrange on top of apples and shallots. 
Pour pan juices over pork, garnish with caraway seed, and serve.