These red hot cinnamon candy apples always remind me of Halloween, a carnival, or the state fair; they're a great bit of twentieth century Americana, and easy to make if you have a candy thermometer and a box of cinnamon red hots. I added red food coloring and a tiny touch of black food coloring to get that go-to-hell shade of red.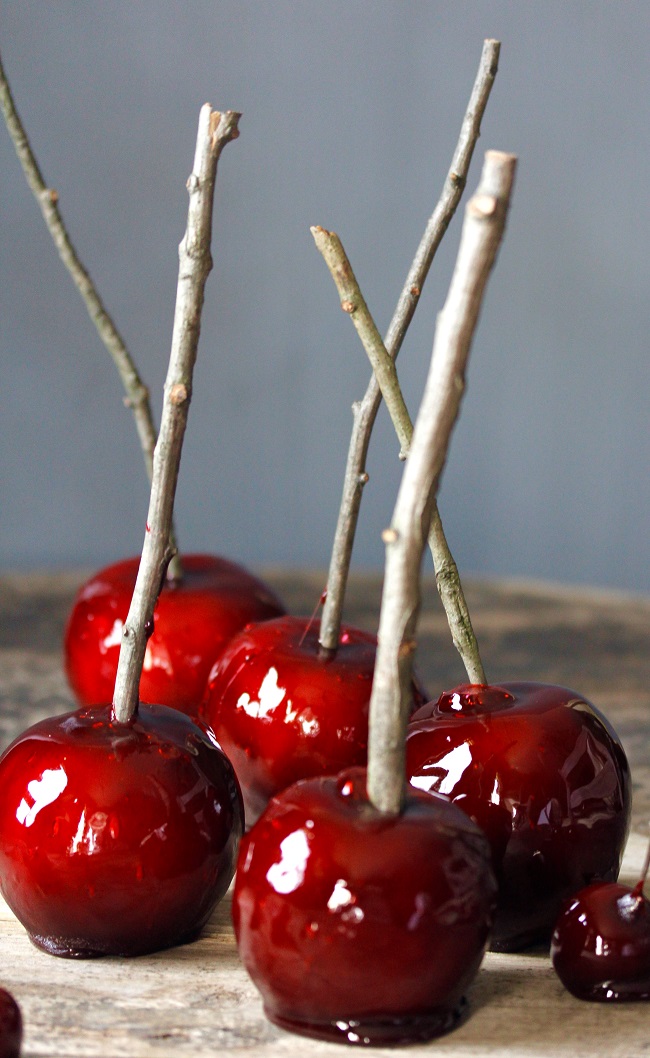 The tiny candy apples are similar to the tiny caramel apples I made last year: https://www.americas-table.com/recipes/mini-caramel-apples-2, or you can make the little apples by buying big apples and using a melon baller to cut out round spheres of apple. Either way works, and what a fun Halloween project for kids!
Cinnamon Candy Apples
Serves: makes 8 standard-sized candy apples
Prep time: one hour

Ingredients
8 tart apples  (I like Granny Smith, but Honeycrisps are also good)
8 sticks – can be popsicle sticks or sticks from branches in your yard or a park (well-cleaned)
¼ cup cinnamon red hot candies
½ cup corn syrup
3 cups sugar
1 teaspoon red food coloring
1 touch of black food coloring (just a tiny amount)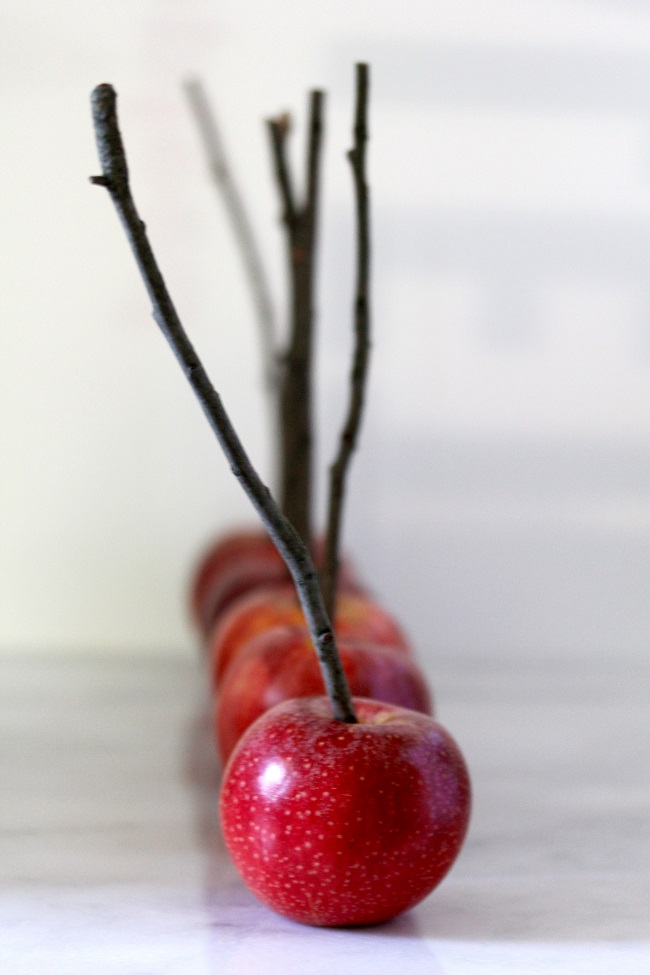 Directions
Wash and dry apples.
Press popsicle or other sticks of about six inches in length into the top of the apples.
Have a baking sheet with parchment paper ready to set the apples on after they've been dipped into the candy.

In a saucepan with high sides that will allow you to affix a candy thermometer to it, pour sugar, corn syrup, cinnamon candy and food colorings, and cook at medium heat.
Stir until the sugar is dissolved – then stop stirring because it will cause bubbles to form in the candy. Put thermometer on side of saucepan and bring mixture to 300 degrees, which will take about 30 minutes.
Remove from heat when mixture reaches 300 degrees and allow to sit for several minutes.
Dip apples into the cinnamon candy mixture, tilting apples so that they are completely coated with the candy.
Allow apples to sit on parchment paper so extra candy can drip off.
Cool for an hour before eating.

Optional: To make tiny candy apples, use a melon baller to cut small rounds from apples, using toothpicks or small branches to stick firmly into the apple, and repeat coating process, as above.