One of my daughters has been in Paris for work this week, which caused us to reminisce about our first family trip there and what had impressed her most as a child. She mentioned the two-level carousel near the Eiffel Tower, and a toy store called Au Nain Bleu, where they sold Marie Antoinette costumes and doll-sized tea sets in wicker picnic baskets (because who doesn't want to have a tea party with their favorite doll, while dressed as Marie Antoinette in a Parisian park?) There is one place of memory she still frequents: Angelina Paris, the home of the greatest hot chocolate in the world. This pastry and chocolate café is best known for Chocolat a la Africain, a hot chocolate concocted from the cacao of three different African countries to achieve its unique taste. The Angelina hot chocolate is utterly decadent: liquid, pure chocolate poured into a cup and smothered with whipped cream.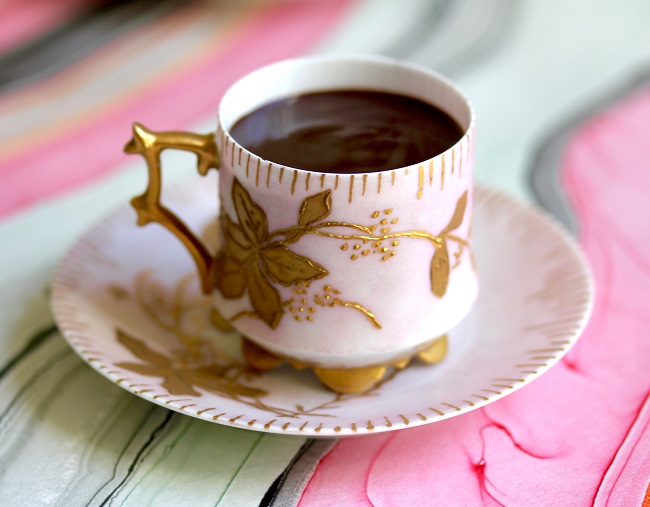 The first blow to the heart is visual: the waitress delivers a copious pitcher of steaming chocolate to the table, which falls into the cup with the consistency of molten lava.  Next comes a bowl of whipped cream, of a size that could easily serve a half dozen people – but it's your bowl of whipped cream. You spoon a dollop into the chocolate and stir until it disappears into the velvety darkness, then tentatively take up a spoonful of chocolate because it seems impossible that you could drink something this thick. The warmth and sweetness washes over you like a great wave of happiness and soon you're sipping steadily, making a memory.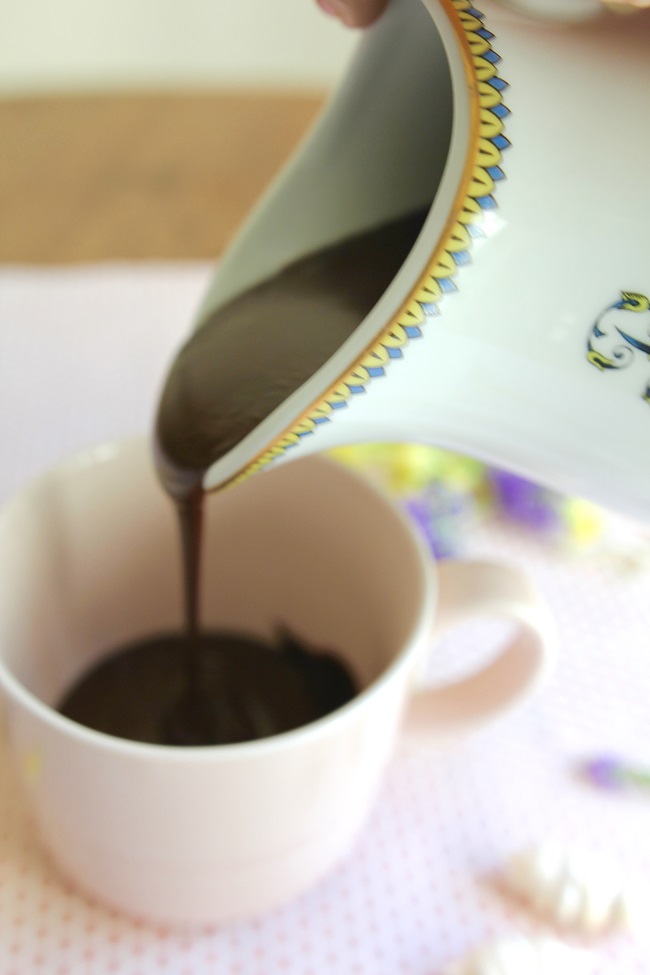 I thought it would be fun to see how close I could come to replicating the Angelina hot chocolate at home, and the secret may be as much in the texture and liquidity of the hot chocolate as it is in the kind of chocolate used. Of course you want good quality chocolate, but don't be afraid to let it be as thick as a heavy cream soup. We've been conditioned for too long to think of hot chocolate as the hot-water-and-powdered gruel that comes out of vending machines. You have to rethink what hot chocolate is meant to be, let yourself luxuriate in the richness of it, and appreciate it for the dessert it really is. You can make it as simple or as elaborate as you like, as seen in the photos: whether you're filling a rustic mug or sipping out of a thimble-sized demitasse cup – it's all good.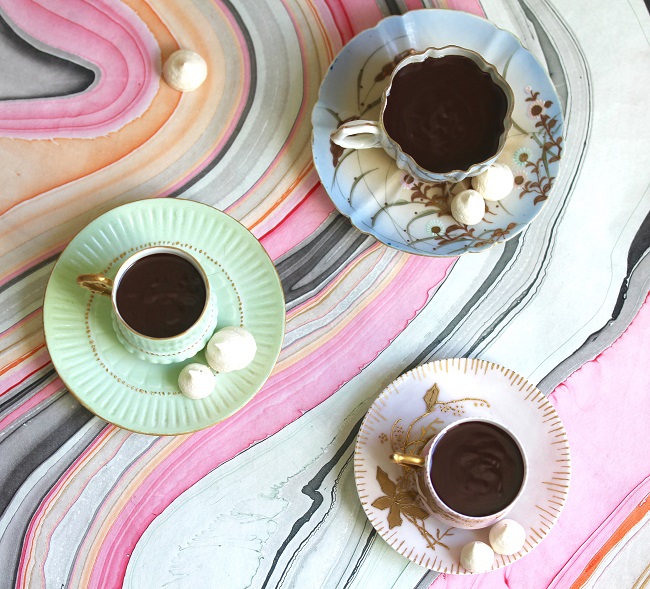 As an accompaniment, I've included a recipe for tiny meringues because they're a good substitute for marshmallows.  As much as I love a good marshmallow, this level of hot chocolate deserves something special: petite meringues that melt on your tongue like snowflakes.  Enjoy!
Hot Chocolate
Serves: 2-3, depending upon serving size
Prep time: ten minutes

Ingredients
1 cup heavy cream
½ cup whole milk
1 teaspoon vanilla
10 ounces of your favorite chocolate – I used 7 ounces of dark chocolate and 3 ounces of milk chocolate, coarsely chopped
Whipped cream as garnish
Directions
In a double boiler or saucepan resting in a larger pan with several inches of water in it, heat the heavy cream, milk, vanilla, and chocolate at low-medium heat. 
Stir as chocolate melts.
When the chocolate is drinkable consistency, remove from heat and garnish with tiny meringues or whipped cream.
Serve.

Tiny Meringues
Ingredients
2 egg whites
¼ teaspoon cream of tartar
1/3 cup sugar, processed fine in food processor
pinch of salt
Directions
Preheat oven to 275 degrees.
Beat egg whites until white and foamy, adding cream of tartar and salt. Add sugar a little at a time, beating on high until egg whites are shiny and sticky.
Using a pastry bag, pipe tiny meringues on to a parchment-covered baking sheet.  Place in oven for one hour and remove and allow to cool. 
Meringues can be made into little cookies by sticking the bottoms of two small meringues together with whipped cream.
Use your imagination in creating the meringue shapes – and if you don't have a pastry bag, use a spoon or a spatula to form meringues – even a swipe of meringue will hold its shape and make a beautiful garnish on a cup of chocolate.
Note: I left my meringues in the oven a little longer because I wanted them to be just barely beige.  If you want a white-white meringue, take them out of the oven before they begin to turn brown.