This pasta is the essence of the season – the Kumato tomatoes and fresh pumpkin cubes are like autumn leaves nestled among the green of the arugula and the soft brown of the whole wheat linguine. It's a warm and comforting meal for a night when the wind is rising and you're cozy indoors with someone you love.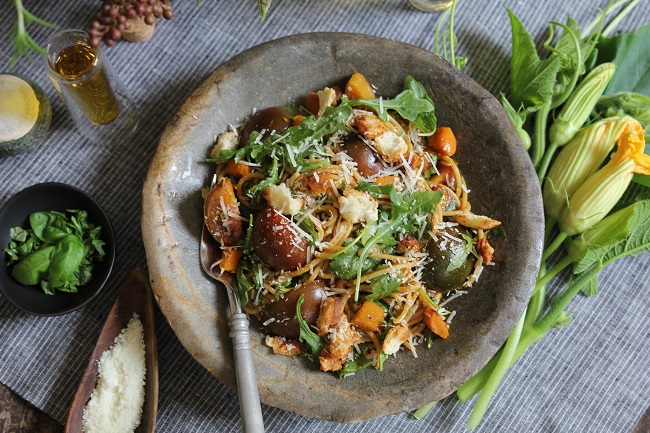 If you want to add protein, some crisply-fried and drained bacon can be crumbled in, which makes this meal even more addictive. Add a crisp white wine – or, even better, a glass of cold hard cider – and relish the coming Pumpkin Season.
Adapted from the Malibu Farm cookbook
Serves: 4 as an entrée, 6 as a side dish
Prep time: 30 minutes

Ingredients
1 box whole wheat linguine
1 cup fresh pumpkin, cut into small cubes
2 large Kumato, or chocolate tomatoes, or 10 ounces other tomatoes
2 tablespoons olive oil plus two teaspoons for cooking the pumpkin and the tomatoes
1 cup of baguette pieces, torn into small pieces
3 tablespoons balsamic vinegar
1 tablespoon honey
1 cup baby arugula
Juice of one lemon
2 tablespoons of butter, melted
2 cloves of garlic, sliced thin
2 teaspoons salt, plus a little for the pasta water
Pepper to taste
½ teaspoon red chili peppers
2 tablespoons fresh basil, minced
2 tablespoons Parmesan cheese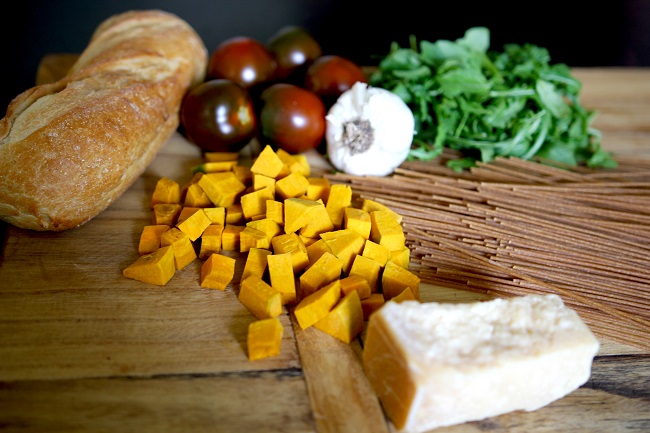 Directions
Saute cubed pumpkin in one teaspoon of olive oil until soft, about five minutes.
Add honey, lemon juice and 1 teaspoon salt.
Chop tomatoes into cube-sized pieces, discarding seeds. Add rest of salt, pepper, and red chili peppers. In a small frying pan, heat one teaspoon of olive oil and cook garlic several minutes until browned.
Pour olive oil and garlic over tomatoes, then add balsamic vinegar and basil.
Combine the pumpkin and tomato mixture and set aside.
Cook linguine in large pot of salted water until pasta is al dente. Drain and add 2 tablespoons of olive oil, add salt and pepper to taste.
Add the pasta to the tomato and pumpkin mixture, add arugula and croutons, then garnish with grated Parmesan cheese.
To make the croutons: Tear baguette into small pieces and place on a baking sheet. Drizzle with butter and salt then brown in a 375 degree oven for ten minutes, turning the croutons over once so they are golden on both sides.